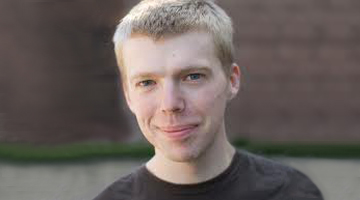 Andrew Norman finds rewards in risk-taking
"I'd much rather take the risk, even if it means failing in front of the audience at the New York Philharmonic."
In just ten short years, Andrew Norman has quickly become one of the most celebrated composers of new music.
The USC Thornton alumnus (BM, '02; MM, '04) and current member of the Composition faculty is the recipient of numerous awards and honors, including: the 2005 ASCAP Nissim Prize; the 2006 Rome Prize; and the 2009 Berlin Prize. His 30-minute string trio, The Companion Guide to Rome, was named a finalist for the 2012 Pulitzer Prize in Music.
But before the awards and the accolades, Norman was just another USC Thornton student managing the stresses of a demanding workload and the unknowns of a career in music.
Norman, who grew up in Northern California, first attended USC as an undergraduate in the Keyboard Studies department under the direction of faculty Stewart Gordon. His decision to attend the school was fueled by the fact that, as a USC student, Norman would be allowed to explore all of his musical interests instead of focusing on a single instrument or style.
"USC was the only place I could focus on both composition and piano," he said. "It had the perfect combination of high-caliber, conservatory style training with the benefits of a large university, and I really liked that. I got to participate in so much of what the school had to offer."
After completing his undergraduate education, Norman returned to USC Thornton the following fall to begin graduate studies in Composition with Donald Crockett, the current chair of the department. Norman's time in the program offered him the support and guidance he needed to decide what direction his music should take.
"Andrew was a student in my freshman composition class several years before he worked with me as a graduate student," Crockett said.  "From the time of Andrew's first composition project, a set of short pieces for solo violin, I knew that an extraordinary talent had landed in my class."
"Don Crockett was an amazing, positive and gentle teacher," Norman said. "I was struggling a lot with the kind of music I wanted to write and where I wanted my career to go, and he very kindly coached me through that tough time in my life. I appreciated that the Composition Department was always so open and willing to let me find my own path."
That path eventually led Norman to the East Coast, where he enrolled in Yale's Artist Diploma program before eventually settling in Brooklyn, New York. There, Norman continued to refine his craft, composing everything from chamber music to concertos to orchestral works. Despite writing for such a varied mix of ensembles and performers, Norman's work are tied together by his signature compositional style — one that's both playful and almost free-form, but informed by the structure integral to his craft.
"Writing new music makes us the innovators of this field," he explained. "And it's our responsibility to push the field forward. As my commissions became more high profile, I started to think that maybe I should play it safe. But, I realized that's the not the position of creativity I want to come from. I'd much rather take the risk, even if it means failing in front of the audience at the New York Philharmonic. It's better for me, and it's better for the field."
Norman admits his penchant towards risk-taking, coupled with the high-profile nature of many of his commissions, can often bring about overwhelming feelings of anxiety and self-doubt.
"We all have moments of doubts and questioning," Norman said. "But, I actually think that doubt makes me a stronger person. When I freak out, it helps to remember that every project is a step towards something else. Everything might not work, or be a masterpiece — but I'm pushing myself, and each piece is a stepping stone on the path to musical discovery."
In May 2014, Norman was awarded USC Thornton's Outstanding Alumnus Award at the school's annual Honors Convocation. The event featured a performance of one of Norman's works, "Sabina" from The Companion Guide to Rome (2010), by USC Thornton students.
Norman notes that interactions with USC Thornton students both in the classroom and on campus have provided him with a wealth of inspiration and new ideas that constantly inform his compositional output.
"Music for me is always about an exchange of ideas," he explained. "I've always found that when I teach, I get back so much more from my students than what I give them."
In addition to his work with students, Norman acknowledges that his return to the school is also the perfect opportunity to ensure the legacy of the Composition Department inspires and attracts a new generation of talent to USC Thornton.
"At first it was a little weird coming back to Thornton, because I'm teaching in the very rooms where I was taught," Norman said. "But, now that I've joined the faculty, I've been aware of how I can continue making this school a great place and build upon the amazing work the Composition department has done."
Never miss a story
Subscribe to USC Thornton's e-newsletter
Subscribe