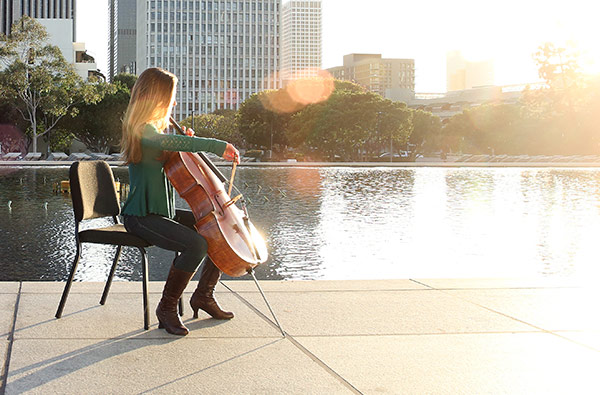 Annie Jacobs-Perkins: The New Classical
Annie Jacobs-Perkins erased all kinds of boundaries with her senior recital last May. The cellist's interdisciplinary program featured works by three composers, and the performers included three musicians and six dancers as well as four abstract paintings inspired by the music.
Bringing together the diverse artists was the easy part. "I was always interested in collaboration, and it's easy to do that at Thornton," said Jacobs-Perkins, a USC Trustee Scholar. "I also had a gig with a group of jazz students who formed a band, I worked with a singer and with artists in the Popular Music program. Thornton has a lot of amazing opportunities."
The hardest part was managing all the artists. "First and foremost, I learned a whole lot about organizing people," Jacobs-Perkins said, laughing.
For Jacobs-Perkins, reimagining what a classical concert could be flowed naturally from her own experiences at USC. She commissioned the paintings from a fellow student she met in one of her German classes (One of her two Minors was in German). As part of a collaboration between Thornton and Kaufman in the previous year, she worked with assistant professor Jackie Kopcsak and a group of dancers. So when she contacted Kopcsak with her recital idea, the professor offered not only to find dancers for her, but also to be the choreographer.
The recital also featured a collaboration with David Steinhardt, a senior in Classical Guitar and childhood friend and neighbor from her hometown of Rochester, NY. Instead of standard program notes, Jacobs-Perkins (who also minored in Narrative Structure in the English Dept.) detailed how everything fit together in a personal essay.
The Perfect Teacher
When asked how she managed such an ambitious program while keeping up with her studies and practice, Jacobs-Perkins credits her teacher, Ralph Kirshbaum, the Gregor Piatigorsky Chair in Violoncello and chair of the Strings department at Thornton.
"It was like Ralph said: I just made my own time," she said. "One of the best things Ralph ever told me in a lesson was, you make your own time. If you want to do something, you'll find a way to do it."
"I also used that to justify taking 24 units of English classes last semester," she added, alluding to how she took full advantage of Thornton's conservatory within a university with her two minors. That was part of the appeal of USC over the other conservatories she applied to.
But Kirshbaum was her primary reason for coming to USC Thornton. Jacobs-Perkins met him when she visited campus at age 15 (she graduated high school when she was 16), and subsequently worked with him the following summer at the Heifetz International Music Institute. "I'm really thankful Ralph doesn't remember that first lesson. I was working on the Tchaikovsky Rococo Variations, and he was very clearly not having it," she said, "but my mind was blown — this is what cello lessons can be like?"
Kirshbaum obviously recognized potential in the young cellist. At 17, she had already added some nice credits to her resume. She was a soloist on NPR's popular "From the Top" radio show, and she performed as assistant principal cellist of the New York String Orchestra for their three Christmastime concerts in Carnegie Hall.
Despite her earlier accomplishments, Jacobs-Perkins was humbled to be taken on as Kirshbaum's only undergraduate student that year.
"There hasn't been a more perfect teacher for me anywhere than Ralph," she said. "I seriously can't even imagine what kind of cellist I would be right now without him."
Glowing Reviews
At Thornton, her accolades kept coming. As a freshman, Jacobs-Perkins won the school's Solo Bach Competition. Her junior year she won the Hennings-Fischer Young Artist's Competition, and performed as a soloist with the Burbank Philharmonic, playing Elgar's Cello Concerto for their 25th anniversary. The Callisto Piano Trio became the youngest group to place in the senior division of the Fischoff National Chamber Music Competition. The trio took home the bronze medal.
When you love playing cello like Jacobs-Perkins does, two trios are better than one. The Aristeia Trio won the Frances Walton Competition in Seattle, did a 24-concert tour of the city and was offered a management contract from Classics Alive Management in 2016. The following year, the Callisto Piano Trio received an invitation to participate in the New Masters on Tour Program as part of the International Holland Music Sessions, where they were selected to give a full-length concert at the famed Concertgebouw in Amsterdam in 2019.
Not too many young musicians can include a glowing quote from The New Yorker's Alex Ross on their resume. Jacobs-Perkins can. He said of her performance of Martinu's Second Cello Sonata at the Piatigorsky International Cello Festival, for which Kirshbaum was artistic director, in June 2016: "Jacobs-Perkins delivered the desolate Largo with hypnotic lyricism, causing the listener to forget where they were for a moment."
Outside academia and the concert halls, Jacobs-Perkins made significant contributions to her community. As part of USC Thornton's Community Engagement Program, she and Steinhardt shared family recipes and their love of music in transitional housing, libraries and retirement homes in more than 25 performances a semester for audiences who didn't have access to classical music concerts.
Definitely a Cellist
It's hard to imagine that Jacobs-Perkins might not have become a cellist.
"I toyed with the idea of being a surgeon," she said. "So part of the appeal of USC was having access to pre-med classes if I decided to do that. I didn't, and I definitely want to be a cellist now."
Jacobs-Perkins is currently pursuing her master's degree at the New England Conservatory with Laurence Lesser, a former student and teaching assistant to Gregor Piatigorsky, with whom she participated in master classes at the Piatigorsky International Cello Festival.
"There are so many opportunities, and my career goals aren't solid," she said, "but I want to do a lot of chamber music, and I still want to write about music and being a musician. I never thought I would get to that when I came to USC."
In her own words, she still has so much to work on.

Never miss a story
Subscribe to USC Thornton's e-newsletter
Subscribe