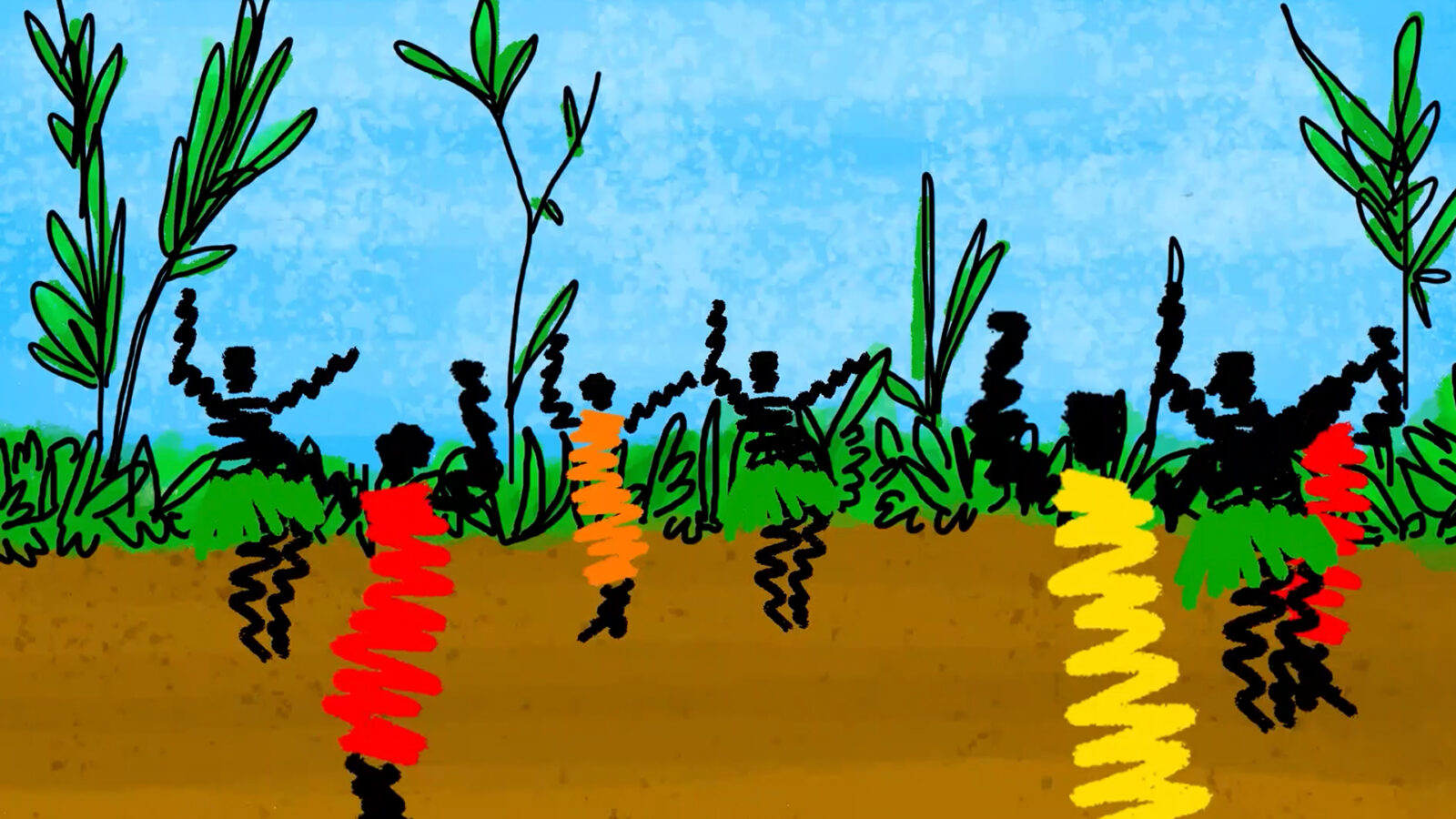 From Tragedy to Triumph: A History of the African Diaspora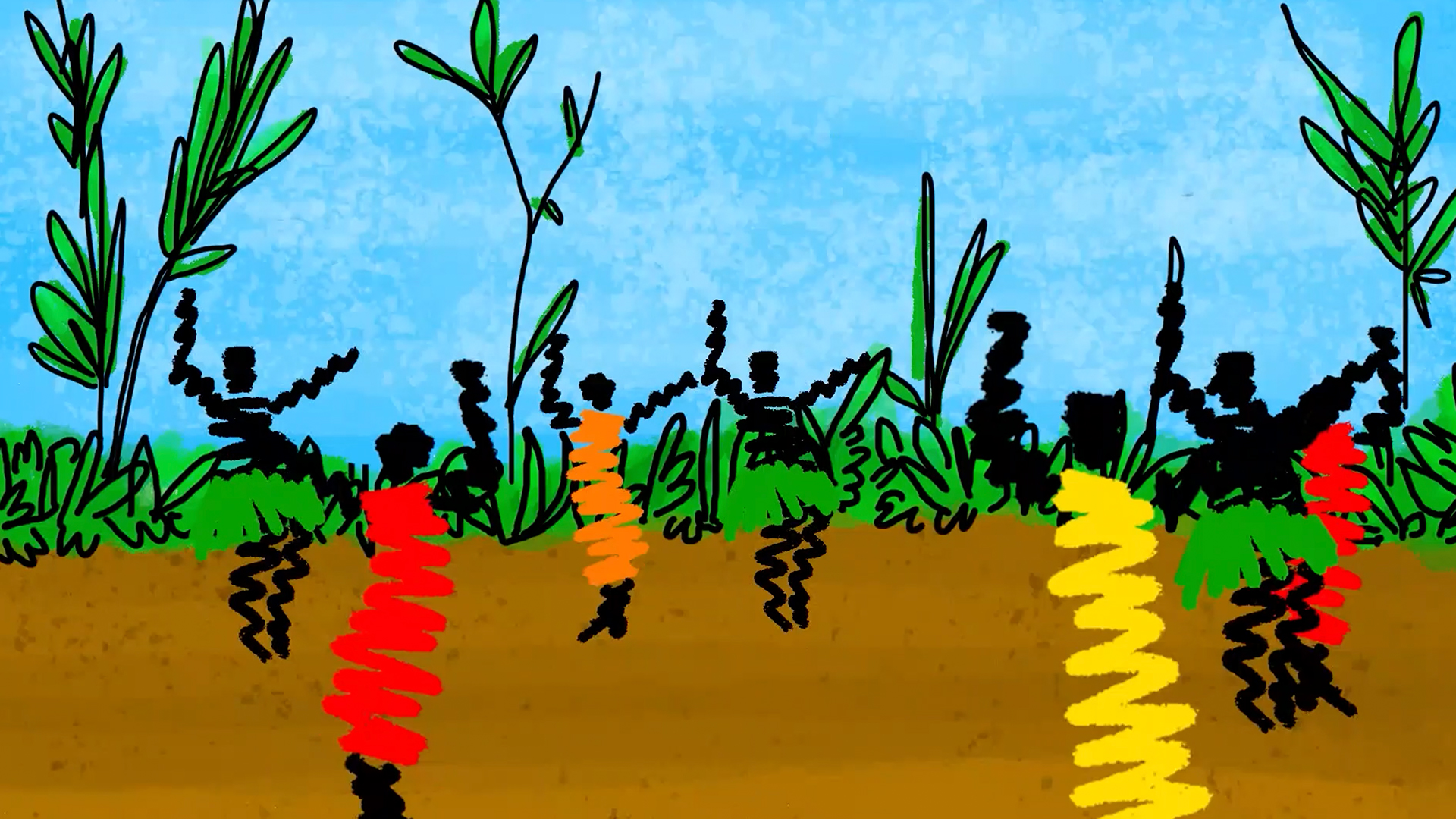 An ambitious student-led collaboration brings together artists from across the university in virtual events that build community and understanding.
---
"Let me tell you a story," says the young woman narrating The Middle Passage: Between Home and Death, "of the men and women in my bones."
In the 10-minute video, USC students tell a story of the Middle Passage — the years of the African Diaspora (estimated between 1619 and 1865) that saw the forced enslavement and trans-Atlantic migration of millions of African people. It is a history of upheaval, cruelty and suffering that has been largely overlooked in American education.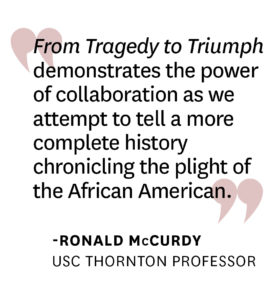 "To be a child of African descent," the narrator says, "is to carry these unearthed stories of bondage and strife in our bones."
The unearthed story told by the USC students is not a documentary-style narrative; it is a poem combining videography, music, dance, spoken word, drawings, paintings and animation. The Middle Passage: Between Home and Death is the first chapter in a series of seven virtual performances called From Tragedy to Triumph: A History of the African Diaspora, premiering on USC Thornton/LIVE on Friday, Feb. 26.
The artistic collaboration, which began in August, brings together student composers, writers, choreographers, and filmmakers, along with faculty mentors from Thornton, the Kaufman School of Dance, the School of Cinematic Arts, and the Annenberg School for Communication and Journalism in seven "creative pods."
"From Tragedy to Triumph demonstrates the power of collaboration as we attempt to tell a more complete history chronicling the plight of the African American," said Ronald McCurdy, professor and former chair of the USC Thornton School of Music's Jazz Studies program.
McCurdy envisioned the project last summer in response to both the pandemic's effect on musicians' and artists' ability to create and perform, and students' call for curriculum change in the wake of the Black Lives Matter movement. "We need to keep the students and ourselves artistically engaged and pay homage to the BIPOC community," McCurdy suggested to his colleagues in a Zoom faculty meeting.
Each creative pod has addressed a pivotal moment in the African Diaspora, from the Middle Passage to the Black Lives Matter movement.
"The works created for From Tragedy to Triumph will speak to these important stages in the grand experiment we call democracy through the lens of the African American experience," said McCurdy, who is former director of the Thelonious Monk Institute of Jazz.
Each virtual event will feature a pre-concert discussion with the creative team and a scholar who will talk about the research that went into the piece and contextualize what the audience is about to see. Audiences will watch a screening of the piece, followed by a musical performance of a composition by an established African American composer, and a Q&A with the artists and performers.
Truth in Art
To express truth in art, you first need the facts. McCurdy and other faculty, who also served as mentors, helped populate a Google Drive folder with articles, videos, periodicals, TED talks and other resources to immerse students in the subject matter before they began to create anything. They learned about everything from politics and race relations to music and culture during the various chapters in African American history.
Benjamin Webster and Grace Miedziak, USC Thornton student composers for The Middle Passage: Between Home and Death, signed on to the extracurricular project because they wanted to immerse themselves in the history and music of African American culture.
"We both wanted to contribute to a project that would address the serious issues surrounding anti-blackness and centuries of that community's oppression in the United States," Webster said.
Miedziak added, "This was an opportunity to take part in a project that would tell an accurate story of African American oppression in our country and create meaningful dialogue around these issues our society is grappling with."
"It's very gratifying to see how everyone has embraced this," McCurdy said. "I've seen the faculty having just as much fun — if not more fun — than the students. And they're learning. I've witnessed some amazing teaching and learning."
"I learned things about this history that I didn't know," said Professor of Composition Frank Ticheli who is one of the faculty mentors of the first performance in the series, The Middle Passage: Between Home and Death. "I was inspired by being a mentor to read a lot. The history of the African Diaspora, at least in most of my lifetime, has been ignored or neglected."
"What's exciting about this project is not only that we are retelling a story that needs to be told and told again, we're doing it in a unique way," Ticheli said. "We're saying it in a way that's more artistic, and as such, it can be more powerful because it compels the viewer and listener to think about it rather than being told what to think. We're letting them think freely in a way that art allows."
In The Middle Passage: Between Home and Death, the ocean becomes a symbol of the journey taken both literally and figuratively. It morphs from calm sunset beach to roiling waves and dark, silent depths, as we witness all manner of artistic expression — from contemporary spoken word to traditional Sinte drumming. The film, the narrator reveals, is an homage to "lives lost and dreams deferred" — an allusion to Langston Hughes' great poem.
Webster and Miedziak combined original music with work by celebrated composers like Florence Price. "Our music accompanies a set of poems that are worked into the film," they said. "Thus the music has an ambient quality, focusing much more on texture and atmosphere to highlight the emotions the words portray."
"As artists, very simply, we are in the business of creating beautiful things," Ticheli said. "And I think that's what the audience will appreciate."
Collaboration and Thinking Outside the Box
As an artist, McCurdy has been celebrated for his ambitious, interdisciplinary collaborations, including The Langston Hughes Project, currently on virtual tour, and Shanghai Jazz: A Cultural Mix, which recreates the synergy of Buck Clayton's jazz and Li Jinhui's traditional Chinese music. He envisioned From Tragedy to Triumph as something similar – "something that would have a shelf life beyond a semester" and perhaps see live performances post-pandemic. In the future, he would like to turn this extracurricular project into a class, where students could "tackle big ideas" in an interdisciplinary Jazz Studies capstone project.
Ticheli said, "This project has reinforced the idea that in the professional world, collaboration can be an important way of creating works of art that no one artist can do alone."
And there is no better place for artistic collaboration than USC, McCurdy explains. "USC is like an all-you-can-eat buffet. I tell students, if you limit yourself to the jerk chicken in your department, you don't get a chance to enjoy the huge palette of choices that a university like USC offers. Plus, Los Angeles should be an elective."
What McCurdy has found most exciting about the collaboration is how the students have worked together. "At the first meeting, I said, 'Here are the rules for engagement: There are no rules. You are only limited by your imagination.'"
Within the pods, there are no directors. "This is like a jazz group, and jazz music is probably the best example of democracy," McCurdy said. "When jazz groups play, everyone has to listen to each other and there has to be a certain degree of deference. Sometimes the trumpet player has the lead; other times the drummer or bass or piano. But they all have to listen to each other and function in tandem."
"I wanted this to be a teachable moment, so the students are in the vanguard of all of the planning and designing," McCurdy said. "The faculty serve as mentors and guardrails. If we told them what to do, it would be our project. We wanted this to be their project."
They are making the tough decisions, McCurdy added. "One group lost their choreographer. I said, 'Find another one. Make some calls.' This is what they'll have to do when they are no longer in the very padded walls of the Thornton School."
This approach to helping students navigate real-world challenges mirrors the mission of the Thornton School's classical curriculum "ReDesign," which aims to give students the tools they need to think creatively, discover their own opportunities and thrive in the professional world. From Tragedy to Triumph also ties in with Thornton's Voices Fund initiative, which seeks to bring underrepresented voices to visit Thornton virtually and talk with students. It's a mission the faculty have embraced, McCurdy said. The fund invites artists, composers, producers, conductors and educators to speak in classes. Past speakers have included vocalist Bobby McFerrin, composer Tania Leon, pianist Awadagin Pratt and the Black Violin group, which merges classical music and hip-hop.
"Black Lives Matter, students' demanding an enriched curriculum, From Tragedy to Triumph — all of these have combined to inspire me and my faculty colleagues to think anew," Ticheli said.
---
Learn more about all seven events of the From Tragedy to Triumph series on the Thornton/LIVE website, and RSVP to attend a presentation and Q&A on Zoom.
Never miss a story
Subscribe to USC Thornton's e-newsletter
Subscribe