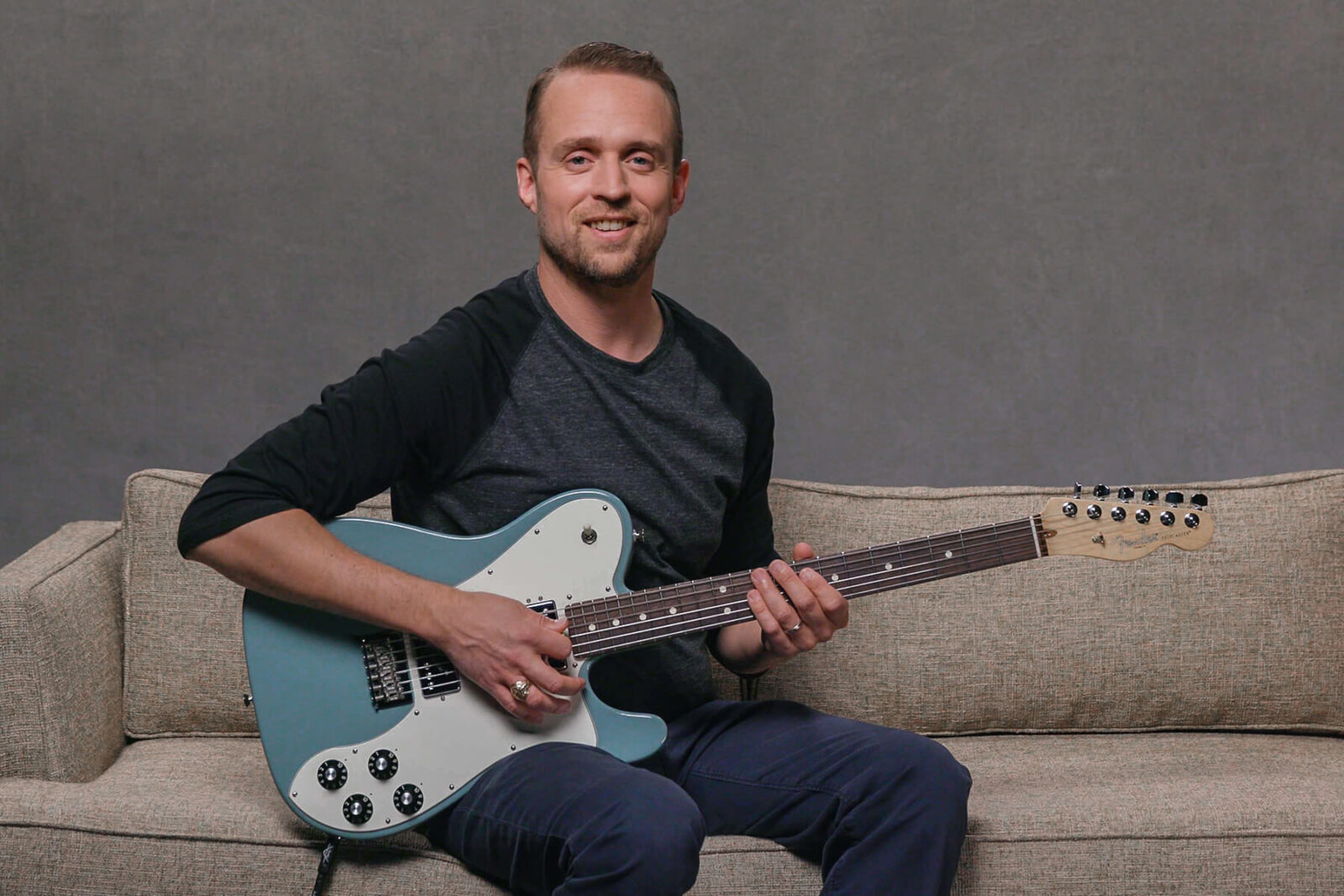 Back and Forth
Faculty and alumni from USC Thornton's Studio Guitar program are helping Fender develop a new online instruction platform, Fender Play.
---
When the iconic guitar manufacturer Fender was developing the curriculum for their cutting-edge online music instruction platform, Fender Play, they needed guidance from expert music instructors with experience training world-class musicians.
One of their first calls was to USC Thornton. Nick Stoubis, chair of the Studio Guitar program, not only offered his expertise, he also connected the Fender team to other members of the Thornton community.
Although Stoubis was excited about the opportunity to contribute, he wasn't surprised by the call.
"A lot of leading industries in the music world are located geographically in Los Angeles, and USC is the first name that they will associate with leading thinkers in our field," he said. "They come to us first."
"We were starting something from scratch," said Mary Keenan, the director of product for Fender Digital. "We brought in Nick from early on to advise us on some of the considerations launching this and to help scope out some of the content and topics as we built the curriculum. He brought in other people, and there was this beautiful serendipity in bringing everyone together to work closely. It was an incredible value to add to the curriculum."
Keenan joined Fender as an expert in the blending of e-learning and technology. With a limited background in music, her first step was to observe how students learn guitar in the classroom, both individually and in groups.
USC Thornton Students Deliver
Stoubis introduced Keenan to Thornton alum Matt Lake (BM '08, MM '10, DMA '18), a studio guitarist who earned three degrees in studio guitar as a Trojan. Keenan saw Lake in action teaching neighborhood kids during a summer session. Many of these students had never picked up a guitar before the class, but Lake prepared them to show off their work in recitals within a couple of weeks of instruction.
"He made playing guitar very accessible and that really aligned with our vision of what we wanted to do with Fender Play," Keenan said. "Our goal was really to innovate and revolutionize what was happening in the industry. Guitar playing, teaching and learning have been around forever. A lot of people attempt it, and the retention rate is abysmal. People get discouraged very quickly. We were searching for opportunities to learn about what we could do differently."
Keenan referenced micro-learning as a trend in the development of online e-learning: bite-sized lessons that focus on the essentials. "Matt's class was kind of an introduction to how that could happen," she said. "How do we get somebody there very quickly with just what they need when they need it?"
The development team quickly added even more Thornton brainpower. Dylan Caligiuri (DMA '19), then a Thornton DMA student, joined the think tank tasked with advising Fender on elements of music theory, improvisation, guitar technique, skill-building, injury prevention, ear training and practice technique. The program had to be comprehensive and well-thought-out, but it also needed to be user-friendly and fun.
"The goal was huge, and we spent the better part of nine months working day and night to make it happen," Caligiuri explained.
Since the launch of Fender Play in summer of 2017, thousands of users, of all experience levels, have learned acoustic and electric guitar, bass and ukulele on their own. Each of the five available musical genres–blues, rock, country, folk or pop–has five segmented levels, all of which are continually updated. Fender Play also has social media elements that allow students to give feedback and share experiences. After the launch, Caligiuri began moderating the Fender Play Facebook group while helping produce a Fender Play live weekly show.
"Not only do I get to watch users progress through the program, but I also assist in building a safe and welcoming community for students to learn and share experiences," Caligiuri said. "I believe this group is an amazing tool to our users. Instructors, techs, designers even administration all check-in with this community daily. This affords Fender Play users a wealth of knowledge and does great things for their confidence in learning."
Lake, now a senior consultant and curriculum developer, and fellow Thornton alumnus Adam Hawley (BA '06, MA '08, DMA '10) are currently on-camera instructors for the program. In total, nine members of the USC Thornton community have worked on the program, and a couple students even had jobs at Fender waiting for them upon graduation.
Much of what made these students valuable to Fender are skills that they learned while on the Trojan campus. Thornton's training includes pedagogy, music history and extensive hands-on classroom teaching. According to Stoubis, the more well-rounded and versatile a student proves themselves to be, the more employment opportunities will present themselves.
Lake cited the benefits that come with studying under instructors like Stoubis, Frank Potenza and Richard Smith. "They each had something I was grabbing onto," he explained. "My first teaching assistantship, I was teaching lecture classes like rock history that helped to refine my teaching style. This was in addition to the demand from Thornton to be as versatile a player and musician as possible. Learning to be everything to everybody anytime is huge."
"Our program selects people who are able to work with others because music is an endeavor that often requires collaboration," added Stoubis. "We strive to teach people to be as professional as possible so they can work well in organizations ranging from a group to a corporate entity such as Fender. They have real practical skills developed in the classroom and in ensembles. Someone who is graduating from one of our programs will be very capable of fitting into a wide variety of situations."
In discussing Fender Play's success and Thornton's contributions, Stoubis commended the school's alumni network that gives graduates new opportunities.
"On a daily basis, most of our alumni are reaching out to their classmates and teachers and can trust them to be capable," Stoubis said. "It's a symbiotic relationship–it goes back and forth."
Whether they're studying blues guitar, learning the bass line to their favorite classic rock song, or learning the chords to a pop hit on their ukulele, every student who logs on to Fender Play is using a platform that USC Thornton faculty and alumni helped shape. Thornton expertise and innovation are a vital part of the Fender Play experience.
Never miss a story
Subscribe to USC Thornton's e-newsletter
Subscribe