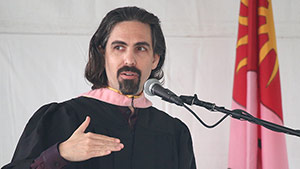 Bear McCreary tells graduates that attitude is everything
"Being good sometimes isn't enough. Being the best isn't enough. In the music business, as in life, attitude is everything."
— Bear McCreary
"Being good sometimes isn't enough," composer and alumnus Bear McCreary '02 told graduates of the USC Thornton School of Music today during USC's 133rd commencement. "Being the best isn't enough. In the music business, as in life, attitude is everything."
"The successful musician is the one who has the right attitude at all the right times," said the Emmy Award-winning composer who has scored such celebrated television shows as Battlestar Galactica and The Walking Dead.
The recipient of USC Thornton's 2016 Outstanding Alumnus Award, McCreary spoke of recording his first film score as a USC undergraduate in an all-night session that was, in his words, "a disaster." But the young composer learned valuable lessons from the session and developed relationships with his fellow musicians, including four USC students who went on to form the Calder Quartet, who he continues to work with today.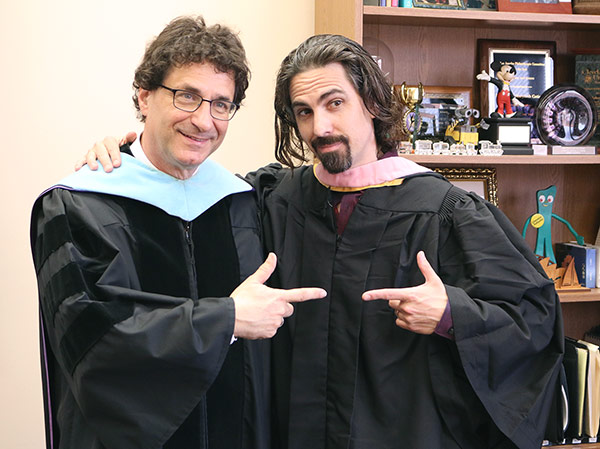 Dean Robert Cutietta with Bear McCreary. (Photo/Daniel Anderson)
After graduating, McCreary's career took off, leading to many high-profile projects and awards. "My luckiest break was happening to have a pretty good attitude, and it took me pretty far until my luck ran out and I had to start thinking about it critically," he said.
McCreary described a time in 2010 when his career slowed and began to languish. He was replaced on a television series, fired off a pilot, and lost new jobs that would have been a given only a year before.
"A funny thing happens when you start saying 'No," he said. "You stop working."
Intense, personal scrutiny ended in the realization that his attitude had begun holding him back and driving people away in spite of his early successes. "I started looking around and thinking about this," he said. "There must be an example of people who were doing it right."
He found it in his friends from USC, particularly the original group of eight students who had stayed up with him all night to record his first score.
"They were always open to new ideas," McCreary said. "They never complained about schedules or money or logistics. They never said, 'No, I don't do film scores.' 'No, I don't do demos.' They never said, 'What's the pay?' They stood up for their artistic convictions, but they never made me feel stupid for arguing with them. They knew when to let me have my way and they knew when to fight for something they believed in."
The realization was simple. "I was not that person to others," he said. "I was not that kind of person to filmmakers, to executives, to producers, to directors—to people who were looking for my skills."
Humbled, McCreary changed his mindset and worked with a renewed and positive attitude. The assignments and accolades returned. He won another Emmy Award with the next job that came his way, and, in the next 18 months, turned his career around.
A wonderful speech, with an astute message, McCreary told the graduates, "A funny thing happens when you start saying 'Yes.' You start working."
Never miss a story
Subscribe to USC Thornton's e-newsletter
Subscribe