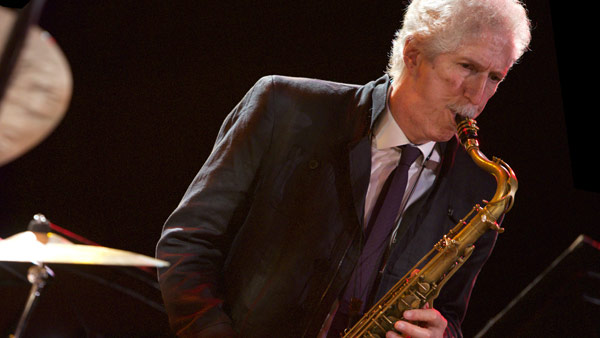 Bob Mintzer's "People Music"
Jazz Studies chair Bob Mintzer composed People Music for the esteemed Vienna Philharmonic, but on March 6 he will present its U.S. premiere with a decidedly different sort of ensemble: the USC Thornton Jazz Orchestra (TJO).
Originally commissioned by the Festspiele Mecklenburg-Vorpommern, the festival wing of the famed Austrian orchestra, the classical-hued jazz work premiered to European audiences in 2013. Featuring three soloists — violin, clarinet, and tenor saxophone — the three-movement, genre-defying work celebrates collaboration across musical lines.
"Just the experience of writing for people, playing with people, playing for people," said Mintzer, who holds the Bowen H. "Buzz" and Barbara M. McCoy Chair in Jazz at Thornton. "It's the social activity of bringing people together to play and collaborate."
TJO ALUMNI SPOTLIGHT
When saxophonist Alex Hahn and trombonist Jon Hatamiya graduated from Thornton's Jazz Studies program last year, they went on to join one of the pre-eminent training programs for young jazz musicians, the Thelonious Monk Institute of Jazz Performance.
The full-scholarship program, led by pianist Herbie Hancock, admits just seven musicians each year. In addition to studying with masters and traveling the world with the Monk Institute ensemble, the TJO alums are already busy working professionally. Hahn has recorded on several of Michael Bublé's albums and Hatamiya has performed with Wynton Marsalis, the Jazz at Lincoln Center Orchestra and the Dave Matthews Band.
From the TJO to the Monk Institute and beyond, Hatamiya and Hanh are well on their way to successful jazz careers.
---
When the time came to give the work to a new band and a new audience, Mintzer brought it home to a group that he knew would have no difficulty crossing the musical boundaries required, the TJO.
"The level of musical skill at Thornton is exceptionally high and the students are very adaptable," said Mintzer. "We preach and teach that the students should be able to cross over for the simple reason that it expands your working and playing world dramatically."
Presented by TJO, People Music brings together students from Thornton's Classical and Contemporary Music Divisions. The two musical disciplines may not initially seem to speak the same language, but through his three-movement composition, Mintzer expects the musicians to find plenty of common ground.
"I thought it would be a great opportunity to have the classical students join the jazz students," Mintzer said. "That's something we're constantly on the lookout for. I have very few boundaries in terms of genre and style. Everything is fair game to me. I enjoy mixing and matching styles and sounds and shapes. It's a big part of what I do."
A saxophonist, composer and arranger whose career spans five decades, Mintzer has fronted big bands and played with multiple classical orchestras from the New York Philharmonic to the Hollywood Bowl Orchestra.
His desire to branch out and mix things up musically began after Mintzer left college, a time during which he said "my phone never stopped ringing."
"I played in a Latin band, I played with jazz ensembles and big bands. I played on punk rock records and pop records. I played with Buddy Rich and in jazz groups and I eventually started my own groups," Mintzer said. "It was that diversity that allowed me to stay busy and grow as an artist, but also to develop a personal style that was well-informed by a lot of different influences."
Mintzer sees a similar eclecticism in many of the students at Thornton, and a genre-spanning work like People Music suits them.
The piece's first movement features violin, the second movement features clarinet, and the saxophonist Mintzer performs in the third movement before joining the other soloists for a rousing finish. Like Mintzer, the other two soloists are accomplished musicians who transcend genres. Violinist Robert Anderson teaches in Thornton's Popular Music Program and is the co-founder and music director of String Project Los Angeles. Clarinetist Phil O'Conner shuttles between jazz, classical music and musical theater while also serving on the faculty at CalArts.
The musicians of the TJO are seasoned in their own right. Drummer Kevin van den Elzen, a Masters student in Jazz Studies, traveled to Europe with the Bill Holman Street Band, and saxophonist Henry Solomon has worked with Bill Cunliffe. Solomon, an undergraduate, was a member of the 2013 Grammy Jazz Ensemble and cut an album at Capitol Studios before turning 18.
Mintzer views performance projects like this one as essential learning experiences.
"I'd love to see Thornton come together as a school in the name of education," he said. "Artistic collaborations that span genres provide students with broad experiences so that when they walk out the door, they can function in a variety of settings and shine."
---

The USC Thornton Jazz Orchestra presents Bob Minzter's People Music on Monday, March 6th at USC's Carson Center.
Never miss a story
Subscribe to USC Thornton's e-newsletter
Subscribe