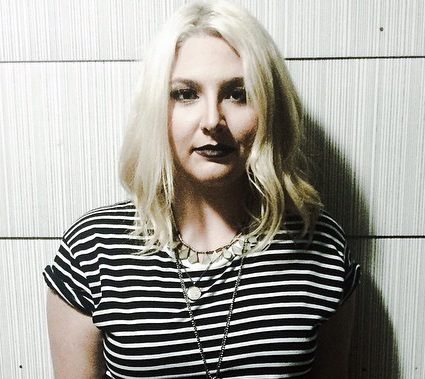 Caitlin Notey Wins BMI Foundation's 17th Annual John Lennon Scholarship
"I've been waiting for years for this time of my life," said alumna Caitlin Notey (BM '14), reflecting on her career as a musician after graduating from USC Thornton's Popular Music program last year.
On Nov. 10, Notey was awarded first prize in the BMI Foundation's 17th Annual John Lennon Scholarship Awards. The award, which includes an $8,000 scholarship, recognizes the nation's best young songwriters between the ages of 17 and 24. It is made possible through donations from Yoko Ono in conjunction with the BMI Foundation.
It was, for Notey, "a really good motivator that helps to keep all of this fresh."
Notey formed the band Huxlee in April of 2013 with fellow USC Thornton alumni Nick Chuba, programming/banjo (BM '14, Studio/Jazz Guitar); A.J. Novak, percussion (BM '14, Popular Music); Cary Singer, guitar (BM '14, Popular Music); Mac Sinise, drums (BM '14, Popular Music); and bassist Joe Scolari.
The band released its debut 7-track EP, Bloom, in Nov. 2013. They have played regularly at Los Angeles venues like Hotel Café, El Cid, Harvard & Stone and The Mint, and put out the first of three live video recordings at Pietown Sound this past September.
Their latest single, "22," along with "Still" – the song which garnered Notey the John Lennon Scholarship – showcase the sonic and lyric range of a young, unapologetic artist navigating her way through the challenges of today's music industry.
"What got me the farthest when it came to personal and professional challenges was accepting my circumstances and learning to work around them," said Notey, who now divides her time between commercial recording sessions, playing with her French Bulldog, and promoting and expanding the Huxlee sound.
On the transition from playing music as a student to life outside school, Notey reflects on what a music education at USC Thornton ultimately gave her.
"I think the interesting thing about going to music school, especially if you're in the Popular Music program, is that you already know what your passion in life is," explained Notey. "Holding on to that passion and recognizing your accomplishments from a music school helps keep your goal in focus, I think."
Never miss a story
Subscribe to USC Thornton's e-newsletter
Subscribe