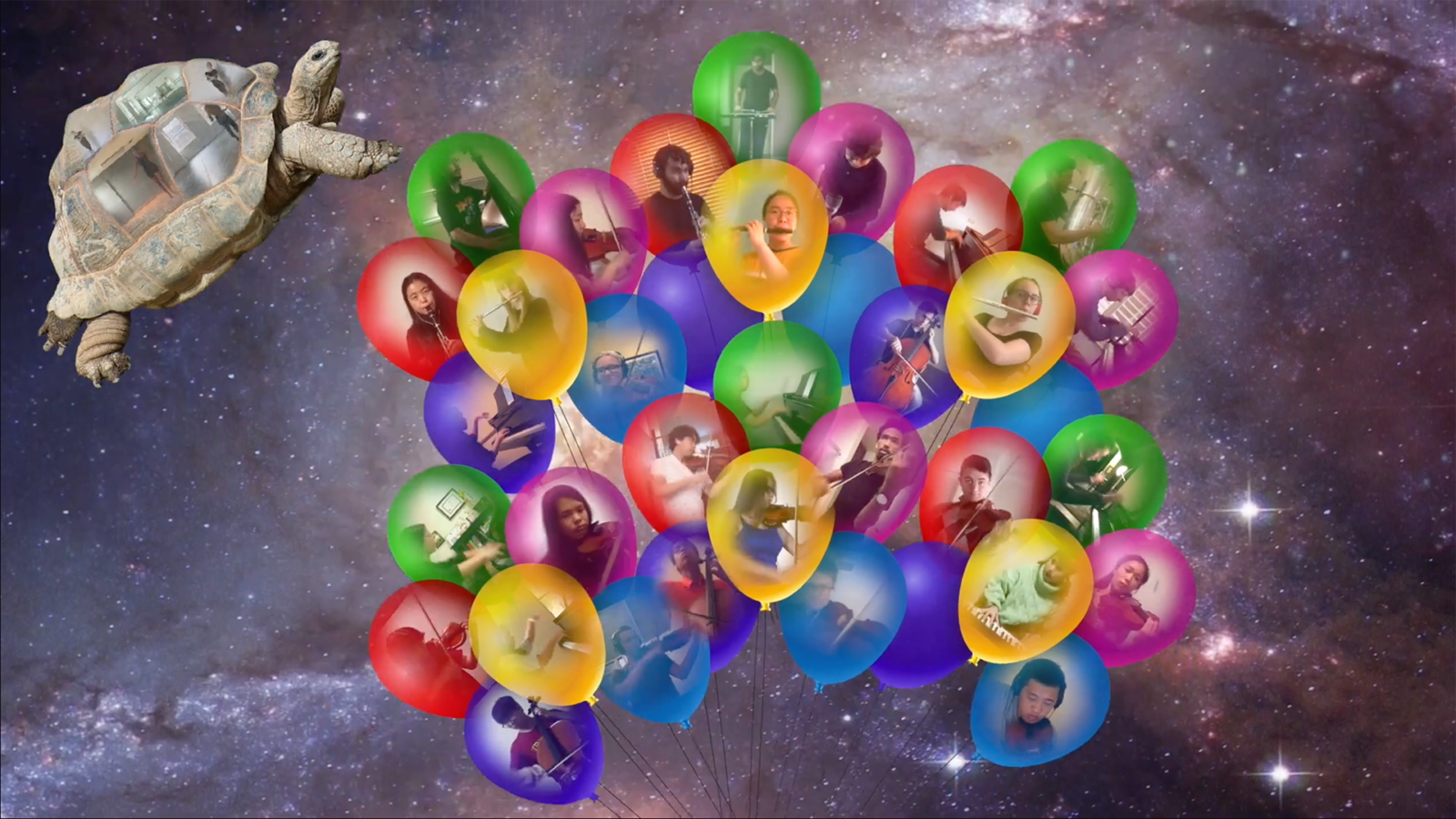 Thinking Outside the Box
The Concerto Chamber Orchestra draws inspiration from current events for an ambitious 10th anniversary season.
---
The orchestra's raison d'être is live performance. So, when the pandemic closed concert halls, music directors had to rethink how to reach audiences. Then came all the videos of musicians patched together in separate boxes. That was an exciting solution — at that moment. But Adam Karelin wanted to think outside the box for the 10th season of USC's Concerto Chamber Orchestra.
In one of the CCO's summer festival videos, musicians perform Camille Saint-Saëns' Carnival of the Animals inside colorful balloons that carry an elephant into the sky, and USC Chamber Ballet dancers appear in the shell of a flying tortoise.
"The screen is a blank canvas for absolutely anything," said CCO music director and Composition major Karelin (BM '22). "Once you realize that, visually you can do what best fits the needs of the piece. And we can do things that are just not possible in person.
"Our ideas are coming from a place of: what is the piece about, and what can we do that will complement what's going on musically? At the same time, we want to showcase our musicians without just putting them in rectangles."
Everything the CCO is doing this anniversary season is a response to what's going on in the world. The pandemic inspired the animated video concerts and a Zoom ensemble, spearheaded by Master's student Aidan Gold, CCO's assistant music director, that composes pieces written specifically to incorporate latency while performing live and remotely.
The Black Lives Matter movement prompted more diverse programming, like a beautiful 18th-century symphony by a fascinating historical figure, Joseph Bologne.
The CCO is also venturing into new territory with cross-genre collaborations, including a season-long residency with USC Thornton's Jazz Studies program. The Nov. 14 live-stream Fall Concert will feature a collaboration with the Jazz Honors Combo, as well as USC Kaufman dancers. The Winter Series (Dec. 21-Jan. 1) will feature the 12 movements of Mary Lou Williams' Zodiac Suite released every day over 12 days and bring in alumni, like Paul Cornish '18, currently studying at the Thelonious Monk Institute of Jazz. Next semester the CCO plans to perform with Popular Music major Kyle Lux.
Access for All 
One of the most interesting aspects of the CCO is the fact that it's a student-run ensemble with musicians from across USC in varying fields of study and degree levels. Founded in 2011 with 12 members, it now has 80. Seventy to 75% of them are non-music majors for whom the organization offers rare opportunities in orchestral management, conducting, solo concerto performances and artistic leadership.
Karelin said the non-music majors bring fresh perspective to everything the CCO does, as they are involved at every level. "The people I interact with the most on a day-to-day basis are the people in the admin," he said. "They are so brilliant with what they bring to the table. Many of them have backgrounds in the sciences, and they don't have the kinds of biases and limiting thought processes that we have sometimes in arts admin."
The non-music majors were the ones who approached Karelin about collaborating with the Jazz Studies department and expanding the orchestra's repertoire. "It's so worthwhile," he said. "One of them suggested we should do something like the Metropole Orkest, and I said the former director is on faculty at USC." That faculty member is Vince Mendoza, who is a conductor for the GRAMMY Award-winning jazz and pop orchestra based in the Netherlands.
According to Justin Gilmore-Gresham (BM '21), who has been curating and coordinating the residency, Mendoza and all of the Jazz Studies faculty have been extremely supportive. For the Fall Concert, students are also working with arrangements by faculty like Bob Mintzer. "Honestly, it's really fantastic," he said. "We're trying to bring the Classical and Contemporary divisions together in performance. We hope it opens up a new tradition."
Gilmore-Gresham said Jazz Studies students are used to writing for small ensembles and big bands, but writing for an orchestra like the CCO has been new and exciting.
"I was talking to Ben Lindenberg (BM '21) a few days ago, and he was working on an arrangement of Herbie Hancock's 'Riot' and asking about Samuel Barber scores. He was really excited; you could hear it in his voice," he said. "You can see this enthusiasm about this new realm that's being explored, and that's the big vibe of the entire department, both the faculty and the students. All of us have said, 'Let's open up our ears more this way.'"
In anticipation of the Fall Concert, the jazz ensembles are recording their tracks first, and then those are sent to the orchestra: first the concertmaster, then principals, then the sections. "It's been really exciting because the orchestra is able to record with a jazz ensemble in their headphones," Karelin said. "It's maybe a more fun recording experience than just listening to your flute section leader or a click track."
Artistic Vision
Karelin was thankful for support from various faculty, including CCO faculty advisor Lina Bahn (Strings), Donald Crocket (Chair of Composition), Veronika Krausas (Composition), Larry Livingston (Conducting), and Robert Cutietta, Dean of USC Thornton.
He also found inspiration for the summer festival and 2020-21 season from San Francisco Symphony Music Director Esa-Pekka Salonen and Baltimore Symphony Orchestra Music Director Marin Alsop in a Zoom panel about music-making during the pandemic. "Salonen and Alsop were saying we have to innovate through this time and not keep doing the 'Beethoven in the bedroom' kind of thing," he said. "That was what people did in March and April and May, and there were hundreds upon hundreds of videos."
As the CCO explored options for the season, Karelin realized that even in normal times, orchestras tend to ignore the power of visuals.
"When you have an orchestra on stage, that's not the absence of a visual element, that is the visual element," Karelin said. "If we use the same visual elements for every single piece that we do, we're doing a disservice to the unique properties of every piece that we perform. And because every piece is unique in its needs and what it's trying to express, I think it's essential that what we do visually to complement that piece makes sense.
"I think people in opera have known that forever," he added, "but I think it's something in the orchestra world that we need to get up to speed on."
The idea for the whimsical animation, Karelin said, was the brainchild of "our absolutely brilliant production chair and vice president, Linda Diaz (BM'21)," who is also a Composition major.
To get the musicians out of those boxes, Concerto Chamber Orchestra members brainstorm visuals for each piece, do research on public domain images (they also partnered with the Aquarium of the Pacific for Carnival of the Animals) and send their ideas to the in-house production team for animation.
The season launched with a video of Bologne's Symphony No. 2 in D major. The elaborate animation features gorgeous 18th-century maps and paintings, with CCO musicians in clouds and palace windows, bringing to life the story of Bologne, Chevalier de Saint-Georges (1745-1799).
Diversifying the Repertoire
Born in the French colony of Guadeloupe in the Caribbean to a wealthy plantation owner and his wife's African slave, Bologne was brought to France by his father to be educated. He became a virtuoso violinist, composer, conductor, champion fencer and colonel in the French Revolutionary Army. Bologne faced enormous challenges in his life and work; championing his music and that of other Black composers is part of CCO's response to the Black Lives Matter movement.
"Yes, we're a student orchestra operating with almost no budget, but we are still a part of the orchestra world, the university world and America, and all three of those things have reinforced white supremacy for centuries," Karelin said. "And so being part of that system, we want to do the work to challenge those systems of white supremacy and challenge how we view our own repertoire and what we're programming and what we're playing."
Karelin hopes that all of CCO's innovations, the focus on visual elements, diversity and collaboration, will last beyond his directorship. "These are important directions for the orchestra to move in."
---
Never miss a story
Subscribe to USC Thornton's e-newsletter
Subscribe