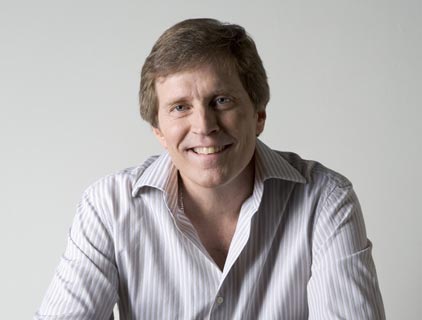 CD celebrates the choral works of Frank Ticheli
"There's something about words and music that ignites a fire that is different than the passion which comes from just writing instrumental music."
During the first decades of his career, Composition faculty Frank Ticheli found considerable success composing works for large-scale instrumental ensembles — but it wasn't until his early 40s that Ticheli decided to explore writing for voice. That exploration resulted in "There Will Be Rest," one of Ticheli's most well-known and widely performed works.
Now, almost 15 years since the debut of that first choral piece, Ticheli's compositions for voice have been compiled into an album titled, Frank Ticheli: The Shore and Other Choral Works.
Produced in part with artistic grants from the National Endowment for the Arts and the American Academy of Arts and Letters, the release includes five world premiere recordings by the Pacific Symphony. It's the first time many of Ticheli's choral works have been commercially recorded.
"The album is a big deal to me," he said. "I came to vocal writing late in life — but now, I've come at it with a vengeance because I truly love it. There's something about words and music that ignites a fire that is different than the passion which comes from just writing instrumental music."
Commissioned by the Pacific Chorale, album centerpiece "The Shore" celebrates the 40th anniversary season of the chorale's artistic director and longtime Ticheli supporter, John Alexander.
"There's no bigger champion of my choral music," Ticheli said of Alexander. "He is a composer himself, so he has a deep passion for supporting living composers."
Ticheli first met Alexander while he was Composer-in-Residence for the Pacific Symphony. Alexander's enthusiasm for Ticheli's compositions developed into a fruitful professional relationship, eventually leading to the commission that made "The Shore" possible.
"We wanted this to be very special," Ticheli said. "I had to write something big to celebrate the occasion."
When it came time for Ticheli to choose text to accompany the commissioned composition, he immediately turned to writer and poet, David St. John — Ticheli's colleague and co-instructor for the class, "Writer and Composer."
Ticheli and St. John have led the biannual class, which encourages cross-collaboration between composers, writers and singers, for ten years. Both instructors received the Phi Kappa Phi Faculty Recognition Award for working together on "The Shore."
"David and I have been teaching and preaching collaboration and creation for over a decade," Ticheli said. "It was time for us to collaborate, to finally put our money where our mouths were."
After considering several of St. John's poems for the project, Ticheli finally settled on a grouping of four poems that, when taken as a whole, tell the story of a young man's journey through the uncertainties of adulthood before achieving enlightenment and redemption. To Ticheli, the loose narrative called to mind the movement of the tides and the imagery of waves crashing upon the sand.
"It becomes very much about these intersections that happen in life," he said of the work's subtext. "I kept that image in my mind, of the waves coming and going. You can even see the imagery of a wave written into the score."
Despite spending a majority of his career composing purely instrumental works, Ticheli finds his artistic sensibilities are reinvigorated by choral pieces. Writing for voice, he says, adds a different dimension to the already complex task of composing music.
"Words offer a suggestion of form, of emotion, an expressive world," Ticheli explained. "It's structure that a composer can either conform to or play against. Playing against the obvious suggestions to create little tensions are the things that excite us as composers."
Despite his obvious love of choral composition, Ticheli admits he wishes to explore other musical styles in the near future — not because of disillusionment, but because of a desire to further push his artistic boundaries.
"I want to keep looking for new challenges," he said. "As soon as a composer understands what he or she is doing, that's trouble."
Frank Ticheli: The Shore and Other Choral Works is available on iTunes and Amazon.
– Katrina Bouza
Never miss a story
Subscribe to USC Thornton's e-newsletter
Subscribe