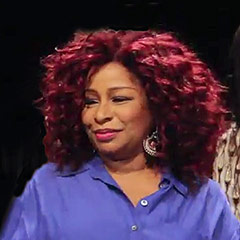 Your class assignment: Sing for Chaka Khan
"You're not trying to be the flavor of the day. I can see you are serious."
— Chaka Khan
Just because she's a 10-time Grammy Award winner doesn't mean Chaka Khan doesn't get stage fright.
"I'm still scared to death before I go on," she told USC Thornton School of Music students. "I'm scared to death for the first three songs."
If that seasoned professional gets nervous, you might have expected major jitters from five USC Thornton Popular Music program students asked to sing for Khan during the Popular Music Forum class Oct. 17. The vocalists included a freshman who had been on campus all of eight weeks.
If the students were panicked, they hid it well: All five absolutely crushed their songs. (It helped that they were backed up by two first-rate bands made up of other students in the program.) A wowed Khan, sitting in a director's chair in front of the performers and a full audience in the Carson Center, bestowed a string of heartfelt compliments. At one point, she got a little teary.
"My heart is just so full of pride and joy to see you young people so relevant, singing in a timeless way," she told them. "You're not trying to be the flavor of the day. I can see you are serious."
After sophomore Camila Mora finished the Alicia Keys song "If I Ain't Got You," Khan told her: "You remind me of Etta James and Billie Holiday. My advice? Please continue."
She queried freshman Celeste Butler, up next singing "My Kind of Love" by Emeli Sandé, whether she had a jazz background. "I play alto sax," Butler said.
'I'm wowed'
"I heard jazz in your licks," Khan said. "You pay attention to every note: No tricks, no sliding into a note. That was fabulous. I take my hat off to you. I'm wowed."
Brooke Randol, a junior, then put a fresh spin on Leon Russell's "A Song for You." Khan told her that she took the well-known number "and made it yours. You handled it beautifully. You're there!"
Tyler Mann, a senior with a high tenor, pretty much owned the stage with the rock anthem "The High Road" by the Broken Bells. Khan was so effusive with her praise — "You're something. You've got everything. You're a cutie. You're hard-core. Great stage presence" — that Mann blushed.
Malia Civetz, a junior, brought the house down with a Kelly Clarkson song, "The Trouble with Love Is." Khan enthused: "That was amazing! What a spirit you have and what a great voice."
Civetz showed the afternoon's first bit of nerves. "Well, I can't breathe right now."
"Well, you can sing, honey," Khan replied. "Good crescendo and innuendo. All spot on. And the band – you guys were really rockin'."
After Khan hugged Assistant Professor Jeffrey Allen, who helped prepare the vocalists, she answered students' questions and urged them all to write their own songs. "I'm interested in original material," she said.
Joining in
Civetz then stepped back to the mic and told Khan that the students had a gift for her. A guitarist began the distinctive intro to Khan's 1974 hit, "Tell Me Something Good," and all the Popular Music performers joined in. "Feel free to join us," Civetz told their famous guest.
And Khan did. Despite saying that her voice "sounds like a pubescent boy so early in the day" (it didn't), the musical legend strolled to the stage and took turns singing verses with all five vocalists, much to their delight.
As singular an experience as the class was, the Popular Music Forum brings big-name guest speakers and artists to Music Industry and Popular Music students each and every Friday. Chris Sampson, who heads USC Thornton's Division of Contemporary Music, teaches the course and interviews the guests.
In addition to Khan, this fall's visitors to class have included producer/songwriter Giorgio Moroder; songwriter/musician/producer Scott Michael Cutler; guitarist Steve Vai; A&R executive and record producer Ron Fair; folk rock troubadour Donovan and Ralph Peer, chairman and CEO of peermusic; R&B singer, songwriter and producer Raphael Saadiq and his manager Damien Smith; and drummers Gregg Bissonette and Myron Grombacher. Coming up are engineer and producer Ed Cherney and Black Eyed Peas band member, songwriter, producer and solo artist Printz Board.
Never miss a story
Subscribe to USC Thornton's e-newsletter
Subscribe