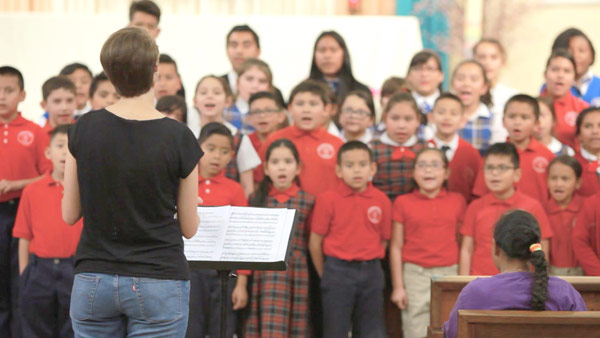 Choir Festival Brings Students Together
The students eyed one another with curiosity as they shuffled into their pews. Today would be the first chance for these third- and fourth-grade choirs to perform for a new audience: kids from neighboring schools who had gathered at St. Agnes Church to participate in the USC Thornton Community Engagement Choir Festival. In the weeks prior, students from Santa Teresita Elementary, Science Center, and St. Agnes Catholic School had performed for their families and peers. Now, they would sing as representatives of their schools.
"It felt great to sing. I was scared at first, but then I wasn't scared after all," said Brianna, a fourth grader from Santa Teresita Elementary. Her choir went first, and as they took the stage, the crowd of students welcomed them with an eager hush that ended in applause.
Held each April, a goal of the annual choir festival is to let students perform for one another on stage and settle their nerves. But Susan Helfter, director of the USC Thornton Community Engagement Program, says that a more important goal is to build community between contrasting kinds of schools: public and private, secular and religious. "The intention is that choirs from different schools get to interact with each other, hear each other, and be in an environment that's really supportive," Helfter said.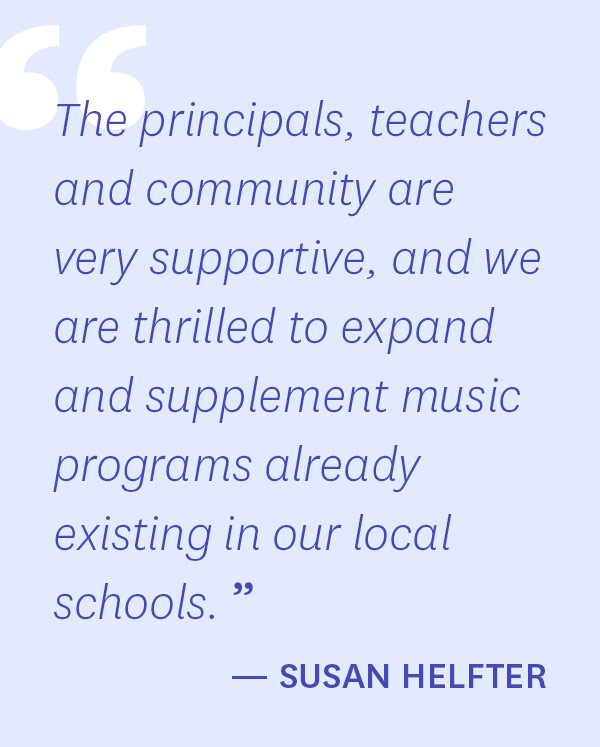 To keep the focus on building relationships, the festival has adopted a non-competitive format, where the performances showcase students' growth in leadership and cultural literacy as well as the music they learn. For the April festival, each class nominated a student to introduce its song selections and explain each piece's meaning and significance. Choirs sang pieces in Spanish and Swahili, spanning genres as diverse as jazz, folk and musical theater. And before the concert, they worked in small groups to add choreography to their pieces and test one another on their lyrics and movements.
Such an integrated approach means that students draw lessons from their choir classes that stick with them beyond the end-of-year performances. Monica Garcia, a fourth-grade teacher at St. Agnes Catholic School, was impressed by how her students took ownership of the music. "They go home singing the songs. They come back the next day still singing the songs. It's engraved in their mind," she said. "It shows the power of music and what this program is doing for them."
USC mentor Kate Crellin, a junior double-majoring in Choral Music and Law, History, & Culture, explained that her students' enthusiasm for music and their diligent practice is what helped them beat their nerves. "They go home and they practice, and they come back and say, 'Ms. Kate, I practiced. I knew my song. My friends know my song!'" she said.
Among mentors, teachers, and students alike, the choirs have proven themselves an invaluable part of USC Thornton's mission to support music instruction in schools in the University Park area.
"This year, our programming has expanded to offer choir opportunities for fifth-grade students at Vermont Elementary," Helfter said. "The principals, teachers and community are very supportive, and we are thrilled to expand and supplement music programs already existing in our local schools."
---
Each Wednesday this November, we showcase the incredible impact that USC Thornton's Community Engagement Programs are having on local schools.
Never miss a story
Subscribe to USC Thornton's e-newsletter
Subscribe