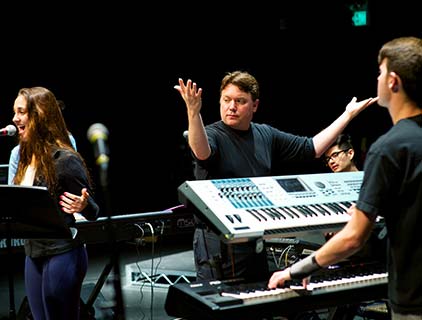 Chris Sampson Featured At Kennedy Center Festival
Opera star Renée Fleming is curating an unprecedented festival on American singing at The Kennedy Center in Washington, D.C., Nov. 22-24, bringing together an array of stars and experts on jazz, rock, country, pop, musical theater, gospel and classical music. Featured on three of the panels and symposia is Chris Sampson, USC Thornton's vice dean for contemporary music.
Sampson will moderate a pop/rock session that includes a master class with singer-songwriter Ben Folds. He will be part of a panel discussion on the industry with famed producer Don Was and others.
Sampson also is part of the country music session, which includes a master session with country and bluegrass star Alison Krauss. The panel for that session will include Sampson, songwriter and producer Darrell Brown and Mike Dungan, CEO of Universal Music Nashville.
The third panel Sampson will appear on is a symposium on the current business and technology of popular singing. Q Prime founder Peter Mensch, EA Music Group president Steve Schnur, Don Was and others join Sampson on that panel.
Artists performing at the festival include Sara Bareilles, Josh Groban, Sutton Foster, Dianne Reeves, Eric Owens, Kurt Elling and Kim Burrell.
Sampson said he is honored to be included, and said his involvement can be traced to a campus tour he gave about two years ago to Fleming and her teenaged daughter as they were visiting colleges.
After the tour of USC Thornton, Sampson and the opera star engaged in a wide-ranging discussion about music, and discovered their shared philosophy about all music being connected, whatever the genre.
Fleming's daughter ended up deciding on a different major and school, and Sampson had no more contact with the opera singer until he received a personal letter from her a few months ago, inviting him to be part of her Kennedy Center event.
"I never imagined that a conversation I had a year and a half ago would have such a result," said Sampson.
Read the complete article at USC News.
Learn more about American Voices, an unprecedented three-day festival exploring the past, present, and future of American singing.
– Allison Engel
Never miss a story
Subscribe to USC Thornton's e-newsletter
Subscribe