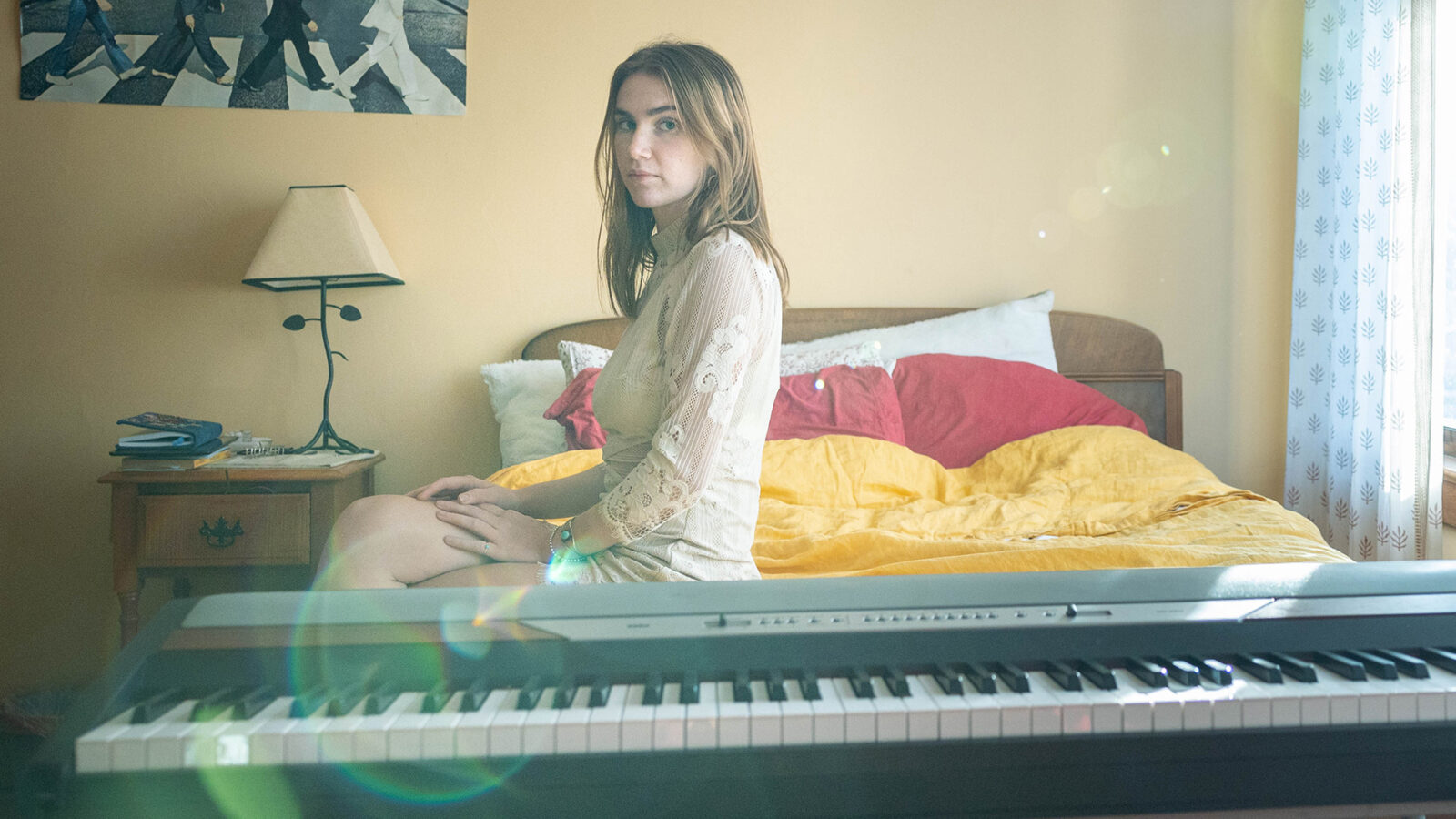 Class of 2021: Outstanding Graduates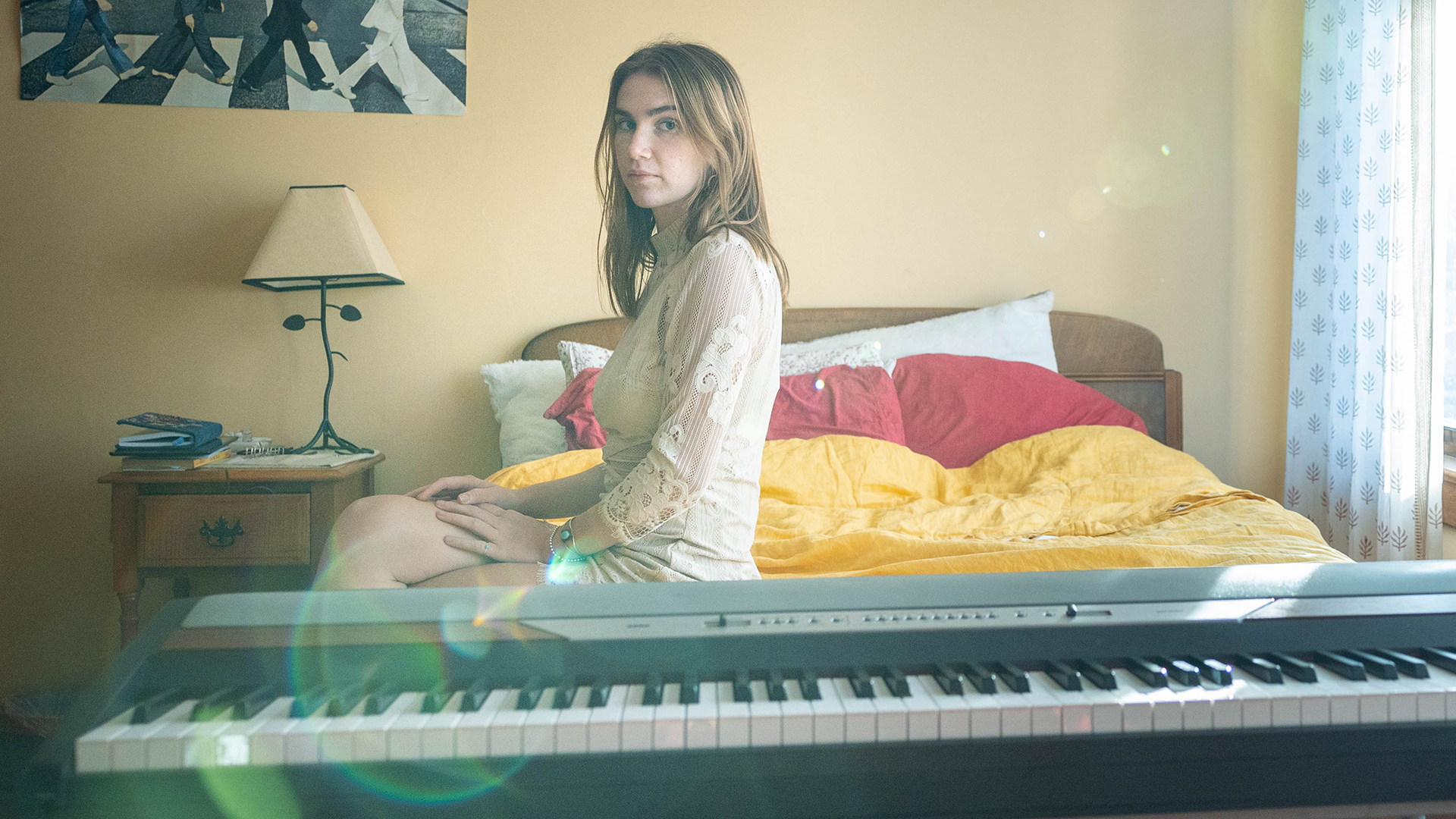 ---
Five USC Thornton students were chosen as the 2021 Outstanding Graduates:
Lila Forde, B.A. Music with an emphasis in Vocal Jazz
Christopher Erling, B.A. Music with an emphasis in Piano Performance
Aidan Gold, M.M. Composition
Sabrina Bounds (MM '19), Graduate Certificate Flute Performance
Ye Lin (Stella) Cho (BM '12, MM '14), D.M.A. Cello Performance
These students have demonstrated excellence in performance and scholarship, outstanding service and leadership. They have worked to enrich the musical environment on campus, sought learning opportunities outside of their professional training, and engaged in artistic activities beyond campus. As representatives of USC Thornton's Class of 2021, their stories touch on diverse opportunities, life-changing faculty and creative collaborations, and look confidently toward a future in music.
Lila Forde, BA '21
Lila Forde BA '21 has forged new paths as a vocalist in USC Thornton's Jazz Studies program. For one, she made the Honors Combo, the cream of the crop ensemble, in her senior year. "There's never been a vocalist in the Honors Combo before, so that was a really proud moment for me," she said. "I was really excited about them taking a chance on me."
Apparently, faculty member Jason Goldman, the leader of the ensemble and chair of the Jazz Studies department, didn't take a big risk. Forde was so good, he let her audition for the graduate program in Jazz Studies, which has also been exclusively instrumentalists. She was accepted — another first for a vocalist.
Forde said her time at Thornton has been transformational. "I was terrified when I was a freshman coming in. Being a musician is such an uncertain path to take: What am I going to do after college? How am I going to make money? But I knew there was nothing else that I could do. I had no choice. I'm a musician through and through.
"And now? I could not be farther from that mindset," she added. "I feel equipped with the tools I've been given at USC, that I am a capable musician who is going to be able to make a living. USC has really, really helped me get there. The school has transformed me. So that's pretty exciting."
The transformational experiences between then and now included exploring diverse opportunities inside and outside of jazz. She took classes and lessons with Popular Music program chair Patrice Rushen and classes in screen scoring, which sparked an interest in exploring composition for films and video games. In addition to the Honors Combo, she sang with ALAJE, Thornton's Afro-Latin American Jazz Ensemble, the school's jazz orchestras, and vocal jazz ensembles. "I've gotten to learn so many different styles of music and develop so many skillsets in different arenas that I really feel like I'm a well-rounded musician at this point," she said.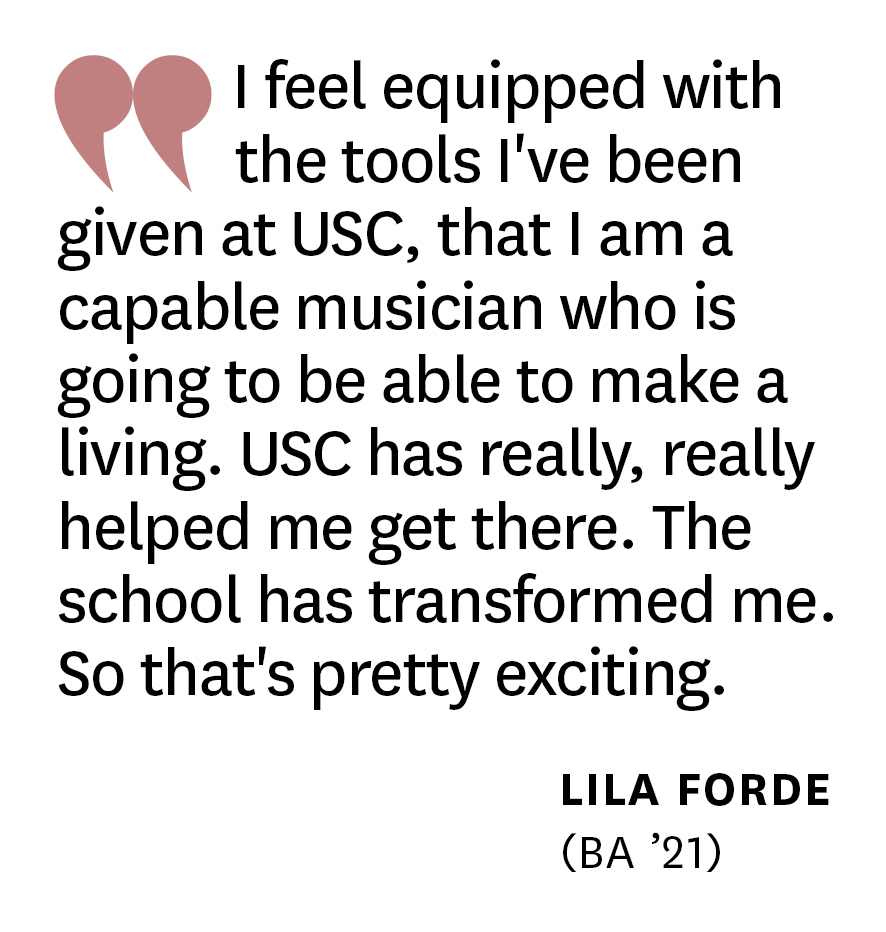 Not only does that experience give her confidence, but she can also say self-assuredly that Thornton helped her develop and appreciate her own voice over the past four years. "The most important thing I've learned at Thornton is being genuine and true to who you are as a musician and as a person, to just be yourself and develop your own sound and your own voice, and people will recognize that and love that as much as you will," Forde said. "So I think that's been a really valuable lesson for me, and honestly, it is because of Thornton that I have developed my own voice."
For her academic excellence and meaningful contributions to her field of study, USC honored Forde with the Discovery Scholar distinction, and she is a finalist for the $10,000 grant for graduate study or focused work. In her application, she submitted the album she recently recorded and released (available on all streaming services, including Spotify and YouTube). It features six songs she wrote while at USC and recorded with USC musicians, who are jazz majors and also happen to be her best friends and roommates.
Forde plans to take a year off before taking her proudly earned spot in the graduate Jazz Studies program. "I'm think I'm just gonna travel the world, write music, play music," she said. "I know venues are opening up, people are itching to see live music and live shows again, so I feel like it's kind of the perfect time to focus my energy on getting gigs, playing shows, writing music, and collaborating with people. I'm really excited for that."
Christopher Erling, BA '20
From day one at USC Thornton, pianist Christopher Erling BA '20 had a goal: make the most of being at a topnotch music school within a major university. Among his priorities, he set a personal goal of performing a solo recital each year and pursued a minor in East Asian Studies. He also took advantage of some exciting opportunities outside of school wherever they popped up — including Hollywood and Italy.
Erling's proudest accomplishment during his time at Thornton is not his 3.925 GPA or any of his competition prizes, which include second place at the Los Angeles International Liszt Competition in 2018. He is most proud of his three Thornton recitals where, he said, he put his musical skills to the test performing such pieces as Rachmaninoff's Sonata No. 2, Prokofiev's Piano Concerto No. 2, Carl Vine's Piano Sonata No. 1, and Scriabin's "jubilant and ecstatic" Sonata No. 5. "These are pieces that I love and hold close to my heart, and that I dreamed of learning before college," he said.
He's especially happy he planned ahead given that senior recitals were cancelled unexpectedly due to the pandemic."All three recitals I did were for my own benefit and growth rather than a degree requirement," he said. "If you want something, you really have to go out and create it for yourself. For me, it was always I wanted to maximize how much I could perform."
Erling said his time at Thornton was an opportunity to explore his love for the French and Russian classical piano repertoire of the early 20th-century. "I have such a strong love for the coloristic music of France, including Ravel and Messiaen, and the passion, fury and heartache found in Russian music."
One of his favorite classes, French Piano Repertoire, was taught by faculty member Stewart Gordon, who became a mentor. "Joining Dr. Gordon's studio at the beginning of junior year honestly changed my life in so many ways," Erling said. "Dr. Gordon is one of the kindest, most patient and incredibly knowledgeable pianists that I've ever had the pleasure of working with. … He brought out my true capabilities, and I feel forever indebted to his teaching and kindness. He instilled in me a confidence that no matter how tough the ups and downs may get, I still have reason to keep on going in pursuit of my musical happiness."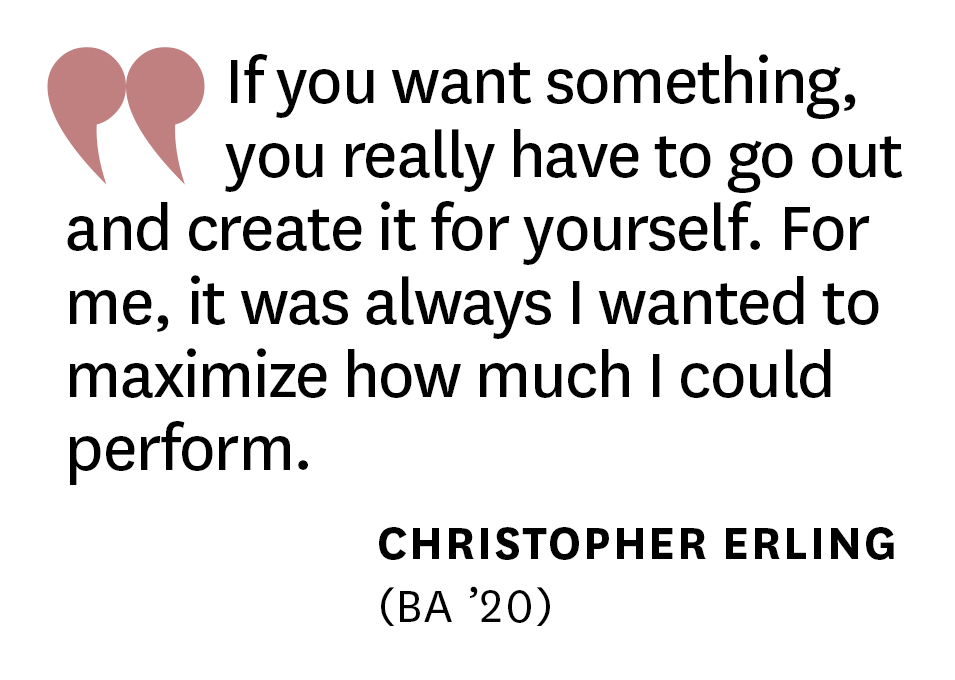 He definitely pursued musical happiness in Italy at the Amalfi Coast Music and Arts Festival in 2018 at the invitation of his then-studio teacher, Bernadene Blaha. He and his studio mates enjoyed concerts and master classes on the picturesque Italian coast — a destination on Erling's bucket list.
Hollywood also beckoned. When a Thornton alum contacted Blaha with an opportunity to work on the Amazon series, "The Romanoffs," Erling sent a clip and booked his first gig. "I ended up being a hand double for this main character who was a pianist. Every time there's a close-up on the hands, that was my playing." He got to play pieces by some of his favorite composers, Rachmaninoff and Tchaikovsky, to boot.
Wrapping up his degree one semester early, in December 2020, Erling came one class shy of a minor in East Asian Studies. Starting freshman year, he took numerous history, culture and language courses. "I wanted to make use of being a music student in a university," said Erling, who is half Japanese. "I've always had an obsession with the past, and went about exploring that by studying the history I did not get to learn growing up. As a bilingual person, I would also love to be able to refer to myself as a polyglot in confidence someday."
For now, Erling is exploring his relationship with the piano, and job opportunities within and outside of performing. He plans to attend graduate school in a year or two. "It would be a dream of mine to become a specialist in the French and Russian repertoire of the early 20th century."
Aidan Gold, MM '21
When he started the master's program in composition at USC Thornton, Aidan Gold MM '21 never would have guessed that his proudest accomplishments would involve taking the Student Symphony Orchestra of USC online. But, like all musicians during the pandemic, he had to make a major pivot and become technologically proficient in short order.
"As assistant music director this year," Gold said, "we've had to really reimagine what we conceive of as an orchestra doing — putting together various remote projects, learning how to mix audio, learning how to edit video — and basically produce all these things which I didn't have any experience doing beforehand."
Gold is especially proud of starting the Zoom ensemble within the SSO and the concerts they were able to produce. "We experimented with using technology to perform music live remotely," he said. "We used Audiomovers to transmit high-quality audio remotely and mix it live while interacting visually over Zoom. So basically, we could play certain types of music together and interact as if you're making music together in person, which I thought was really special and fascinating."
According to Gold, another positive outcome from the move online was that the Composition Forum could bring in more diverse artists than ever. "We've had pop artists, hip hop artists, classical composers, visual artists — a lot of different, really broad perspectives." And his multidisciplinary experience at Thornton went beyond education and inspiration to include collaboration across campus with writers, dancers and filmmakers.
One of the highlights for Gold was his experience in faculty member Frank Ticheli's Writer, Composer, Singer class. "I got to work with poets and singers at USC, and we would collaborate and put together projects where I would set the text, and then the singers would sing the piece. That was a really exciting project."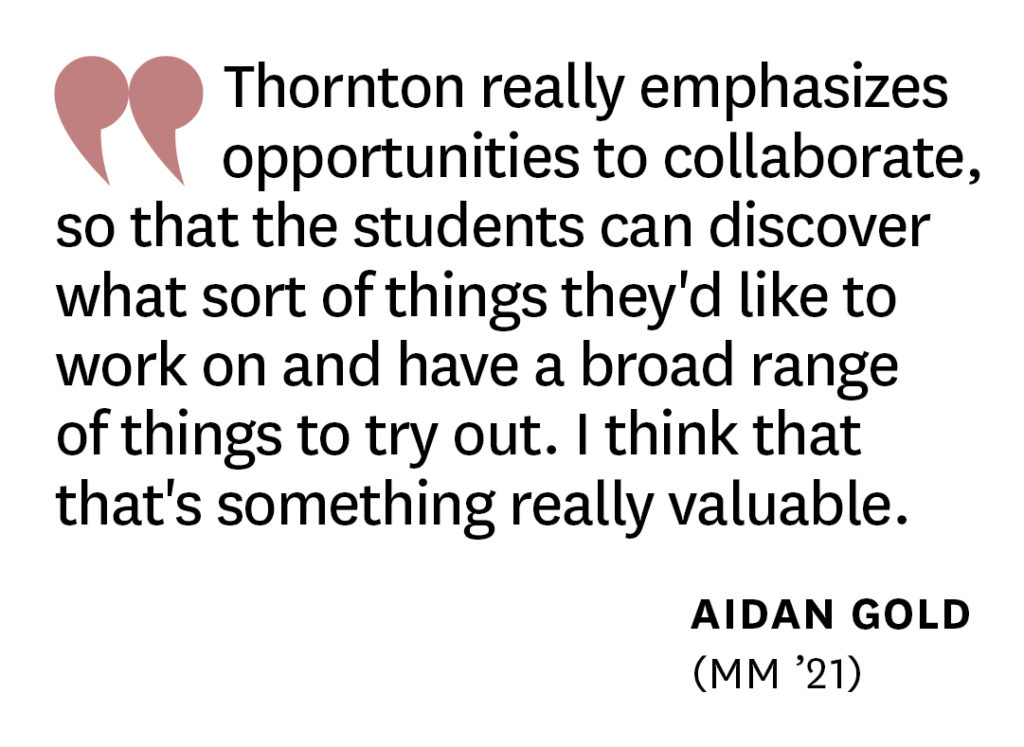 The result was his composition Hard Weather, a cycle of 10 songs about glaciers melting due to climate change, based on a poem of the same name by Erin Lynch, a Ph.D. student in creative writing at USC. The piece also has personal resonance. "My parents were avid mountain climbers, and so throughout my childhood they took me on hikes up to the glaciers on Mount Rainier and elsewhere in the Pacific Northwest," said the Washington State native. "I was always fascinated by the immense scale and interconnectedness of the glaciers and their ecosystem. It is this scale and connectedness that I attempted to evoke in this song cycle."
Gold worked on five other compositions during his master's program, collaborating with a guitarist/composer and a quartet, and even writing experimental pieces that directly address the new virtual modes of performance. "Thornton really emphasizes opportunities to collaborate," he said, "so that the students can discover what sort of things they'd like to work on and have a broad range of things to try out. I think that that's something really valuable."
His mentor, faculty member Nina Young, pushed him to explore remote projects and audio production, while guiding him in the practical aspects of his career, such as marketing himself as a composer. "Working with Nina Young has helped me develop a sense of who I am as a composer and what I try to do in my music," he said. "And this program has really helped me crystallize that and get a little closer to knowing what I want to pursue."
Following graduation, Gold has many goals in addition to composing and performing (he's a percussionist who has performed with the Northwest Symphony Orchestra, the Seattle Metropolitan Chamber Orchestra, and the Bellevue Ballet). Having taken conducting lessons with faculty member Larry Livingston, conducted the SSO and guest conducted other ensembles, Gold said he would love to continue down that path. And having had such an "exciting, fun, and absolutely incredible" experience as a teaching assistant in aural skills, he wants to apply for teaching positions. He said, "I think that Thornton has really set me up well for all that."
Sabrina Bounds, MM '19, GC '21 
For flutist Sabrina Bounds MM '19, GC '21, two years in USC Thornton's master's degree program went by way too fast. She wanted to stay longer to develop deeper relationships with her fellow Trojans and explore the city of Los Angeles more. Then the global pandemic hit. And while things didn't work out quite as she'd planned, she feels they may have worked out even better.
"My intentions for this degree turned around due to the pandemic," Bounds said. "Instead of getting to know my colleagues better, I got to know myself — with the help of my professor."
One person in particular shaped her entire Thornton experience over the past four years: her mentor, faculty member Jim Walker. "From the very beginning, I knew Jim to be the most honest, dedicated and energetic teacher. I have a thousand things to thank him for," Bounds said.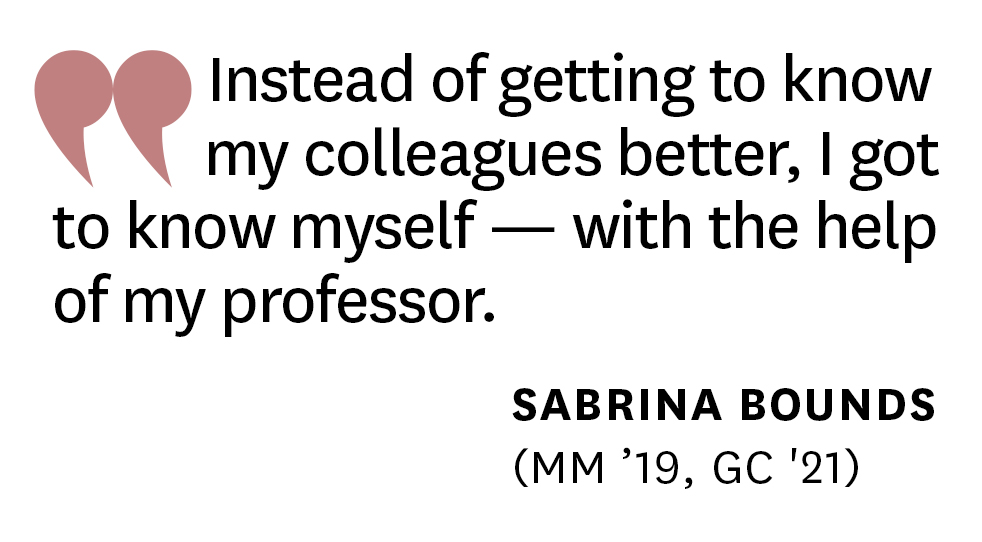 "Perhaps the greatest thing of all, was not only how he changed my flute playing, but more importantly the way I see myself as a person. He taught me how to treat myself with grace, to take on setbacks and to keep fighting for my dreams," she said. "This is the greatest gift I am able to take away from Thornton."
Though the past year has been so unusual, one day stands out as a proud and special memory: Sept. 13, 2019. Bounds performed the Shostakovich Symphony No. 10 with the USC Thornton Symphony. She and some of her closest friends sat in the principal sections.
"This concert was special in the moment, but even more poignant as it was the final in-person concert I participated in at Thornton before the world shut down," she said. "It was so fun to gather every other day to work on this challenging piece together and turn out a really beautiful collaborative performance."
After graduation, Bounds will participate online in Marina Piccinini's International Paganini Caprices Masterclass, and continue her work as a private flute instructor, as well as an aural skills lecturer and a flute coach at three Southern California middle and high schools in the fall. When things get back to normal, she hopes to revive her clarinet/flute/piano trio, KoWA, and pursue other performance opportunities.
"I'd like to be adaptable, a jack of all trades, like my professor," she said. "Though some of my biggest goals include performing in professional chamber groups and orchestras, overall, I just want to be happy and content in my life. I learned a lot at Thornton and I look forward to implementing my skills developed over the years to discover my place in the world."
Ye Lin (Stella) Cho, BM '12, MM '14, DMA '21
Ye Lin (Stella) Cho BM '12, MM '14, DMA '21 called Beethoven her "absolute favorite composer." So it was unthinkable that the pandemic would stop her from celebrating the 250th anniversary of his birth. The USC Thornton doctoral candidate chose to honor his music as only an accomplished cellist could — by performing the entire cycle of works written for piano and cello. She and pianist Heejung Ju (GRCT '13, MM '16), adoctoral candidate at Thornton, performed five sonatas and three sets of variations over livestream in November.
"While 2020 was a very tough year for everyone around the world, Heejung Ju and I wanted to do our part in celebrating the life of such a monumental composer," she said. "Even though we wished we were able to perform live, we also felt lucky to be able to share our music with friends and family around the world."
The endeavor was an intense learning experience. "It was my first time to delve deeply into studying one composer's works in a very concentrated way, and I have to say, it was an incredible experience, not only trying to master the pieces on my instrument, but doing a lot of research about Beethoven's life at the time of the compositions enabled me to feel deeply connected to the music even more," Cho said.
In-depth musical study has been a way of life for Cho who has earned a doctor of musical arts after earning her bachelor's and master's at Thornton and then a graduate diploma from the New England Conservatory. She expressed gratitude for experiencing a variety of learning opportunities.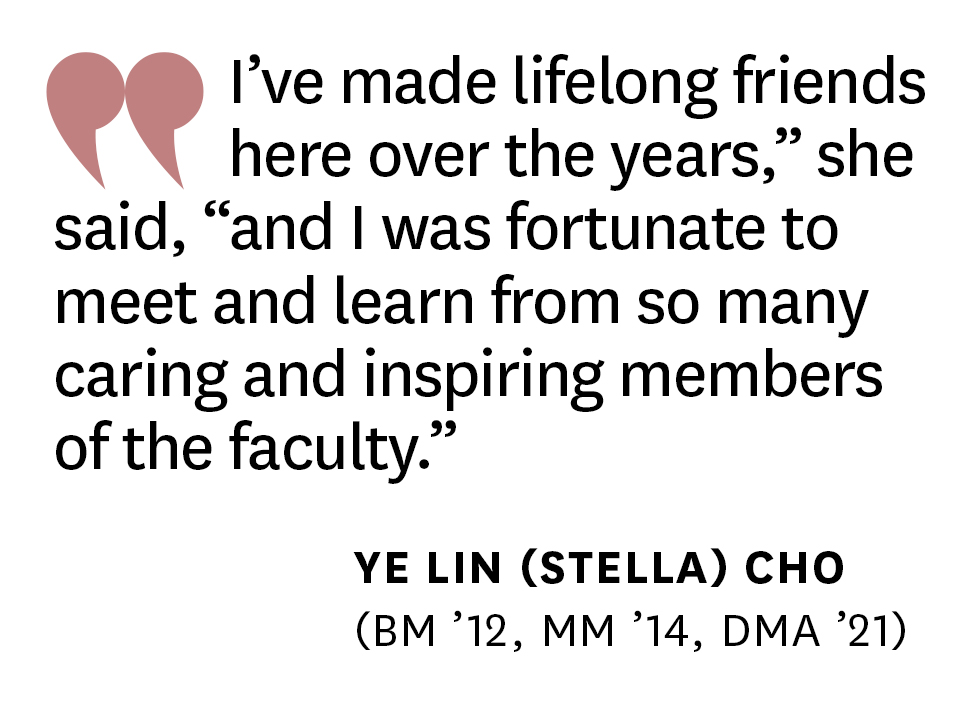 "I've benefited immensely from all different departments within the Thornton School, not just from everything the Strings department has to offer, but collaborating with KCA pianists, playing in the orchestra and the new music ensemble, and minoring in instrumental conducting and music technology during my DMA," she said. "All these different experiences helped me become more complete as a musician."
Cho took advantage of many opportunities to perform, as a member of the SAKURA Cello Quintet and Delirium Musicum, a conductor-less chamber ensemble, as well as the principal cello of the USC Thornton Symphony. She was also invited to perform nationally and internationally, at such events as Rencontres Franco-Américaines de Musique de Chambre and the Ravinia Festival, and has earned numerous awards, including first place at the inaugural USC Thornton Christine Marie Ofiesh Honors Quartet Competition.
Being part of a tight-knit "family-like" environment at Thornton has been a highlight. "I've made lifelong friends here over the years," she said, "and I was fortunate to meet and learn from so many caring and inspiring members of the faculty."
One of those inspirational professors is Gregor Piatigorsky Chair in Violoncello Ralph Kirshbaum. "He has taught me to always strive to be the very best of myself and to believe in what I have to say through music," Cho said. "Having such an inspiring and supportive mentor like Professor Kirshbaum has also inspired me to want to become a similar figure in my own students' lives."
After graduation, Cho would like to stay in the Los Angeles area, continuing to perform and teach.
"I would love to teach cello in higher education in the near future," she said, "and be able to give back everything I've learned during my student years to the younger generation." 
Never miss a story
Subscribe to USC Thornton's e-newsletter
Subscribe