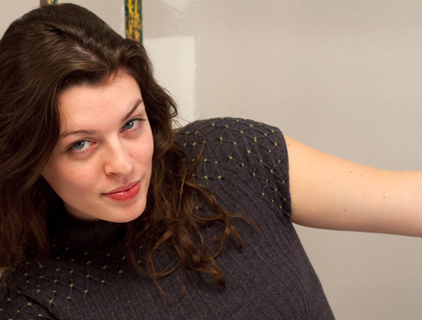 Composition student Julia Adolphe's work performed by the New York Philharmonic
"The image I had for this piece was walking on the sidewalk and hearing someone playing piano or music wafting outside of a window."
In June, Julia Adolphe, a 26-year-old doctoral student in the USC Thornton School of Music Composition department, had the thrilling experience of watching the New York Philharmonic perform one of her pieces in concert. As part of the inaugural NY Phil Biennial festival, she was one of six young composers selected from over 400 applicants to participate in a read-through with the orchestra. Her composition, Dark Sand, Sifting Light, was then among three pieces chosen to be performed. To top it off, her work received glowing reviews in The New York Times and The New Yorker.
"The whole experience was exhilarating," said Adolphe. "It was a dream come true. It's not anything I ever imagined that would be in the realm of possibilities for me, or for my career."
Adolphe earned the opportunity through her participation in EarShot, a national orchestra network that offers readings and workshops for composers early in their careers. In late September, EarShot and The League of American Orchestras gave Adolphe another honor – a Virginia B. Toulmin Foundation Commission, which includes a $15,000 cash stipend as well as an orchestral premiere of the commissioned work. She was one of only two individuals awarded the commission given to female composers who participate in the EarShot program.
Dark Sand, Sifting Light is emblematic of Adolphe's creative process of being inspired by stories and images. With a meandering, almost cinematic quality, the work was inspired by Adolphe's experiences living in a city.
"The image I had for this piece was walking on the sidewalk and hearing someone playing piano or music wafting outside of a window," she explained. "That made me think of using the orchestral piano as a motif and image that triggers musical ideas."
After the intensive, three-hour reading session with the New York Philharmonic, which included representatives of each section of the orchestra, Adolphe received significant feedback from the musicians — so much so that she spent most of the evening editing her score in time for the performance the following day.
"Composers are often control freaks," she admitted. "The feeling the composers often have when listening to their work performed for a first time is one of no control. During the readings, I was so freaked out that I didn't even hear most of what was going on."
Those nerves quickly subsided on the evening of the performance.
"By the time I actually sat down for the show, it was the first time I wasn't actually nervous during a performance," Adolphe said. "I always get nervous — even when I trust the performers. This time, I was actually able to enjoy and listen to the performance, which was shocking. I guess I just realized that I couldn't have given this piece to a more capable group of musicians."
Adolphe called the experiences she had through EarShot and the NY Phil Biennial positive and inspiring. However, she does recognize that women composers are still met with hostility or condescension in certain environments, and said that it's up to women in music to bring attention to the discriminatory viewpoints they encounter.
"No one's going to outwardly say that female composers aren't as talented as male composers," she said. "Rather, you tend to experience a more implicit or engrained sexism."
Adolphe notes that the demographics of the composition world are changing for the better.
"I meet a lot of young female composers," she said. "I've been included in some women composer's festivals, and I've played in programs that highlight female composers — so there are initiatives out there that are trying to promote women to get interested and involved."
Adolphe received her undergraduate degree in music composition and literary theory from Cornell University. "After Cornell, I was ready to focus and enroll in a school of music," she said. "I wanted to have the broadest palette possible — to be able to write for all instruments and expand my musical language."
Adolphe credits the diverse, welcoming environment of USC Thornton as a major reason she chose the university.
"When I was applying to graduate schools, there was a sense of support and camaraderie at Thornton that wasn't present at other schools," she explained. "USC was also the only school that had an almost equal amount of male and female composition students. That made a big impression on me."
Adolphe has benefitted from the many opportunities offered to young composers on campus, which include premieres of student work performed by USC Thornton ensembles. Her music has been featured in the USC Thornton Symphony's annual New Music for Orchestra concert, led by Composition department chair Donald Crockett. The event has premiered more than 125 compositions over the past 25 years.
"The New Music for Orchestra program at Thornton is really unlike any program out there," she said. "So few schools do this, and I really think that's why there is a legacy of USC Composition students succeeding in orchestral competitions."
With a string of new commissions, as well as a chamber opera set in modern-day Iran currently in development, it's apparent that Adolphe will have many more opportunities to carry on that legacy of success before she completes her doctoral degree.
"I'm still in a state of shock," she said, referring to her NY Phil premiere. "I'm doing what I love. It's nice to step back and reflect on that feeling for a moment."
Never miss a story
Subscribe to USC Thornton's e-newsletter
Subscribe