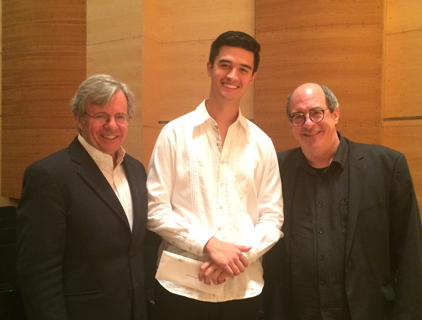 Current doctoral student Thomas Kotcheff wins 2014 Hermitage Prize
"I'm thrilled that this experience can be offered to young, talented composers who are just beginning their careers."
With the academic year at the University of Southern California just beginning, most students might face some difficulties adjusting to their new, grueling schedules after relaxing summer vacations.
But for many USC Thornton students, such as current Composition doctoral candidate Thomas Kotcheff, summer wasn't a time to kick back and take a break from studies — it was a time to further advance a budding musical career.
Kotcheff, who also holds a Masters degree from USC Thornton, was recently awarded the 2014 Hermitage Prize by the Hermitage Artist Retreat and the Aspen Music Festival and School.
Consisting of a six-week residency and a $1,000 stipend, the award is given annually to a composition student participating in the summer program at the Susan and Ford Schumann Center for Composition Studies with the American Academy of Conducting at Aspen.
"We are so proud to have the Hermitage Prize as part of the Aspen Music Festival and School," said Hermitage Executive Director Bruce Rodgers. "These 'students' are already on their way to impressive careers with a multitude of recognized work under their belts."
And Thomas Kotcheff certainly fits that bill.
Kotcheff has received commissions from a variety of orchestral organizations, including: the Los Angeles Philharmonic Committee, the USC Thornton Edge ensemble, the Los Angeles County High School for the Arts, Peabody Institute's Peabody Camerata, Trio Appassionata and Sandbox Percussion. He also received the Peabody Institute's Presser Foundation Award in 2013 for his piano trio, gone into the night are all the eyes.
In addition to concert music, Kotcheff has also composed music for both theater and film. His recent work on the short film Fearless has been showcased at the 2014 Galway Film Fleadh in Ireland, where he will be an invited artist.
At just 26 years old, Kotcheff can now add the Hermitage Prize to his growing list of professional accomplishments.
For accomplished musicians, artist retreats provide a unique experience to both enhance their musical ability and grow in an artistically supportive environment.
"Being able to go to an artist retreat is one of the most wonderful experiences an artist can have," said Alan Fletcher, President and CEO of the Aspen Music Festival and School. "It's an opportunity to live among other artists of all disciplines who support each other with a real interest and understanding of making art."
Beneficiaries of this rare opportunity would definitely have to agree. Kotcheff, who is currently based in Los Angeles working as a new music pianist dedicated to commissioning and premiering new works, remarked on the fortunate timing of receiving the award.
"Even before the Prize, I had decided to take a year off from my studies to work on my music," he said. "This could not have come at a better time."
-Jenevieve Ting
Never miss a story
Subscribe to USC Thornton's e-newsletter
Subscribe