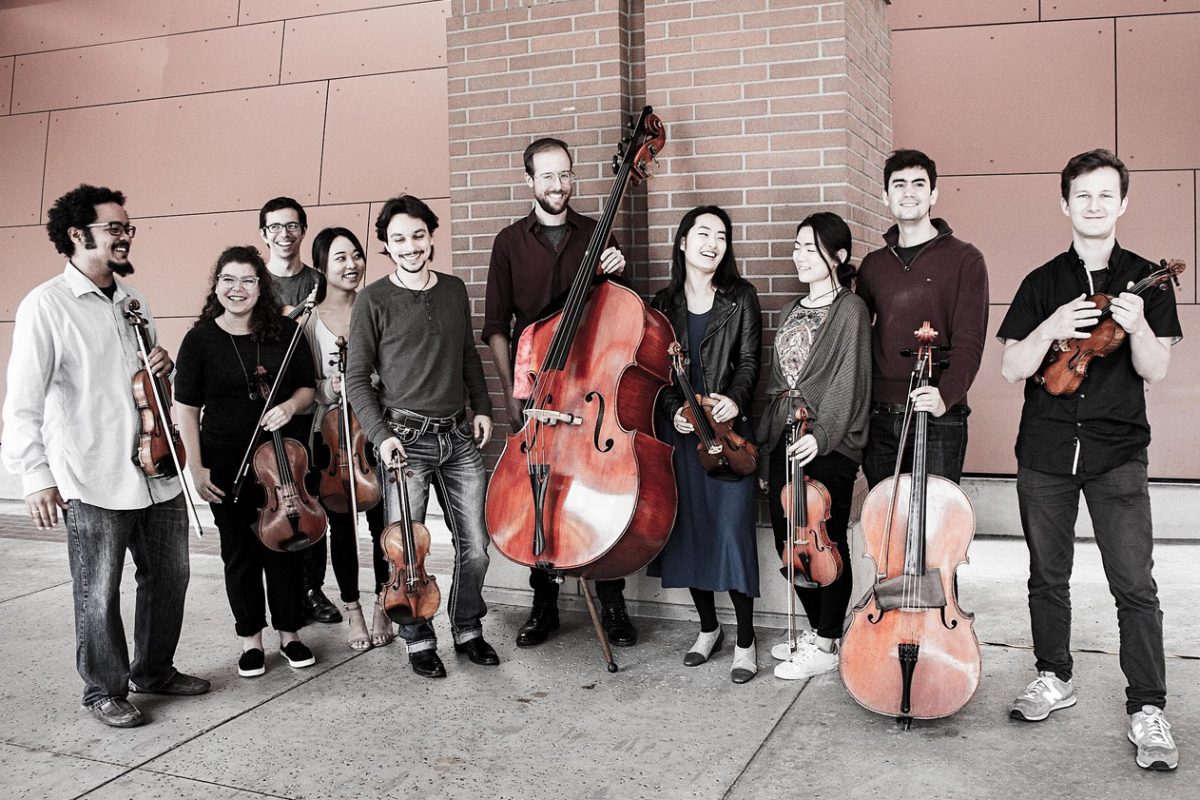 Deliriously Empowered
French violinist Etienne Gara was drawn to Los Angeles by the USC Thornton faculty. What he didn't expect were reasons to stay, including his new ensemble, Delirium Musicum, that features many collaborators from USC.
"We should start an ensemble." It's the classical music version of, "We should start a band." And it's what French-born violinist Etienne Gara said to some musician friends in January of 2018, after a particularly inspiring performance together.
"Something happened that was very human," he says. "It was not a job. It was not a gig. It was just like, wow, this is a family of musicians." He didn't want the feeling to end.
That moment was the culmination of eleven and a half years of higher education, a Master of Music degree from New England Conservatory, and a move across the country to study with Midori Goto at USC Thornton. Like many classical musicians throughout history, Gara was drawn to a faraway city by a famous and talented faculty member.
What he didn't expect were reasons to stay. Through USC Thornton, he found a group of willing collaborators, and in Los Angeles, he discovered a city wide open for creative experimentation.
"I feel it's kind of my laboratory," Gara says. "It's a feeling of space, and I think there's a natural curiosity for anything new and surprising. As long as the quality is there, people recognize it. It's extremely rewarding as an artist."
Founding an ensemble was the irresistible convergence of idea, time, and place. Gara worked quickly to make it happen, forming a company and obtaining not-for-profit status. Of course, it needed the right name, one that represented the group's energy—delirious joy and a desire to share that joy through music. Delirium Musicum was born.
Their Own Path
In addition to Gara, the initial core ensemble included several USC Thornton alumni: violinists Mishkar Núñez-Fredell (MM '09, DMA '17) and Yu-Eun Kim (GCRT '15, ARTD '17); bassist Ryan Emerson Baird (MM '13, GCRT '15); and cellist Joo Lee (MM '08). Since then, their numbers have swelled to a pool of some 25 musicians, many of them USC Thornton students and alumni.
This rapid accretion points to a thirst among young classical performers. Many are looking for more meaningful ways to express their artistic impulses. "I try to create something," Gara says, "a realm or a universe where people who feel that way, who recognize themselves that way, that yearning, that searching, that challenge, are naturally drawn to it."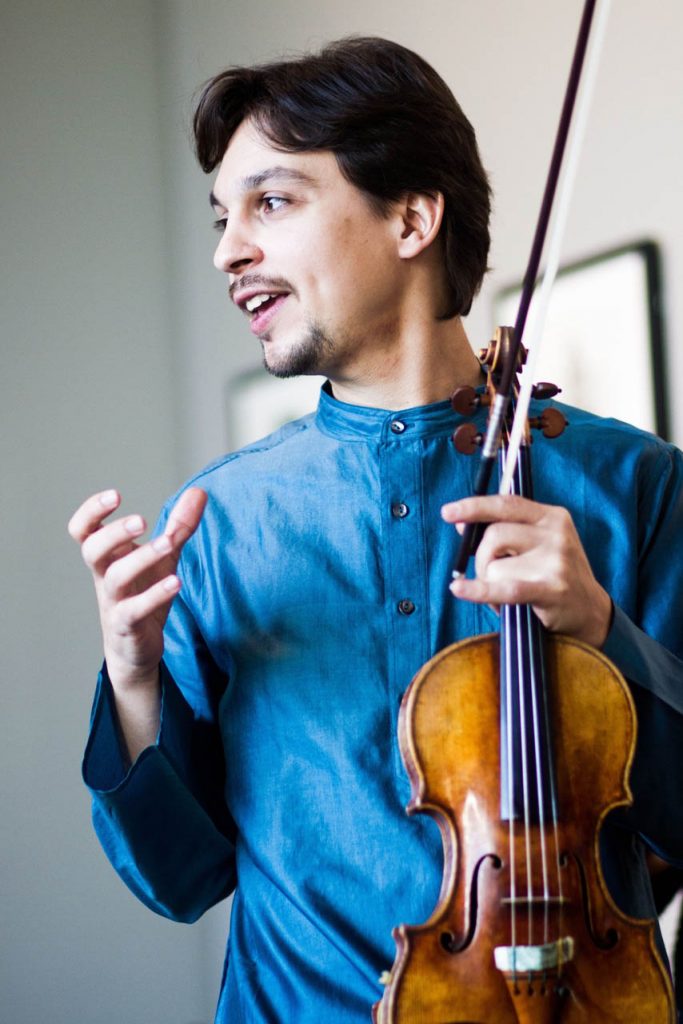 An important aspect of Delirium Musicum is empowering these people, providing a venue where each unique voice is heard and respected. "The life in the group comes from the musicians," Gara says. "Everyone is equally important. Everyone needs to be 100% involved to make this special energy that we have."
The group prides itself on this individuality and the spontaneity it breeds. Though Gara leads from the violin, there is no conductor. They select 12 to 16 musicians for each performance, a range that allows for a more collaborative approach to interpreting scores. They rehearse extensively and go deep into the details. "By the tedious work, it allows us to be free," Gara says. "I like to be spontaneous. It's a conversation on stage. Talk to me."
Waking Up the Audience
Unapologetic. That's the word Gara uses to describe the ensemble's performance style.
The idea is to disrupt any stale notions about an evening at the concert hall. "For people who are a little more used to some kind of routine with a concert," Gara says, "I think those people are very sensitive to what we do, because we don't let them sleep. We take them to places they probably forgot and reconnect them with this almost childlike sense of curiosity and passion."
Though deeply rooted in the traditions of classical music, the group is also redefining them. In April, Delirium Musicum is teaming with French Chef Laurent Quenioux for a gastronomy and music pairing, set to take place at a residence in Pacific Palisades. But the musicians will only perform between courses. When the food is served, they'll sit down to dine and converse with guests. It's the kind of twist they love to throw at the audience.
Enlarging its Goals
Recently, the ensemble put out a call for original scores, broadening its mission to empower creative voices. The winners were three young composers from across the world, including Nicky Sohn, Charlie Peck, and Patrick O'Malley (MM '15), a doctoral candidate in the USC Thornton Composition program.
On February 22, Delirium Musicum will perform a concert at Boston Court in Pasadena, featuring work by O'Malley and the other composers who won. 
After that, the ensemble has concerts lined up through June, including one on March 29 at the USC Brain & Creativity Institute's Cammilleri Hall. Antonio Damasio, director of the BCI, has collaborated with Gara on several creative projects and currently sits on the board of Delirium Musicum, where he helps steer the group toward its future.
Regarding that future, Gara has an expansive vision. "This is a group that I want touring. I don't want it to be just a concert series for Los Angeles. Why not be in some of the greatest concert halls around the world? Why not win a GRAMMY?" These may be ambitious goals, but they embody that unapologetic style.
As a "family of musicians" united in a common purpose, they are powerful advocates for their own success. "We want to create something," Gara says. "Leave a little bit of us in the world."
***
Delirium Musicum will perform on February 22 at Boston Court in Pasadena and on March 29 at Cammilleri Hall on the USC campus. For more information, visit www.deliriummusicum.com and www.etiennegara.com.
Never miss a story
Subscribe to USC Thornton's e-newsletter
Subscribe