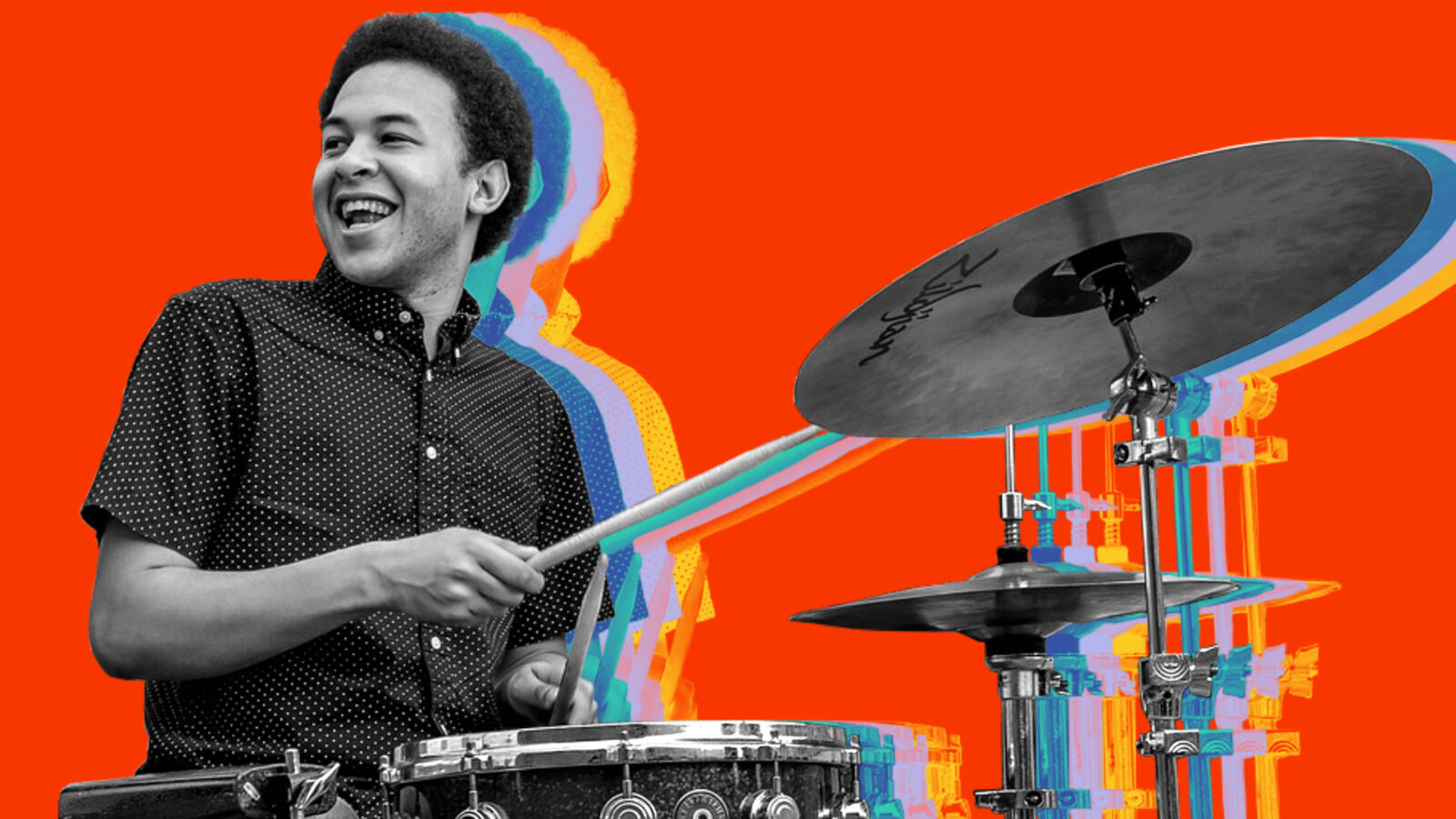 Today, Always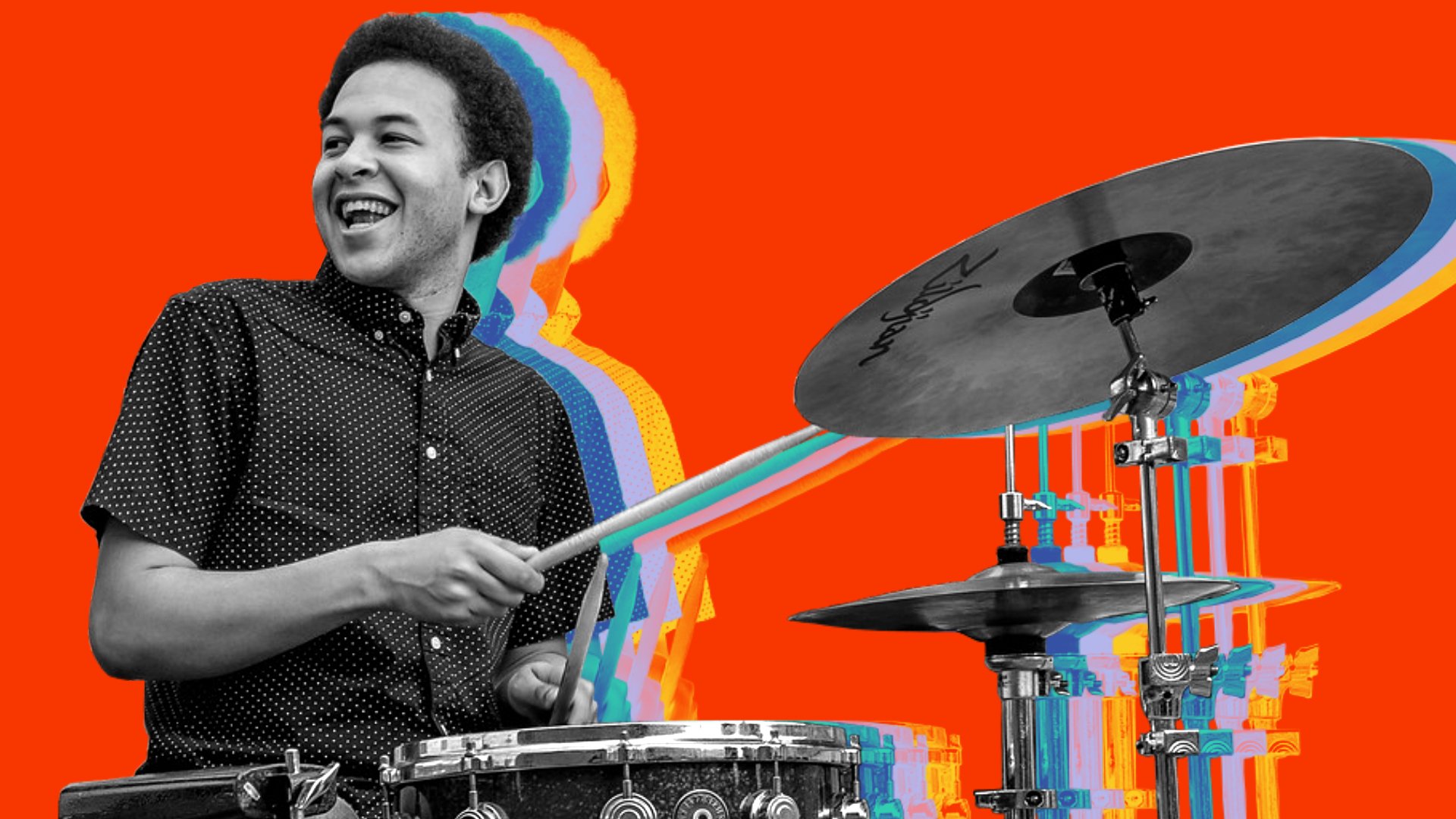 Thornton student Dominic Anzalone named first awardee of the Victor McElhaney Memorial Jazz Drumming Endowed Scholarship.
---
The USC Thornton School of Music is pleased to announce that the first awardee of the Victor McElhaney Memorial Jazz Drumming Endowed Scholarship is drummer Dominic Anzalone, who shares McElhaney's belief that music can be a tool for social activism.
Anzalone, a third year student in USC Thornton's Popular Music Program, has a background in jazz drumming and has been an active participant in jazz masterclasses and forums while at USC.
Peter Erskine, director of Drumset Studies at USC Thornton, said that Anzalone was the unanimous choice of the drum instruction faculty. "Your keen interest in all aspects of contemporary drumming has made you a standout student," he wrote to Anzalone when informing him of the award. "You have attended every jazz masterclass and you are often the first student to raise their hand with a question."
Anzalone also has been an active participant in USC Thornton Community Engagement programs, tutoring youngsters in drums and piano at a nonprofit music school in Boyle Heights and serving as the rock band instructor at a public school in the University Park neighborhood, among other volunteer efforts.
The scholarship, which will remember and honor McElhaney in perpetuity, is for one academic year. For 2020-2021, the award will be $5,000.
Honoring McElhaney
McElhaney, a talented and charismatic jazz drumming student at USC Thornton, was tragically killed a mile from campus in March 2019, and mourned across the university. He had been an active member of USC's Center for Black Cultural and Student Affairs, a member of USC Thornton's Afro Latin American Jazz Ensemble, and was known for his ability to bring people from all walks of life together.
"Victor's death was a devastating loss for the Thornton School," said Dean Rob Cutietta. "He was a bright light, a promising young man who was unafraid to ask the important questions we are now asking, of ourselves and our country, in response to the Black Lives Matter movement. Victor left an impression on everyone he met, and I'm pleased that we will be able to honor his legacy with this scholarship."
The scholarship endowment was created from gifts donated by many in the USC Thornton community including Erskine, Thornton Board of Councilors members, USC Trustees, a generous anonymous donor, and McElhaney's classmates. Erskine's gift, however, was unusually personal. He chose more than 100 cymbals from his own collection to auction online. McElhaney's classmates helped catalogue, photograph and video-demonstrate the cymbals. With the kind help of The Professional Drum Shop in Hollywood, the cymbals found new homes and helped raise the scholarship's initial funds.
Anzalone, who has been at home in St. Louis since classes moved to online this past spring, said he is "very excited and very thankful for this huge honor. We have so many amazing resources at USC with the Pop Program and jazz and now with this scholarship – just amazing opportunities all around."
Knowing that McElhaney did not have the chance to see his talents mature makes him more aware of the need to make the most of his opportunities. "I'm trying to figure out what I can do as a musician, as a person of color, and a human being, in Victor's name," said Anzalone.
This summer, Anzalone has started creating a weekly video transcription of music by people of color on his Instagram account (@domanzalone). Anzalone has long been a fan of transcription, writing out drum parts of songs, note for note, either on manuscripts or on the computer. He compiled a list of the 400 or so songs he's transcribed with quick charts, full transcriptions and drum solos, and adds to the list daily. He describes his video transcriptions this way: "It's something to say thank you because so many people of color and specifically black musicians have not gotten the credit they deserve. Of course, I can't fully mimic their sound, but I'm trying to show why this person did matter.
"Using the platform I have, whether it's social media or music, is a way to use the voice I have. If I am not able to fully speak out verbally, well maybe I can write a song or play drums."
Meeting the Faculty
Dominic Anzalone, who like many drummers, started banging on pots and pans as a toddler, got his first drumset at age 5 and began lessons at age 7. He comes from a family of music lovers and frequent concert-goers, and was exposed to a wide range of musical genres. After playing gigs since middle school and in jazz bands and high school honor bands, a critical event occurred when he was a senior, and his mother Dana gave him the choice between attending a Tom Petty concert or a George Benson concert. He chose Benson. Percussionist and vocalist Lilliana de los Reyes '15 was touring with Benson and he introduced her as a graduate of USC Thornton. Anzalone knew a stagehand at the venue and arranged to speak to de los Reyes afterward, and got a rave review of the school from her.
A few months later, beloved USC Thornton drum faculty member Ndugu Chancler, who died in 2018, was part of a two-day music clinic near Anzalone's home. "His love for music and the instrument was so radiant," recalled Anzalone. "I went up to him after the first day and said I have to study with you." The second day, USC Thornton faculty member Patrice Rushen, Chair of the Popular Music Program, was there playing with bassist and faculty colleague Alphonso Johnson. "Seeing them play, I said, 'this is it.' I don't want to go anywhere else. I hadn't even visited USC yet or gotten in touch with anyone, but I knew this is where I wanted to be."
Anzalone studied privately for his first two years with faculty member Will Kennedy, and will be studying privately – but remotely – with either Rushen or Aaron Serfaty, or both. He has been happy to get to know Peter Erskine better through his masterclasses and forums, and emails he sends students about music opportunities. "The Thornton faculty across the board are these legendary musicians," said Anzalone. "We have so much talent available to us."
Although his classes will continue to be remote this fall, Anzalone is going back to Los Angeles in August to live near campus. Coping with a pandemic, and being honored with a scholarship in the name of someone whose life was cut short, has deepened his resolve to make each day count. "You don't know what's going to happen tomorrow, so make the most of today, always," Anzalone concluded.
Never miss a story
Subscribe to USC Thornton's e-newsletter
Subscribe