Ambassador Blog: Double Majoring at USC Thornton
Erica Lee '21 writes of her experience double majoring at USC in the most recent Ambassador blog.
---
My name is Erica Lee and I am currently a senior pursuing a dual degree in Piano Performance (BM) at the USC Thornton School of Music and Business Administration (BS) at the USC Marshall School of Business. USC Thornton is a prestigious music school that lies in the heart of a high-achieving academic university. Naturally, I – like many other music students at Thornton – have strong interests that expand beyond the structures of a single major. So, as I enter my final year of my dual degree study, I hope to provide some insight into my personal experience declaring, structuring, and managing my two majors and degree paths!
How/When can I declare my second major?
I spent my freshman fall semester as a piano major only, but I had applied and committed to USC with the interest of pursuing another degree in Business Administration alongside music. After weeks of scheduling meetings with my Thornton and Marshall advisors, researching course requirements, and carefully mapping out my four-year plan, I subsequently enrolled in classes in my freshman spring semester that would put me on track to declaring my second major. A common piece of advice that any of my Thornton peers pursuing a double major would agree with is to do your research! Not all majors have the same prerequisite classes and unit requirements, so it is important to snoop around a bit in order to get an idea of what the next few years of your college career might look like, including how long it will take to complete both majors (it often takes at least one additional year to complete a second major for Thornton students). Before you stress out trying to figure out how to puzzle piece together the prerequisites, major requirements, and elective courses, just know that your Thornton advisor and advisors at other schools are here to help you! Don't hesitate to shoot an email their way asking for help.
A Typical Day for Me
A typical day for me starts around 8:30 a.m. at the Gateway practice rooms because I like to get my practicing in before the fatigue from attending classes all day hits me. I have around 4-6 hours of lecture throughout the day – sometimes heavier in business lectures, sometimes heavier in music courses.
While the workload is dense, I firmly believe that being involved in extracurricular organizations and clubs is integral to shaping the college experience. Outside of class and the practice rooms, I dance on Chaotic 3, a competitive urban hip hop team on campus.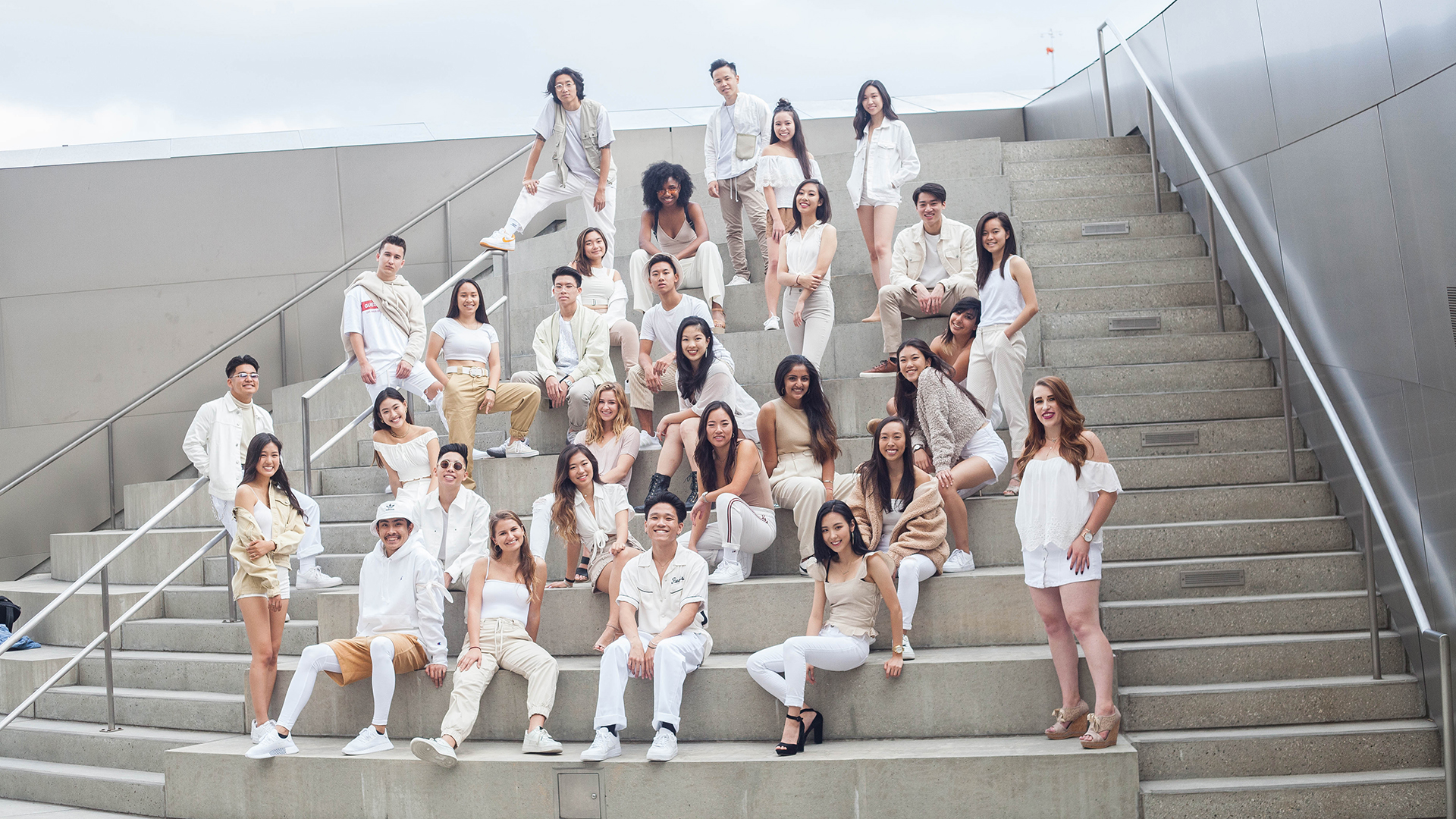 Simply being part of this team gives me around 6+ hours a week to clear my mind and socially recharge. While it may seem counterintuitive for a busy double major to spend time NOT studying, I believe that in the face of heaps of schoolwork, personal time is all the more important!
Given our classes are online this semester, my daily routine is looking a little different. I have kept morning practicing part of my schedule and I still have 4-6 hours of lecture; however, instead of spending 15-20 minutes walking to and from class, I use the "in-between" time to meditate, relax my eyes (because Zoom fatigue is real!), water my beloved plants, or pet my cat. This semester I've taken a break from my dance team, but I try to maintain my social life by regularly scheduling Zoom coffee chats with my friends or reserving time for group games on the weekends (Among Us anyone?).
Here are a few questions I ask myself when planning my time:
When do I practice the most efficiently? When do I study the most efficiently?
What do I want to get completed and/or turned in by the end of a given time block?
When can I eat? (This is something I often overlook, although it's probably the most important)
After careful consideration of these things, I might add a few events to my Google Calendar that looks something like this.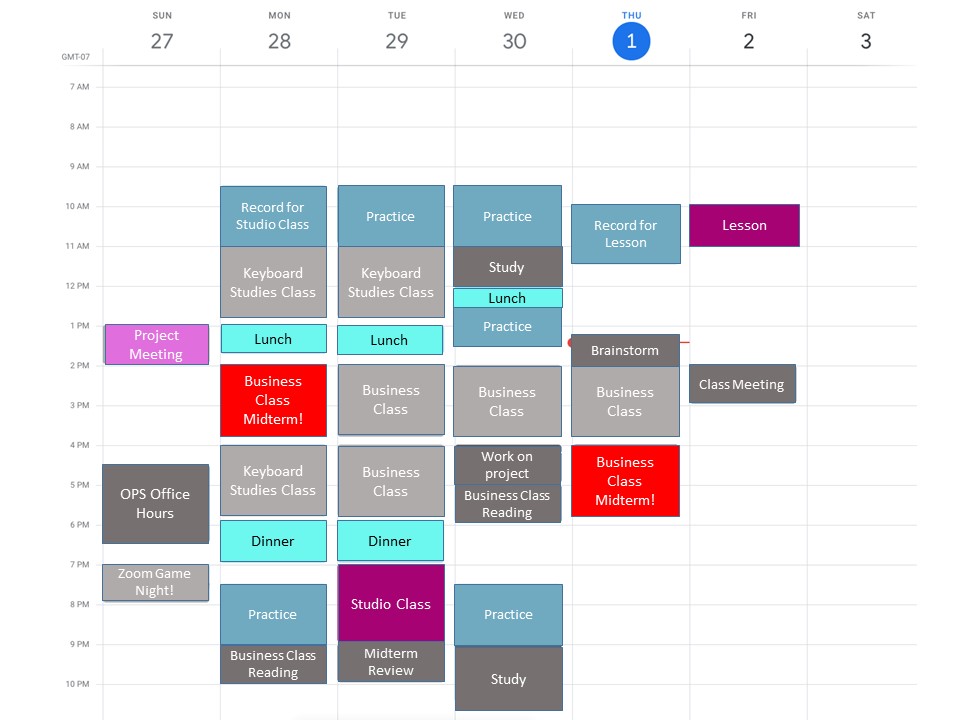 Managing your time according to short term goals can help keep you accountable for your own progress. Time management is the cornerstone that supports the weight of my course load and overlapping deadlines, while simultaneously preserving my social life. I am constantly adjusting my time management tactics to improve my efficiency – I learn something new about myself and how I work every day.
I plan my schedule a couple days in advance, but flexibility is key! Life happens, and I don't mind shifting things around when other things come up.
Relating your majors in the professional world
I think the beauty of double majoring is learning the skills of two different career paths and forging them together to create something new. Many communications, organizational, and analytical skills I've acquired from my business major have aided and supported me in music-related projects and endeavors. For example, this past summer I started a podcast with my long-time friend and childhood duet partner, Ashley Cheng, called "Practice Break," presented by the Pasadena Conservatory of Music, where we talked about all things related to music – being a music student during this time, film music, new music, and so on. Behind the scenes, I was editing on Audacity, creating artwork for the thumbnail, organizing episode topics, and analyzing data, such as number of downloads, average consumption, and total time listened per episode. The final outcome was truly a product of both my passions in music and business. Bottom line: take the skills you learn from each major, think outside the box, and create something that is niche to your combined passions and skills!
My advice for prospective double majors
Start early. Even if you are unsure about what your second major will be, take classes to get an idea of what piques your interest. Also, knowing which courses are necessary for your second major can help you understand which classes you need to take and when you need to take them.
Be self-aware. Over the course of your college career, you're going to learn a lot about yourself and your career goals and interests. No one can tell you what to make of your two majors, so explore new career paths and see where it lands you.
Protect your personal time! I prioritize social time because I strongly believe that taking a few hours a week to get out of the practice rooms or study rooms improves your physical and mental health. Double majoring requires a lot of focus, so finding good ways to destress is vital to making sure you don't burn out!
If you've made it this far, I hope you've gained some insight into what life is like as a double major and are excited to pursue new opportunities at USC! I know it can be daunting, but I believe in you.
---
The USC Thornton Student Ambassadors are currently enrolled undergraduate students at the USC Thornton School of Music and are committed to enhancing the experience for all students, present and future.
Never miss a story
Subscribe to USC Thornton's e-newsletter
Subscribe