"Hopscotch" – A Drive-time Opera
"There's so much going on, and there's no way you're going to get everything ... But you get this wonderful sense of adventure."
—Veronika Krausas






USC Thornton faculty
and board members in Hopscotch:
• Suzanna Guzmán – Singer
(Board of Councilors member)
• Veronika Krausas – Composer
• Andrew Norman – Composer
• Isaac Schankler – Accordion


Students & alumni:
• Rebekah Ann Barton – Singer
(MM '13, vocal arts)
• Timur Bekbosunov – Singer
(GCRT '06, vocal arts)
• Paul Berkolds – Singer
(MM '97, DMA '01, vocal arts)
• David Castillo – Singer
(MM '13, vocal arts)
• Brandon Davis – Tuba
(MM '13, DMA candidate)
• Vikram Devasthali – Guitar
('06, MM '08, jazz)
• Allen Fogle – Horn
• Victoria Fox – Singer
(MM '12, vocal arts)
• Sam Gendel – Saxophone ('09)
• James Hayden – Singer
('13, vocal arts)
• Jon Lee Keenan – Singer
(MM '09, DMA '13, vocal arts)
• Andrew McIntosh – Composer
(GCRT '12, early music)
• Jessica Mirshak – Singer
(MM '13, vocal arts)
• Matthew Otto – Horn
(MM '13, DMA candidate)
• Ariel Pisturino – Singer
(MM '09, vocal arts)
• Tawnee Lynn Pumphrey – Horn
(MM '05)
• Patrick Taylor – Double Bass
('09, jazz)
• Nick Terry – Percussion
(DMA '11, percussion)
• Kevin Yokota – Drums ('10, jazz)


By Emily Mae Czachor & Daniel Anderson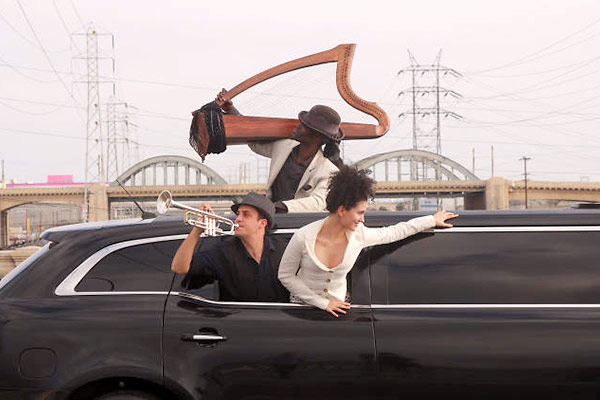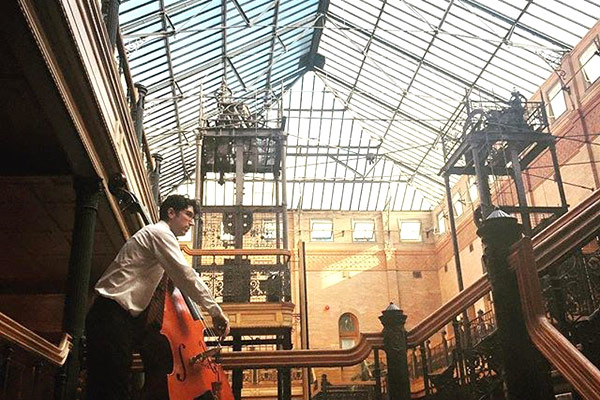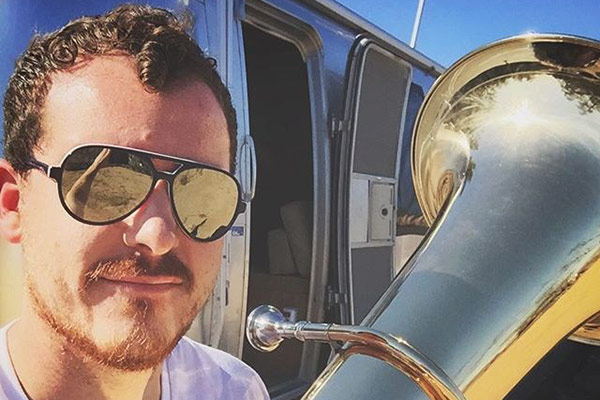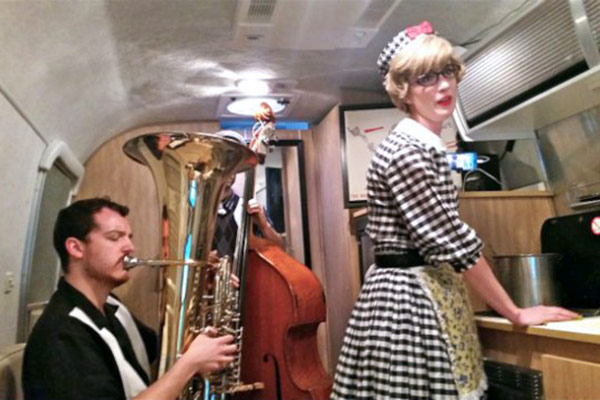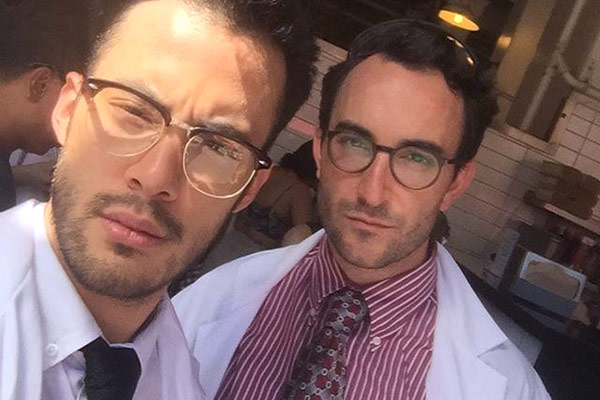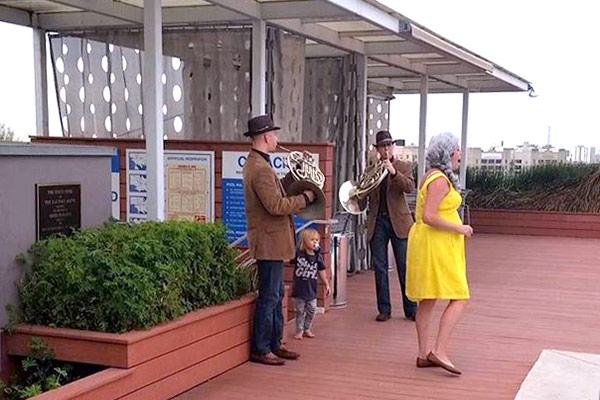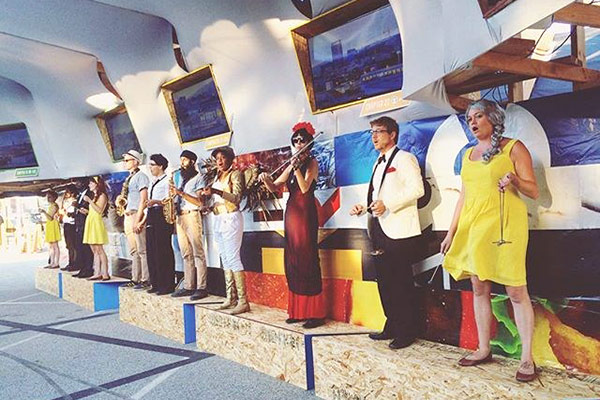 People do many things while stuck in traffic, but sing arias? Hopscotch, a new mobile opera by The Industry, premiered last weekend to critical and popular acclaim. The serendipitous experience unfolds throughout the city in such unconventional locations as the Bradbury Building, Chinatown, and even the Los Angeles River — while audience members are transported among the offbeat venues in 24 cars, often sitting right next to the performers and musicians.
The production, directed by Yuval Sharon, features an artistic team that is a cross-section of classical and new music in Los Angeles, including more than 20 faculty, alumni, and students of USC Thornton. A touchstone for interdisciplinary work, the opera features the music of six notable Los Angeles composers — two of whom, Veronika Krausas and Andrew Norman, are USC Thornton faculty members; and one, Andrew McIntosh, an alumnus.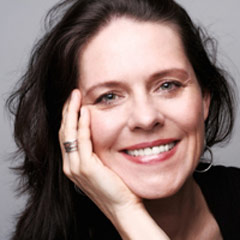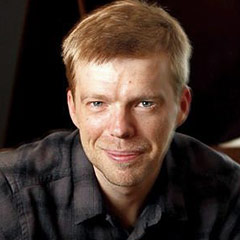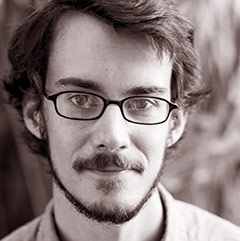 Krausas, associate professor of practice in the Composition department at USC Thornton, believes that the intimacy of the production is a way of integrating viewers into the story of Hopscotch. "In addition to the musicians and actors, both you, as an audience member, and the city of L.A., become characters in the piece." she said.
The Industry is well known for integrating audience members into the performance – and into the city, itself. Their 2014 production of Christopher Cerrone's Pulitzer Prize-nominated opera, "Invisible Cities," took place throughout L.A.'s Union Station, with audience members wandering freely, tuning in to the singers and musicians via wireless headphones.
"I love working with Yuval," Krausas said. "He has such a refreshing outlook on life and art and manages to create experiences that engage both audiences and performers."
Hopscotch was inspired by Julio Cortazar's novel of the same name and each of the six composers crafted portions of a new story, in collaboration with a team of librettists. "Usually I spend months and months in solitary confinement, planning every last detail of a piece that only becomes a collaborative act when it is finally performed," said composer and faculty member Andrew Norman. "But with Hopscotch I was collaborating with all sorts of artists from the get-go. It was great fun to watch a piece being born in this collective way, to watch it being formed out of a genuine exchange of ideas."
With action spread across dozens of central Los Angeles locations, including downtown, Boyle Heights, the Arts District, Chinatown, and Little Tokyo, Hopscotch audiences experience one of three distinct "routes:" Red, Yellow, or Green; each offering just a glimpse of a much larger narrative.
One of the musicians on the Red route is Thornton student Matt Otto, a horn player and DMA candidate, who performs a scene by composer Ellen Reid set on the rooftop of a Toy District loft. 24 Times a day, Otto — and fellow Thornton horn alumna Tawnee Lynn Pumphrey — meet arriving cars at a downstairs service entrance and then dash up a stairwell to take their places, just as bewildered audience members step out onto a spectacular urban vista.
"It's one of the most complex creative endeavors I've ever been involved with," recalls Otto. "When we got to the first tech rehearsal, I was like 'what did I get myself into?'"
Krausas wrote four scenes for the production: a film-noir-inspired dream sequence that takes place in the Bradbury Building; chapters that take place in an Airstream trailer or while driving through a cemetery; and a scene set in a Chinatown pedestrian arcade, which features tarot cards and a music box that the composer crafted specially for this production.
"There's so much going on, and there's no way you're going to get everything," Krausas said. "But you get this wonderful sense of adventure."
Needless to say, with more than 100 musicians and artists involved in Hopscotch, the logistics of the production presented serious creative challenges for the composers. In order for Krausas's Bradbury Building scene to move succinctly through the structure's labyrinthine interior, she was confronted by issues of timing and communication, among both performers and roving audience members.
"We had to factor in 'how long does something take?' and 'how do you signal the musicians?'," she said. "If someone's on the first floor and another performer's on the fourth floor, they have to know that something's happening." In this way, Krausas described the opera as "a little bit like a film score, coordinating all of the elements. It's not just about writing the music."
Otto's delicately-timed scene atop the Toy District loft not only incorporates musicians on adjacent rooftops, but a singer in the throes of the opera's dramatic conclusion. "Logistically, it was a little rough at first," he notes. "But once we made it through rehearsals and hit our stride, the music and the emotions of the story really started to shine through."
While tickets for the opera's 24 cars are largely sold out (an additional weekend of performances will go on sale this week), the general public is invited to experience Hopscotch from the production's Central Hub, located on the downtown campus of SCI-Arc (The Southern California Institute of Architecture), where live video and audio streams reveal the totality of the mobile experience. At the end of each performance day, the cars and performers converge on the Hub for a spectacular finale, featuring music by Andrew Norman, which is also free to the public.
The opening weekend of Hopscotch was an overwhelming success, and Krausas feels that the production offers audience members an entirely new perspective on Los Angeles.
"It's rediscovering your city as a tourist," Krausas said. "It's very magical in that way."
---
Performances of The Industry's Hopscotch run each weekend through November 22. The production's Central Hub, where visitors can experience live video and audio streams from the opera, is free and open to the public during performances.
For more information visit www.hopscotchopera.com.
Never miss a story
Subscribe to USC Thornton's e-newsletter
Subscribe