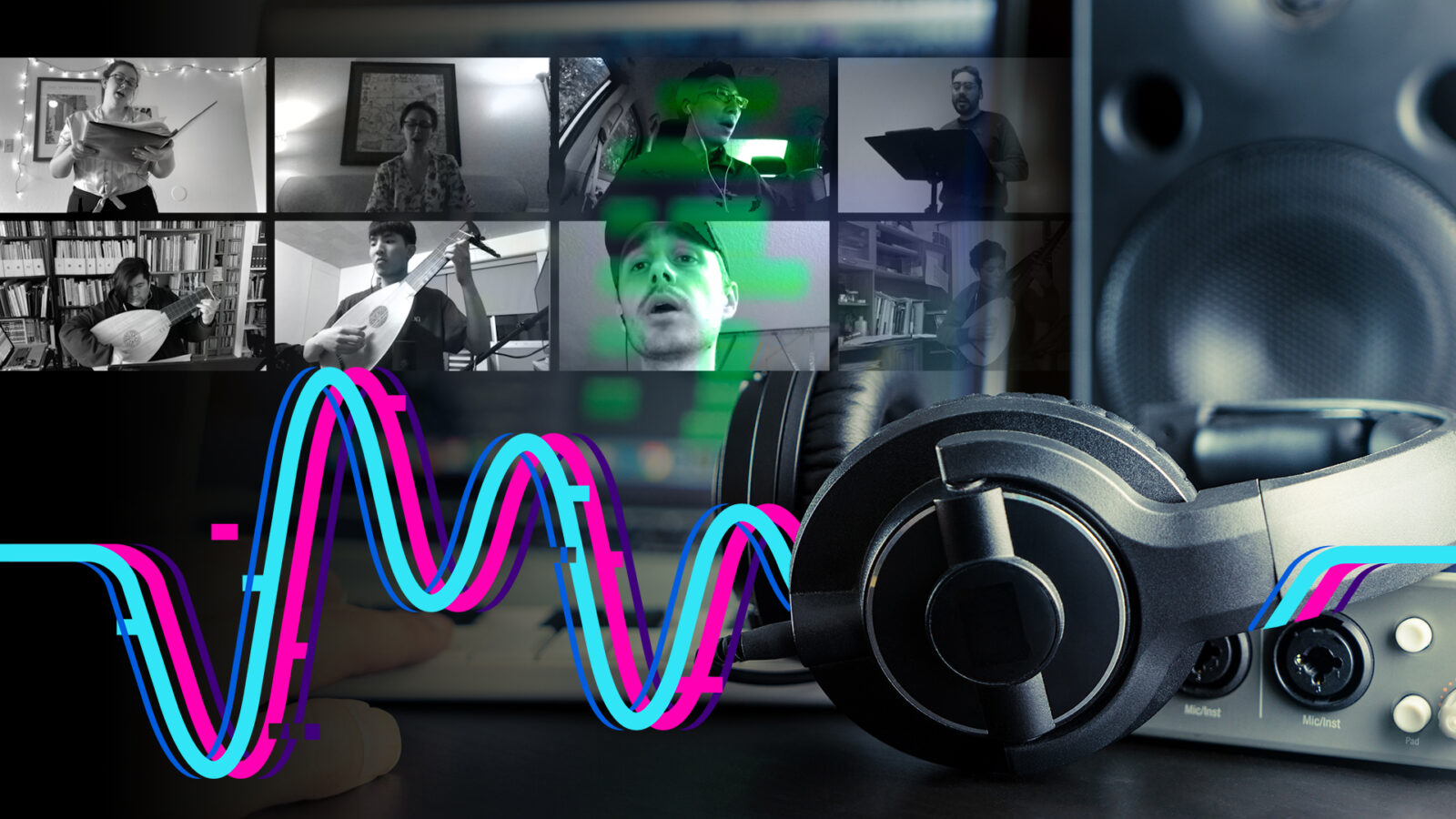 Early Music and Modern Technology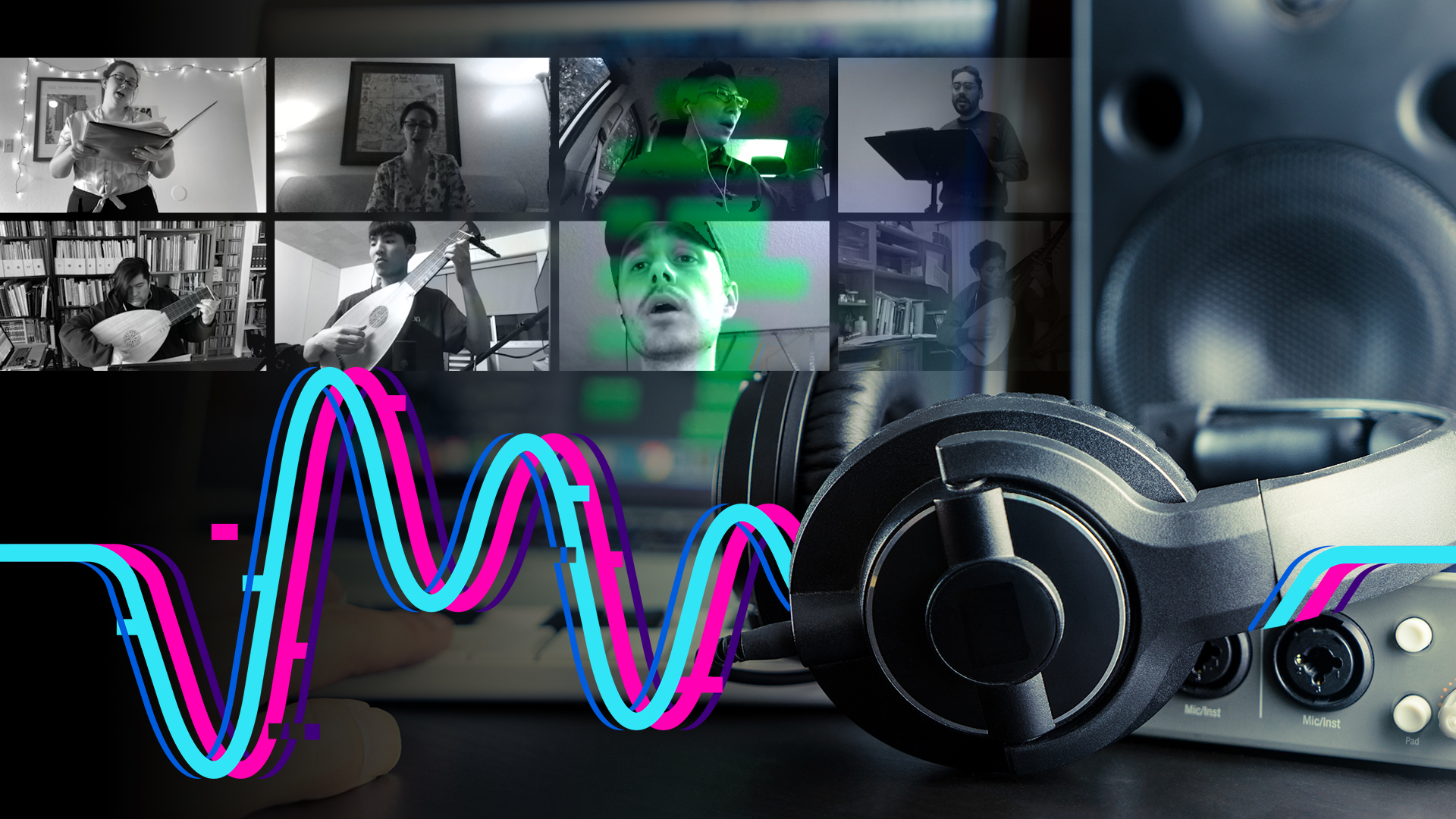 Faculty member Jason Yoshida shares tech expertise in bonus digital recording class, giving students essential skills and alternative performance opportunities.
---
To master both early music performance and music technology seems a true right brain/left brain feat. But Jason Yoshida (MM'09, DMA'14) doesn't feel a disconnect. These days, he'd argue, no musician can make music — whether it's Medieval and Baroque or jazz and pop — without technology.
A lecturer in USC Thornton's Early Music program, Yoshida specializes in historical plucked instruments including the lute, theorbo and Baroque guitar. But he's also been steeped in music technology since the '80s. And he minored in Music Industry when he worked on his USC Thornton graduate degrees ("My classes with Richard McIlvery were a highlight," he said.)
Technology has been integral to his music and his teaching — and even more so since the pandemic.
"From today onward, musicians and teachers will have to embrace technology to be successful," Yoshida said. "Streaming, social media, and online video services are obviously important to musicians, but soon other technologies we can't yet imagine will be a part of our professional lives."
Given this reality and the fact that the pandemic is keeping musicians scattered and isolated, Thornton tapped Yoshida to teach a special course in digital recording this semester that's free and open to all music students. Students are learning to use available technology, like their phones, computers and microphones, to record with fellow musicians, creating projects for the class and on their own. The class was immediately popular, and is regularly attended by 60 to 70 students.
"Professor Yoshida designed the class in such a way that the creation of these recordings would not add a great financial stress on students, which is particularly nice," said violist and doctoral student Andrew Grishaw.
Grishaw's string quartet has already created a number of recordings using the methods taught in Yoshida's class.
"We are each located in different places. We record ourselves remotely in insolation and then layer the recordings into one file," Grishaw said. "The final product sounds like we are in the same room. This allows us to feel connected in a uniquely musical way, which is truly a gift given all the tumultuousness in the world at the moment."
Tech Boom 
Before the pandemic, Yoshida was using technology as part of his daily activity: audio recording, notation, desktop publishing and photo editing software. He recorded audio clips for TV shows and other online media projects. Since the lute world is spread around the globe, he was doing occasional teaching through Skype, but he wasn't using as much video as he is now.
In his work this semester with the Thornton's early music ensemble, the Baroque Sinfonia, semester, Yoshida is video recording performances. As a coach for the ensemble, he has been able to continue many avenues of ensemble learning using Zoom and Google drive. Once assigned music, students can upload their recorded videos which he assembles and syncs for listening.
"In Zoom rehearsal sessions, [professor of practice] Rotem Gilbert and I can use this material to encourage improvements and promote critical listening," he said. "I will also make vocal mixes for [adjunct instructor] Jennifer Kampani to work with singers in Zoom breakout rooms. These will then be finalized to create multi-cam videos as an alternative to live performances."
Doctoral student Rachelle Romero (MA '19) said, "Professor Yoshida is the main reason that our Baroque ensemble is able to make music together right now in some capacity, and we all feel so fortunate and grateful."
"Not only has he provided the tools for us to keep working on repertoire together this academic year — a connection that many musicians are starved for at the moment — he has also given us invaluable skills to thrive in a rapidly evolving music world," Romero said. "I now feel more equipped to thrive in an inevitably changed industry having learned these recording and editing skills. A big part of being a musician is improvising and being adaptable, and that is precisely what we are doing by taking the opportunity to hone these skills."
Over the summer, Yoshida started streaming live performances online. "Live-streaming performances, practice sessions, run-throughs really helps fill the void created by the shutdown of performance life due to the pandemic. The ability to run pieces I have not yet had the chance to perform was well worth the learning curve to set it all up," he said. "I hope to convince some of my students to try streaming."
Speed Metal, Recording and Early Music 
An expert in solo and continuo performance on lutes and historical guitars, Yoshida actually started out playing drums at age 11 and then electric guitar. "I could practice electric guitar until 4 a.m. without bothering anybody," he said of his speed metal days. And he was always interested in recording. "My father worked in the computer industry, and they were a common appliance around the house," he said. "I remember starting out in the '80s with sequencers like Voyetra and Dr. T's notation software in DOS."
In the late '90s and early 2000s, Yoshida worked in IT and as a commercial product photographer and started a record label with a friend in Spain. "We were trying to start as a digital-only recording label, but somehow I still ended up with hundreds of unopened CDs in storage," he said. "I still have the original Orchard account (for digital distribution) and sometimes I log on to check the comically low royalty statements, but it was all worth it as a learning experience."
Meanwhile, Yoshida discovered early music. "My favorite pieces when I went to concerts always seemed to be Renaissance or Baroque music," he said. "Around 2001 or 2002 I decided to save up for a theorbo to learn how to play continuo and then little by little came the related instruments. Jim Smith who was my classical guitar teacher at that time was very supportive of my developing interest."
And he has gone on to great success. Yoshida received international recognition for Mozart Encomium, featuring the world-premiere recording of Scheidler's virtuosic Variations on a theme by Mozart for Baroque lute. Yoshida has also performed and recorded with Ciaramella, directed by Adam and Rotem Gilbert. He performed on theorbo, Baroque guitar and Renaissance guitar for their internationally acclaimed CD Dances on Movable Grounds, which features 16th– and 17th-century music and improvisations.
Antique and Future Technology
All technology is specific to its time. As Yoshida pointed out, we never know what technology will be next. "I remember reading Kusek and Leonhard's 'The Future of Music' in my record label days, thinking how impossible it was to imagine having a device in our pocket for listening to music, watching videos and making phone calls. I also never imagined that same device would help me tune my lute to Pythagorean tuning for medieval music."
And let's not forget, early music technology, in its own forms, existed between 500 and 1750 AD.
"Trying to find the latest technology to print, share and distribute music is as vital to our survival today as it was for Petrucci when he developed music printing in the early 1500s," Yoshida said. "Petrucci even made a special effort to cater to amateur lutenists who could afford to buy books by developing printed tablature. Lutenists and guitarists were constantly trying to add more strings to their instruments, very much like musicians today from Vai to Meshuggah. Debuting the newly invented, 6-foot-tall, 14-string theorbo at the 1589 Medici wedding celebration probably helped secure the gig for that lutenist."
The technology that was novel centuries ago when early music was composed informs the modern musician's performance of early music.
"As early music specialists, we are often trying to get into the mind, context and technology of musicians from hundreds of years ago," Yoshida said. "To be a well-rounded early music performer one needs to understand 'the latest' technology contemporary to the music one performs. This can inform what kind of strings to choose, what instrument choices were possible, how to tune, and concepts of time, rhythm and tempo, among other things."
"Five hundred years from now, people will be as fascinated with our antique technology as I am with 'antique' tech today," Yoshida said, "and I hope it is our students who they will be studying."
---
Prof. Yoshida would like to thank Thornton faculty members Brian Head and Lucinda Carver, the Classical Performance & Composition Division, the Research and Scholarly Studies Division, and his teacher and director, Adam Gilbert, for making the Monday AV sessions possible. He invites all students and faculty to attend and participate on Zoom. Students should contact their program chair to learn more.
Never miss a story
Subscribe to USC Thornton's e-newsletter
Subscribe