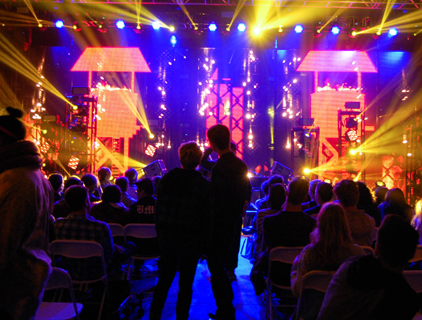 Electronic dance music finds a home at USC Thornton
"Technology is a large reason why the EDM scene has exploded."
USC Thornton's music history courses open to students of all majors are celebrated as some of the school's most interesting and entertaining classes. Artists such as the Beatles, Jimmy Hendrix and Bob Dylan have all been honored with their own USC Thornton classes.
Now, students who have spent their summers attending electronic music festivals such as HARD and Electric Daisy Carnival have a music course to call their own: Electronic Dance Music (MUSC 410).
"It's a music course open to non-music majors, so there are quite a number of people from all types of academic programs in the class," said musicology faculty member Sean Nye, who teaches the course. "I enjoy that because it gives a very dynamic feel to the class."
The course, now in its second year, traces the origins of electronic dance music (EDM) from early DJ and sampling culture to the immersive multimedia experiences of today. Students learn about influential artists, and sharpen their criticism skills by writing about different movements and issues within the EDM scene. According to Nye, many of the discussions that take place in the class touch upon how EDM is affected or influenced by mainstream pop culture.
"In the course we've been talking about the dumbing down of the culture, like Pauly D from Jersey Shore and Paris Hilton venturing into DJ gigs," Nye said. "There is a lot of criticism about that element of the commercialized elements of EDM and losing those ideals of a subculture, both for fans and scholars."
Although EDM and its related genres have existed in some capacity for several decades, Nye believes that the time is ripe for increased academic study of the music – especially in terms of how the genre and community interacts with new forms of technology.
"Because technology has become a part of our daily life, it's a large reason why the EDM scene has exploded," he explained. "People make music with their laptops, apps and games have a music component, software for DJing is always in development – and you even have businesses that have developed around the strength of the scene that deal with social media, websites and event promotion."
It's no surprise that many USC Thornton students and alumni are capitalizing on the rapid explosion of EDM-related businesses in Los Angeles and beyond. In addition to the many alumni currently performing and composing electronic dance music, USC Thornton alumni also work behind the scenes as managers, producers and event promoters for major companies.
https://www.youtube.com/watch?v=SW9TSV_InTw
In Spring 2014, a group of Music Industry majors from the USC Thornton School of Music visited one of these businesses – Production Club, a design and logistics firm founded by USC alumni specializing in solutions for production design, touring and special events.  Many of the individuals involved with the creation and management of the company were students in the Music Industry program.
The company is best known as a leader in the EDM concert production world, and has produced stage shows for the genre's leading artists such as Skrillex, ZEDD and more. The trip, organized by Program Chair Ken Lopez, gave students a hands-on look into the skills needed to work in the production arm of the music business.
According to Nye, the USC Thornton Electronic Dance Music course, as well as increased student interest in the genre, is a sure sign of the movement's staying power.
"The scene has been able to morph into something larger than itself," Nye said. "The fact that younger music fans can now go experience a musical community that I found very special for myself is amazing. I'm glad it's continuing."
 – Kat Bouza
Never miss a story
Subscribe to USC Thornton's e-newsletter
Subscribe