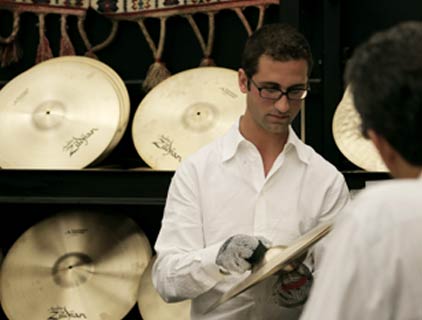 Ethan Ahmad Wins 2013 Kerope Zildjian Scholarship
"I think it's becoming more and more important to be a well-rounded musician, even if you want to pursue the straight symphony route," Ahmad said. "I think the best way, at least for me, is to dive headfirst into new stuff and to do it earlier."
There's an old saying that goes, "Hard work beats talent when talent doesn't work hard." Yet oftentimes, it's difficult to gain perspective on the result of working hard, especially when it comes to music education and its seemingly endless hours of practice, recitals, and pressure-filled auditions.
But from where senior Ethan Ahmad's sitting, the view isn't half bad.
This past summer, Ahmad became the first USC student to win the prestigious Kerope Zildjian Scholarship for percussion, a feat he acknowledges has almost everything to do with practicing often and early.
"It forces you, as a percussionist…to focus a lot on your cymbal playing," Ahmad said. "It's good to do that at a young age, so that you aren't clueless by the time you get to grad school."
Before finding out about the scholarship competition, Ahmad had already developed a habit of pushing himself to hone his skills through various avenues. A month prior to finding out about the Zildjian Scholarship, Ahmad won the mock audition at the Round Top Music Festival, a six-week orchestral program located in Round Top, Texas, where teacher Tony Edwards lauded the young musician.
"[Tony] said that what really sealed the deal for him was my cymbal playing," Ahmad recalls. "That was cool because I've never been complimented specifically on my cymbals that much."
A student of USC Thornton faculty James Babor and Joseph Pereira, Ahmad recalls the challenging and rewarding experience of applying for the scholarship, which consisted of a three-tiered application broken up by a cymbal etude, a marimba solo, and a snare drum solo.
"I remember I sent Jim one [of the tapes] and I was pretty happy with it, and he sent it back and was like, 'the cymbals sound terrible, I don't know what room you recorded this in but you can never use that room,'" Ahmad laughed.
Pereira, principal timpanist of the Los Angeles Philharmonic, and Babor, a member of the Percussion section since 1993, are used to high-pressure performances. Babor explains that the short-term pressure has a long-term payoff for his students.
"I think the approach that I try to strive with the students is playing in situations under pressure because until they win jobs, their jobs are auditioning," Babor explains. "Nobody wants to be put in a scary situation where they have the potential to fail, but we strive to make lots of mock auditions…so that when the real ones come around, they have the skills and experience to excel."
For his accomplishments, Ahmad received a $5,000 college tuition award, an all-expense paid trip to Zildjian's world headquarters, and the chance to hand-select his own pair of complimentary cymbals.
"Like Charlie and the Chocolate Factory, but for cymbals," Ahmad joked.
Ahmad described the lengthy application process, one that included familiarizing himself with the logistics of recording – everything from deciding which cymbals to use, to the placement of his microphone, to finding a proper place to record – all while specializing his musical expertise.
Working extensively with Babor and Pereira allowed him to tap into a wealth of educational and professional knowledge.
"I think it's becoming more and more important to be a well-rounded musician, even if you want to pursue the straight symphony route," Ahmad said. "I think the best way, at least for me, is to dive headfirst into new stuff and to do it earlier."
Babor shared the same sentiments, citing the distinct attitude he and Pereira take in regards to their percussion students at Thornton.
"Thornton is good at keeping students grounded and realistic, but also giving them opportunities and pushing them in a direction that challenges them and sets them up to succeed."
Babor continued by speaking on the importance of complementing teaching with real-world experience and an understanding that students need to think more broadly.
"I always tell my students this, and I'm a firm believer in this… don't always try to put a dollar sign in front of everything," Babor advised. "Every time they stand in front of an instrument or talk to a potential employer…we strive for them to always put their best foot forward and present themselves in a professional way. You only get one chance at a first impression."
For Ahmad, it's certainly left an unforgettable impression so far.
– Jenevieve Ting
---

Never miss a story
Subscribe to USC Thornton's e-newsletter
Subscribe