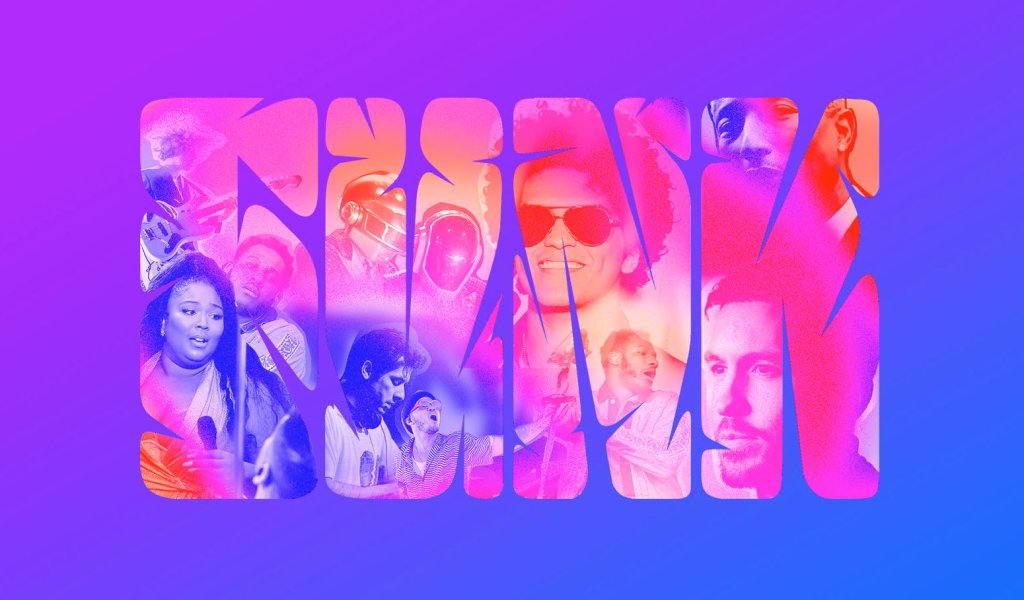 Excellence Under One Roof
This past weekend, USC Thornton faculty and alumni from across the school were featured and praised by major news outlets. From a classical composition deemed a masterpiece in the Los Angeles Times to a celebration of the legacy of funk music in The New York Times, the coverage highlighted one of the unique aspects of the school: Every genre of music and musicianship is thriving at an exceptional level. It's all here, under one roof.
A composition about sustainability
Classical Performance and Composition Division
Andrew Norman ('02, MM '04), USC Thornton alum and current faculty member, received a glowing review from the Los Angeles Times for his composition Sustain, which was premiered last year by the Los Angeles Philharmonic to launch the 100th season of the LA Phil.
The Times review from the Nov. 2 performance delivered high praise: "By and large, the sense was that the popular L.A. composer, still in his 30s, had come up with a masterpiece," wrote Mark Swed.
According to Norman, the recipient of numerous accolades, winner of the prestigious Grawemeyer Award, and a Pulitzer finalist, Sustain is about our complex and fluctuating relationship with the Earth. The music is meant to capture the heartbreak, disappointment and loss during this critical moment in history as we fail to do enough to sustain our planet.
"The best thing about Sustain, other than its sheer beauty, is that it is by its very nature unattachable," Swed wrote, calling the piece "mind-bending" and "enchanting."
A history of funk, and the subject of a classic documentary
Scholarly and Research Division
Nate Sloan, a professor of Musicology at USC Thornton, wrote a multimedia article for The New York Times about the legacy and continued influence of funk music. The captivating and high-profile piece included interviews, performance videos, colorful artwork and an in-depth article detailing Sloan's passion for and comprehensive knowledge of funk music and political philosophy.
"I was always drawn to the sound of funk, and as I rediscover it as a musicologist today, I realize it wasn't just the sound that mattered to me but also the sonic message behind it," Sloan wrote. "Each Bootsy Collins bass slap brought me deeper into a kinder cosmic worldview. Funk's outrageous costumes and unruly dance moves signaled more than escapist fun: They were expressions of a larger narrative outlining a battle between conformity and self-actualization, between division and unity."
Nate Sloan is an assistant professor of musicology at USC Thornton, a co-host of the podcast "Switched on Pop" and a co-author of the forthcoming book "Switched on Pop: How Popular Music Works and Why it Matters."
Sloan wasn't the only faculty member in the Musicology program to be featured this weekend. Pulitzer Prize winning journalist Tim Page, who holds a joint appointment as a faculty member at USC Thornton and the USC Annenberg School for Communication and Journalism, was interviewed by the Los Angeles Times on his life as filmmaker, music critic and specifically as a documentary subject in his youth.
The interview delved into Page's earliest claim to fame: his role in the cult classic 1967 documentary A Day with Timmy Page which follows Page as a preteen and aspiring filmmaker, enthusiastically directing his friends in his own super-8-mm films.
On Nov. 10, the Echo Park Film Center will present a program that includes a rare screening of the film along with two of Page's own films made in his youth. Page's films, which were only recently restored by the USC Hugh Hefner Moving Image Archive at the School of Cinematic Arts, have not been screened in five decades.
Style for days
Contemporary Music Division
Ludwig Göransson (GC '08), the composer and alum from USC Thornton's Screen Scoring program, was featured in the Los Angeles Times about his score for the highly-anticipated Star Wars series The Mandalorian, and a celebration of his unique sense of style.
"What helps set Göransson apart, in addition to his clothes, is that he's the type of composer who understands story. He really understands character," said director Steven Caple Jr. "Talking to Ludwig is like talking to another writer or another actor or editor."
Last year, Göransson won an Oscar for his score for Black Panther, and multiple GRAMMY Awards for his work with Childish Gambino, projects that can be traced back to the relationships he made upon arriving at USC Thornton.
"For any film composer, Star Wars is the holy grail of film music because it's the most well-known music," he said. "The way I approached it was to try something completely different … I wanted the core soul to be organic. Then I wanted to add a tech sound to it. And I also wanted to add on a cinematic orchestra, which makes it feel like Star Wars."
In a remarkable weekend of coverage for USC Thornton, one thing is clear: The school is thriving.
Never miss a story
Subscribe to USC Thornton's e-newsletter
Subscribe