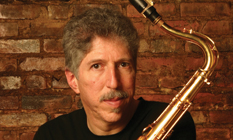 Five Questions: Bob Mintzer
"To this day, I can't go in to a restaurant playing cheesy music and not analyze what I'm hearing. My brain gets sucked into the speakers."
The relationship between a music student and his or her professor is, quite possibly, the most important connection USC Thornton students will develop while attending the university. Our Five Questions series gives current and prospective students a chance to get to know several members of our world-class faculty — as teachers, mentors, musicians and members of the USC Thornton community.
Bob Mintzer
Saxophonist, composer, arranger and band-leader Bob Mintzer has a storied history in the jazz community. He has performed with many illustrious groups, including the Buddy Rich Big Band, the Thad Jones Mel Lewis Big Band, the Jaco Pastorius Word of Mouth, and the Yellowjackets. In addition to his performance and writing contributions on hundreds of jazz recordings, Mintzer's own ensemble, the Bob Mintzer Big Band, won a Grammy for their Homage to Count Basie in 2001.
Today, Bob Mintzer chairs the Jazz Studies program and lives with his wife in the Hollywood Hills in a house once owned by composer Arnold Schoenberg.


Tell us a bit about your teaching philosophy.
When working with students, my objective is to inspire their desire to develop personal and systematic pathways toward becoming a better musician. Tricks of the trade and commentary on a student's work are part and parcel, but it ultimately hinges on the work each student does on his or her own to connect with the music.
How does one develop a really striking level of musicianship?
One must be extremely articulate as a musician to make any kind of artistic statement. This involves being well versed in your instrument, being very familiar with repertoire and vocabulary and being adaptable to the ways that other musicians work and perform. Ultimately, a musician has to be a composer, as well as a player, to make a compelling statement.
What are your thoughts about musical presentation?
Along with the life-long endeavor of mastering an instrument comes the task of deciding how you, as an artist, want to present your craft. This involves arranging, composing, the selection of repertoire and deciding who you want to play with and what the intent of the music should be. The question becomes how to present your music in the best light possible and how to incorporate what you're working on as an instrumentalist into your repertoire using the aforementioned devices.
Does one choose music, or does music choose you?
In my case, music chose me, without question. I was drawn to anything I would hear on television, radio, recordings, or in concert, and was compelled to try and figure out what was happening in the music. I would spend hours at a piano trying to recreate snippets of music that I'd heard. I wanted to play every instrument that there was and wanted to figure out what made different kinds of music sound as they did.
To this day, I can't go in to a restaurant playing cheesy music and not analyze what I'm hearing. My brain gets sucked into the speakers. This can sometimes be a curse!
What are your favorite things to do in Los Angeles?
My wife and I love to go to the Walt Disney Concert Hall and hear the L.A. Philharmonic, or any kind of music that might be presented there. Disney Hall is one of the best concert halls I've ever experienced!
We really enjoy hiking in Griffith Park or along the ocean in Malibu. It's incredible to have great weather for outdoor activity all year-round.
I also love making salads with ingredients from the Hollywood Farmers' Market. The vegetables just explode with flavor. I always include homemade olive oil and locally grown avocados from my backyard!
Never miss a story
Subscribe to USC Thornton's e-newsletter
Subscribe