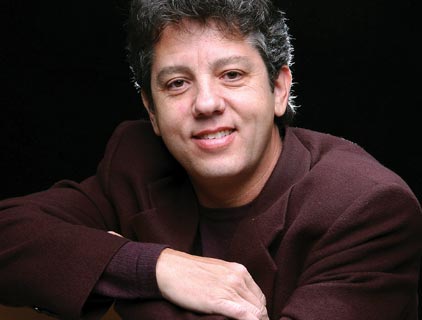 Frank Potenza Honors Joe Pass
Potenza first took a lesson with Pass in Boston in 1974, which sparked a working relationship of established mentor and burgeoning protégé that developed over the course of 20 years.
Frank Potenza, Chair of Thornton's Studio/Jazz Guitar Program, waited 20 years to honor his mentor, jazz guitarist Joe Pass. Potenza first took a lesson with Pass in 1974, which sparked a working relationship of established mentor and burgeoning protégé.
 "Occasionally we would be playing in New York, then we'd get together at his hotel or get something to eat, and when I moved to Los Angeles in 1980, Joe lived here," Potenza said. "You know, to have somebody who you idolized and was that big of an influence who you could sit around with and ask questions or advice about…it was a real blessing."
The notion of a tribute album came about after Potenza told an audience in Denver about how his mentor had taught him "For Django" many years ago. This inspired a seed of an idea which eventually evolved into a full-fledged studio recording session.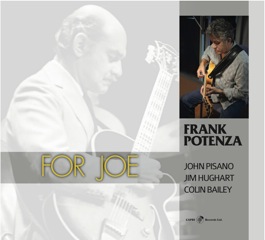 The CD—aptly titled For Joe in honor of Joe Pass's classic 1964 album For Django—was released on September 17th on Capri Records Ltd. It features the exact group of jazz musicians who played on Joe's original album, a feat Potenza poignantly describes as "something that couldn't have come together in any better way than I had planned." The new album features songs from For Django and songs that Potenza "associates with, learned from, and that were touchstones for [him] to Joe."
Potenza has been working with the original members of the Joe Pass Quartet in many capacities for years, but the opportunity to reunite the band—consisting of guitarist John Pisano, drummer Colin Bailey and bassist Jim Hughart—was "really, very satisfying."
 "I mean, these guys went to Japan with [Joe] as close to his death as within two years beforehand, so we're talking about people who spent a lot of time with him and who knew and loved him," Potenza explains. "I feel really lucky."
It's clear that Potenza's good fortune will not be turning any time soon. The album's associated documentary, A Not So Average Joe, directed by Dailey Pike, chronicles the historic two-day session that Potenza and his colleagues spent recording the tribute album. It has already won critical praise in the festival circuit, and recently garnered a first-place award at the Los Angeles Art House Film Festival for Best Feature Film.
Taking what Joe taught him and altering it to best benefit his students on a contemporary level is an ongoing challenge for the Thornton professor of nearly 20 years. Having mentors with a combined "300 years of experience" provides an undeniable advantage for his students hoping to pursue careers in the music industry.
"I have a list as long as my leg," Potenza quips, referencing the various high profile and successful opportunities that Thornton students have had upon leaving the program. Students have gone on to tour with Jennifer Lopez, The Backstreet Boys, Michael Bublé and John Mayer, to name a few. "We have a lot to say to our students about what's involved in this process, of doing something that means something to you artistically," and undoubtedly so, "the proof is in the pudding."
Potenza's CD, For Joe, is available now at Capri Records Ltd. and more information on the "jazzumentary," A Not So Average Joe can be found at Potenza's website.
– Jenevieve Ting
Never miss a story
Subscribe to USC Thornton's e-newsletter
Subscribe