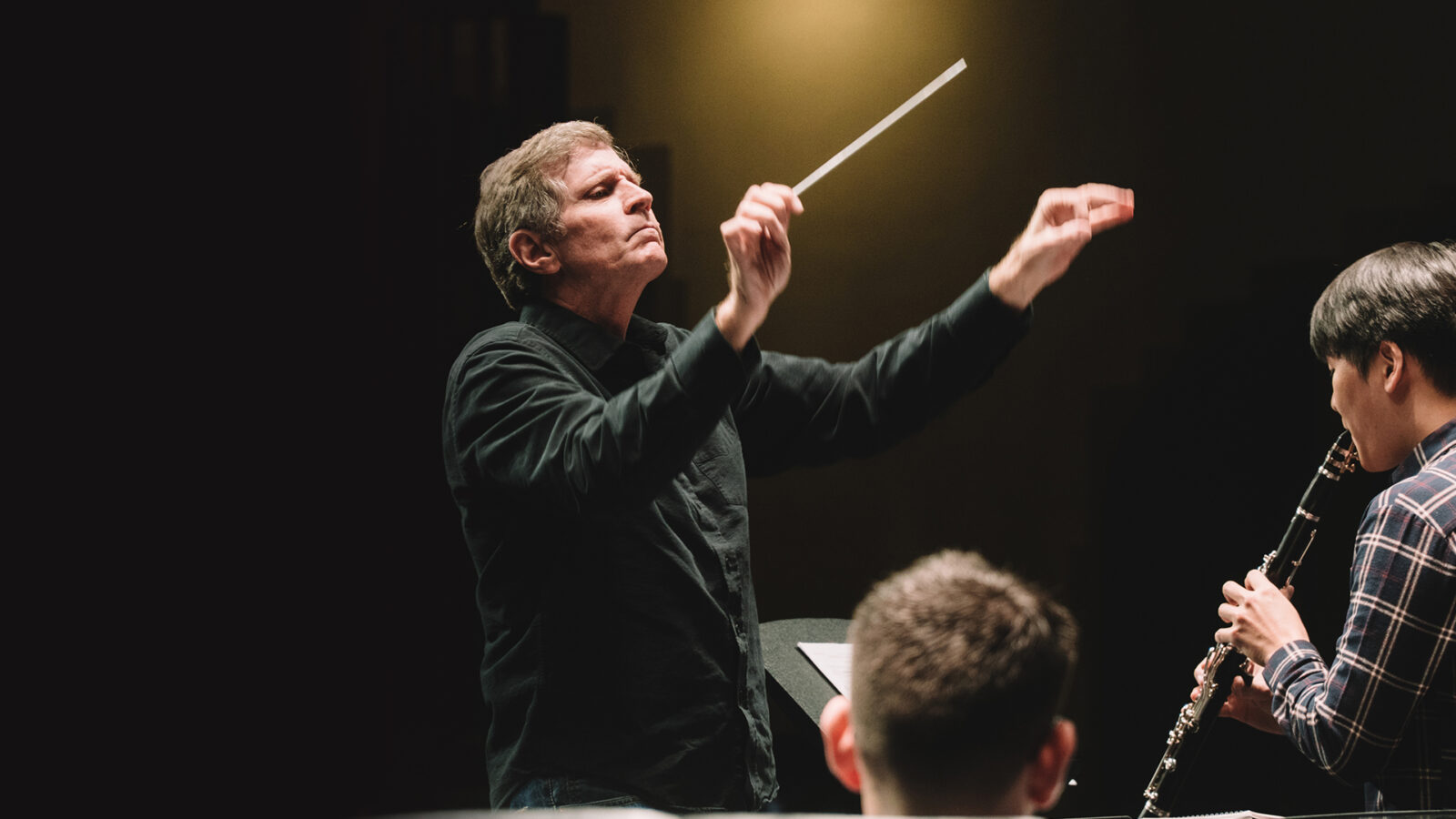 Swan Song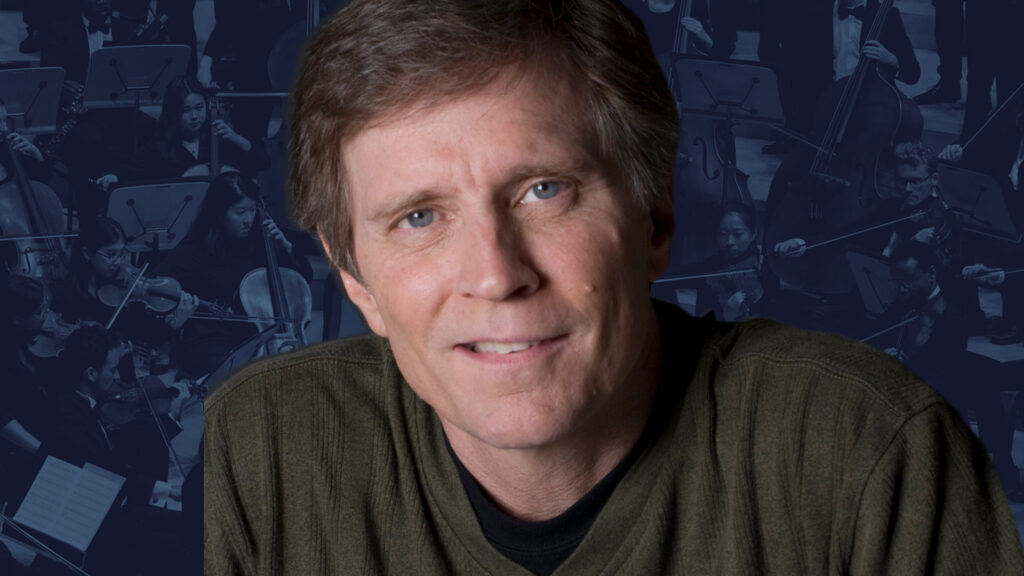 USC Thornton professor of composition Frank Ticheli celebrates an astounding career at Thornton with a concert of his music at Bovard Auditorium.
---
On Friday, Feb. 10, the USC Thornton Winds will present an evening of music of Frank Ticheli, celebrated composer and longtime faculty member at Thornton. Ticheli will take the podium and will be joined by conductors Carl St.Clair and Sharon Lavery, clarinetist Alex Chang and the USC Thornton Chamber Singers.
The evening is a celebration of Ticheli's years of teaching at Thornton, and his noted career as a composer, but he started writing music like all students — with questions. Composition started out as a curiosity. As a teenager, he felt a shock of inspiration from a school music education program that featured many passionate players. When he discovered the creative process of composing music, he started asking questions.
"I started thinking about, 'How does one write this kind of music, this incredible music that we're playing?' 'How do you learn to do this?'" Ticheli said. "And I started asking, 'How do I do it?'"
Decades later, Ticheli's orchestral, choral, chamber and concert band works are well-regarded in the U.S. and Europe. He has guest conducted at Carnegie Hall, been featured at universities and music festivals, and received the 2012 Arts and Letters Award from the American Academy of Arts and Letters, one of three awards he has received from that prestigious organization.
The Feb. 10 concert will celebrate Ticheli's remarkable career and 32 years of teaching at USC Thornton. The evening will feature Ticheli's well-recognized compositions. Artistic leader and USC Thornton Symphony principal conductor Carl St.Clair will open the concert with the orchestral version of "Shooting Stars," the first movement of Ticheli's "Symphony No. 2."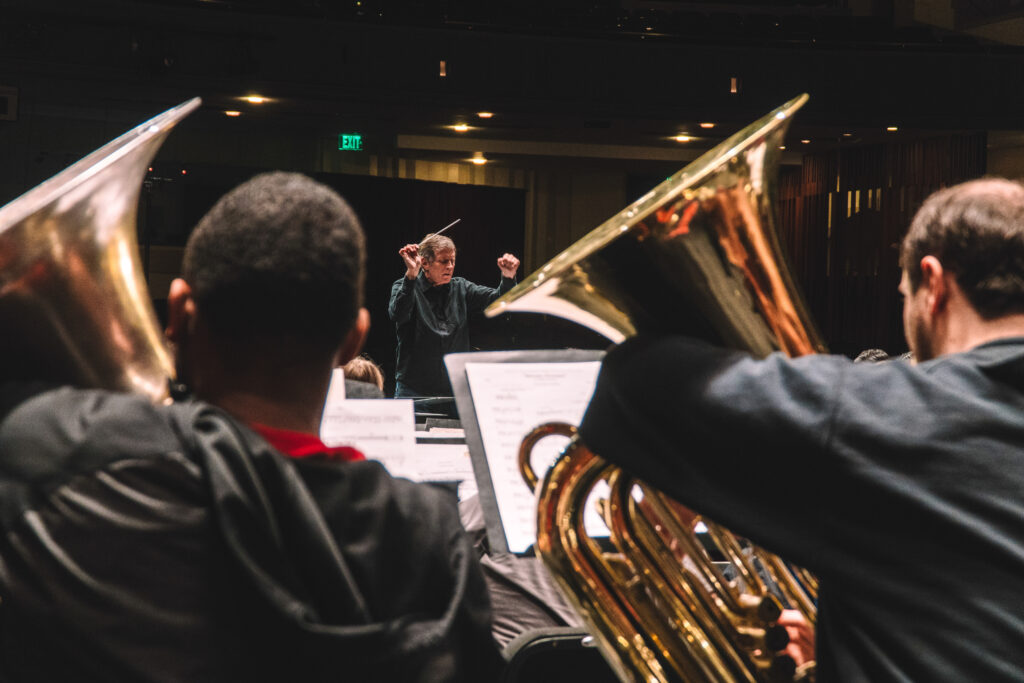 "I've known St.Clair for more than 40 years. We've been friends since our 20s," Ticheli said. 'Shooting Stars' is a short little five-minute curtain opener. It's a concert opener, a very flashy, energetic piece in which ideas come and go quickly."
The second piece, "There Will Be Rest" is a choral work written by Ticheli, to be performed by the USC Thornton Chamber Singers. The piece is dedicated to the memory of Cole Carsan, Carl St.Clair's toddler son who died in a tragic accident in 1999.
"When you offer music as a gift, as a commemoration…music can help us to heal in ways that words alone and tangible things can't. It takes us to a place that only music can touch," Ticheli said. "It's so special to me because of its connection to that little boy, a connection that will be there forever, long after we're all gone from this earth. That connection will still exist." USC Thornton resident conductor Sharon Lavery will conduct Ticheli's Clarinet Concerto, featuring student Alex Chang, and "Apollo Unleashed." The third movement of Symphony No. 2, "Apollo Unleashed" is a piece Lavery conducted at Carnegie Hall with the USC Thornton Winds in 2005.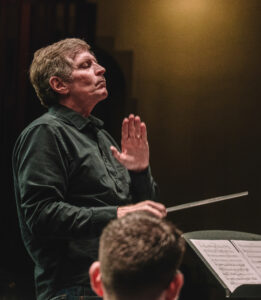 Ticheli will conduct "Angels in Architecture," a commissioned piece written for the Sydney Opera House. Inspired by the opera house's stage, the fourteen-minute piece explores a conflict between forces of light and darkness.
"The first thing I noticed above the stage are these acoustical ornaments of some kind," Ticheli recalled his Sydney Opera House visit. "Some of them were ten feet in diameter. Some were only three feet in diameter, just all different sizes. But they were all halo-shaped and you're all hanging above this stage and I thought, 'Well, there's my piece right there. Look at these halos in the architecture.'"
"Blue Shades," a jazz-influenced piece that Ticheli said he comes back to often as a conductor, will close out the concert.
"It's very personal to me because it sort of reflects my own New Orleans roots, early traditional jazz roots," he said. "It's very close to my heart because it encapsulates my younger self and my older self — they're there together, both of them."
Overall, Ticheli hopes the audience will take in the art and beauty of live music. He looks back at his time at USC, grateful to have worked with so many extraordinary people at the university: faculty colleagues, staff members, and brilliant students.
"I'm honored to have been able to work with so many talented student composers while I've been here, to see their careers grow, to see them blossom into powerful artists with genuine voices. It's been an incredible joy to see that happen," Ticheli said. "Seeing the students grow and become what they have become has inspired me to be a better composer."
---
Danielle Jones is an undergraduate student in the USC Dornsife College of Letters, Arts and Sciences.
Never miss a story
Subscribe to USC Thornton's e-newsletter
Subscribe