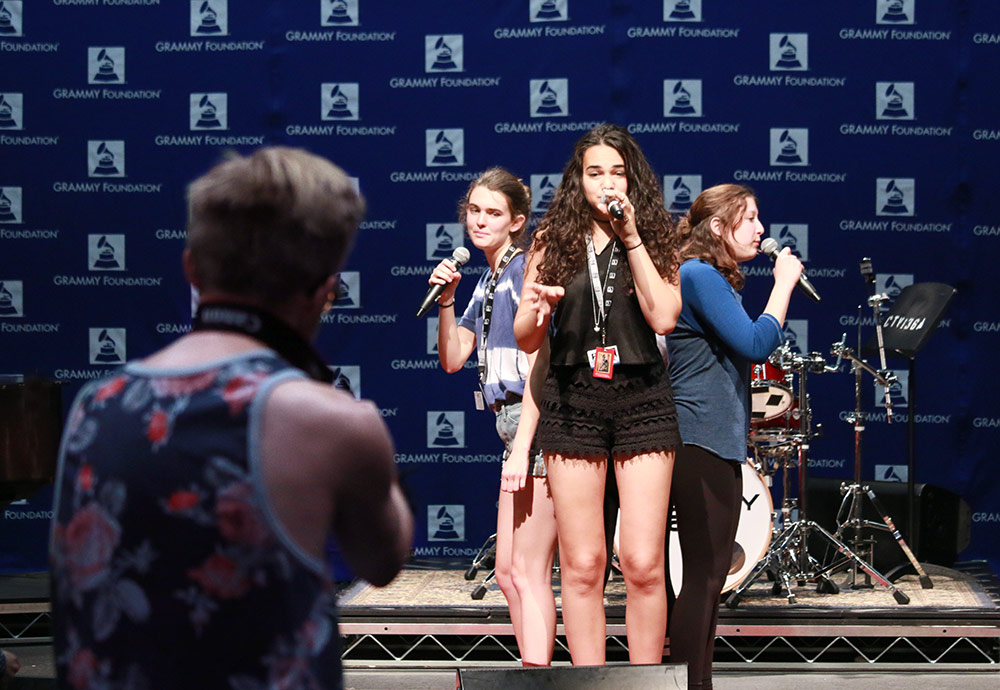 GRAMMY Camp immerses students in the world of music
"I feel so strongly that I will end up working with the people I met in GRAMMY Camp ... And it helped cement my ideas of how the ever-changing music industry works."

– Omar Akrouche,
Camper
The phrase was imprinted on the minds of students at GRAMMY Camp Los Angeles this year from the moment they arrived on the USC University Park Campus for a 10-day immersive experience: "This is not fantasy camp."
Beginning June 20, 72 students chosen from England, Japan and across the United States learned about the reality, not the fantasy, of the music industry. The campers had the opportunity to select and learn from seven instructional tracks: audio engineering, songwriting, vocal performance, instrumental performance, music journalism, music business and video production.
Network, network, network
Throughout their stay, students in each track were encuraged to network with one another. To do so made good business sense, they were told, as students never know where in the music industry fellow campers will be in a few years. Lyndsy Munich, a student in the audio engineering track who is also a singer-songwriter from Buffalo, New York, made a promise to herself to meet everyone at the camp, whether students or faculty members. "I learned that networking doesn't have to be a scary term when you're completely genuine and authentic with people," she said.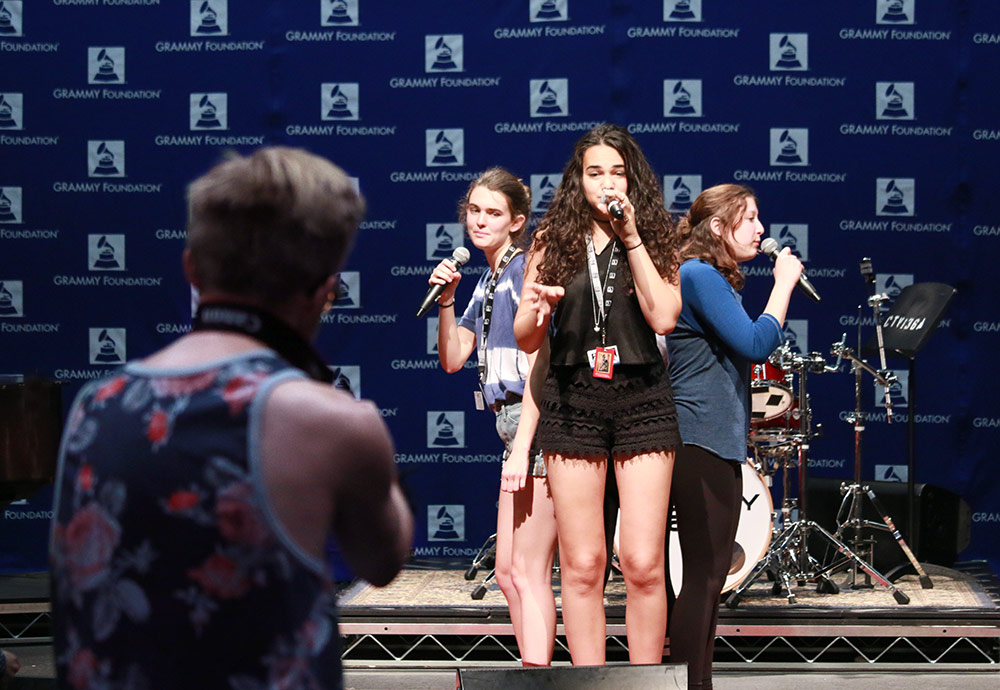 During camp, students were able to talk and connect with performers who ranged from jazz saxophonist Kamasi Washington to Ryan Merchant, half of the indie rock duo Capital Cities. The many panels during camp included behind-the-scenes music professionals such as Priscilla Clarke, CEO of public relations firm Clarke & Associates in Washington, D.C., and music producer Rob Knox, who has worked with Justin Timberlake, Joe Jonas and Rihanna, among others.
"I met so many amazing people in the industry that taught me so much," said Katie Liebetrau, a camper in the music business track from Troy, Michigan. "Getting the opportunity to meet actual music supervisors and ask them questions about their profession was incredible." Working with respected people from the music world was an opportunity that Liebetrau and other campers said was something they had not had a chance to do before. Interacting with professionals from across the music spectrum taught them they are not limited to only one option in their respective fields.
Students in the performance-based instructional tracks were separated into four combos for the week: SAIKO, Larry's Berries, Also Nonaz and justinkase. A member of the combo SAIKO, bassist Omar Akrouche, said the lesson he will remember most from teacher Leslie Drayton was Drayton's admonition to "listen more, play less."
"He cuts straight to the chase," Akrouche said about Drayton, who is a trumpeter and composer. "It made it very easy to want to stay on top of your parts."
Launch Party
On the last day of the camp, students traveled to the historic El Rey Theatre in the Miracle Mile district of Los Angeles, a popular venue for top music acts, to put on a Launch Party. Intended to be the "launch" of the camper's career, according to GRAMMY Foundation Executive Education Director David Sears, the event allowed students to show off the skills they learned during the 10 days they were at camp. Friends and family were invited.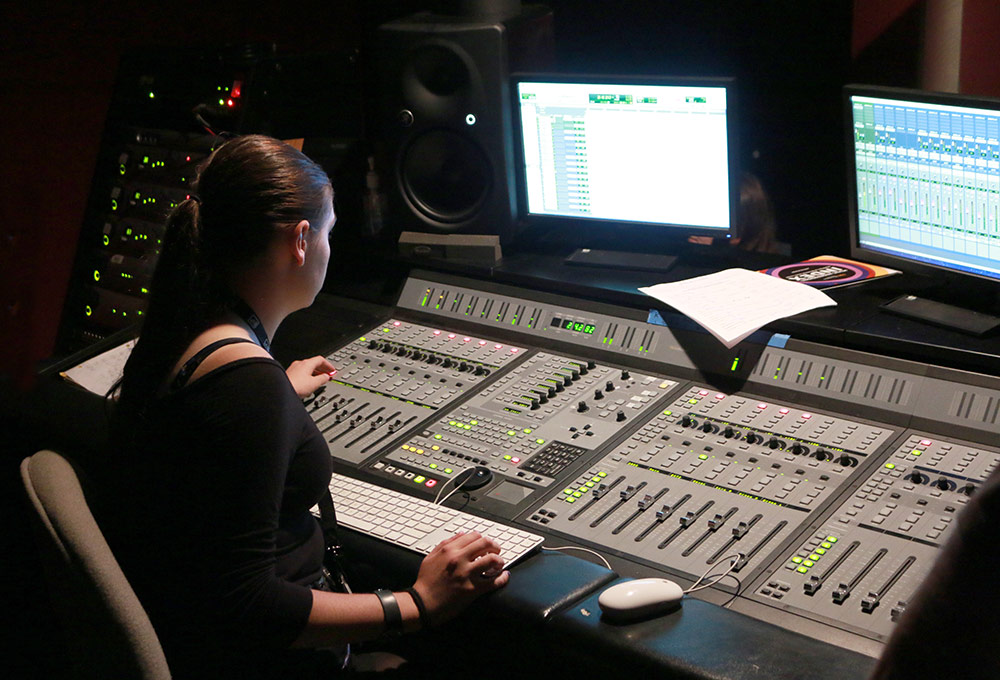 All four combos performed original songs produced with campers from the vocal performance, songwriting and audio engineering tracks. Many campers spoke on stage, introducing the combos or the giving business pitches to Kamasi Washington and Jeff Gitelman, a songwriter and member of the Stepkids. The Launch Party was an opportunity for the campers to watch a show they put together as well as say goodbye to each other, their counselors and teachers.
"I feel so strongly that I will end up working with the people I met in GRAMMY Camp," said bassist Akrouche. "It gave me hope, and some of the recognition that I was indirectly looking for. And it helped cement my ideas of how the ever-changing music industry works."
---
By Isabella King, of San Antonio, Texas, who will be a senior in high school. She attended GRAMMY Camp as part of the music journalism track.
Never miss a story
Subscribe to USC Thornton's e-newsletter
Subscribe