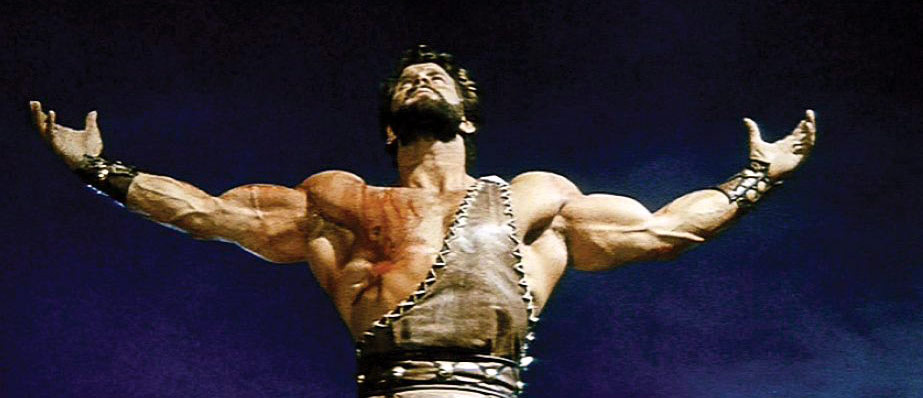 Hear it live, in Technicolor!
You won't find any tuxedoes among this opera crowd – instead, L.A. Opera will create a splendid cinematic ambiance with drinks, popcorn and even a costume party.
By Jenevieve Ting & Daniel Anderson
For USC Thornton alumnus Patrick Morganelli, certain opportunities – like the myths of ancient Greece – seem to be written in the stars.
The composer's latest project is Hercules vs. Vampires, an operatic mash-up that features a cast of singers and full orchestra performing a live soundtrack for the 1961 cult film Hercules in the Haunted World, a sword-and-sandal epic by famed Italian director Mario Bava that starred actor Christopher Lee and three-time Mr. Universe, Reg Park.
An unlikely combination of midcentury pop culture, live opera and film, the production runs April 23, 25 and 26 at the Dorothy Chandler Pavilion.
"It was just a complete cold call," Morganelli said of his decision to approach L.A. Opera about staging the performance. "And it turns out that the time was right for something like this."
The production first saw its premiere at the Opera Theater Oregon in Portland five years ago before making its way to Los Angeles, where the composer lives and works. Morganelli is confident that L.A. Opera will prove a good fit for his less-than-traditional production.
"L.A. Opera is incredibly nurturing and respectful of the art of the composer," he said. "Even with a major international company like theirs, the extent to which they are respectful of me and the score just amazes me."
Hollywood bound
Morganelli (MM '05, piano, GCRT '06, scoring for motion pictures & television) studied Piano Performance under Thornton professor Daniel Pollack and earned a postgraduate certificate in Scoring for Motion Pictures and Television.
"I loved every minute of my time at USC, and the Thornton School is just unbelievable, with so many great faculty and students," said Morganelli, who credits the school for his ability to remain disciplined about his craft.
"It was very important to get a performance degree for me," said Morganelli. "Doing all of that largely preparatory work helped me go into the film scoring program prepared."
Morganelli's experience in film and television – working with composers Christopher Young and Michael Giacchino and Academy Award nominee Randall Wallace – provided him the theatrical cachet required to helm something as cinematic as Hercules.
Though the original film might be seen as "campy" today or perhaps even bordering on kitsch, the real heart of Morganelli's production lies in his decision to approach the piece as a "very straightforward dramatic work."
The result, juxtaposed with the visibly comic elements of the film, "generates its own sort of wit," which provides audiences with a consciously tongue-in-cheek and entertaining work of art.
A Popcorn prelude
L.A. Opera will stage Hercules vs. Vampires as a part of its "Off Grand" series of colorful, innovative and off-beat productions that thrive outside of the grand opera tradition.
Partnering with the American Cinematheque and the Italian Cultural Institute of Los Angeles, the production includes a cast of ten singers from the Domingo-Colburn-Stein Young Artist Program, as well as a 26-piece orchestra led by conductor Christopher Allen.
The production will feature a sixty foot screen on the stage, beneath which the singers and orchestra will bring Morganelli's vivid, otherworldly sci-fi soundscape to life.
Unlike most performances at the Dorothy Chandler Pavilion, however, one won't find any tuxedoes among the Hercules crowd – in fact, L.A. Opera will set the cinematic atmosphere by hosting a costume party and selling drinks and popcorn.
For Morganelli, a longtime fan of Mario Bava's movies, the production has been a serendipitous experience. "It still kind of blows my mind a little bit," he said. "I was just lucky enough that they picked me to do it."
Never miss a story
Subscribe to USC Thornton's e-newsletter
Subscribe