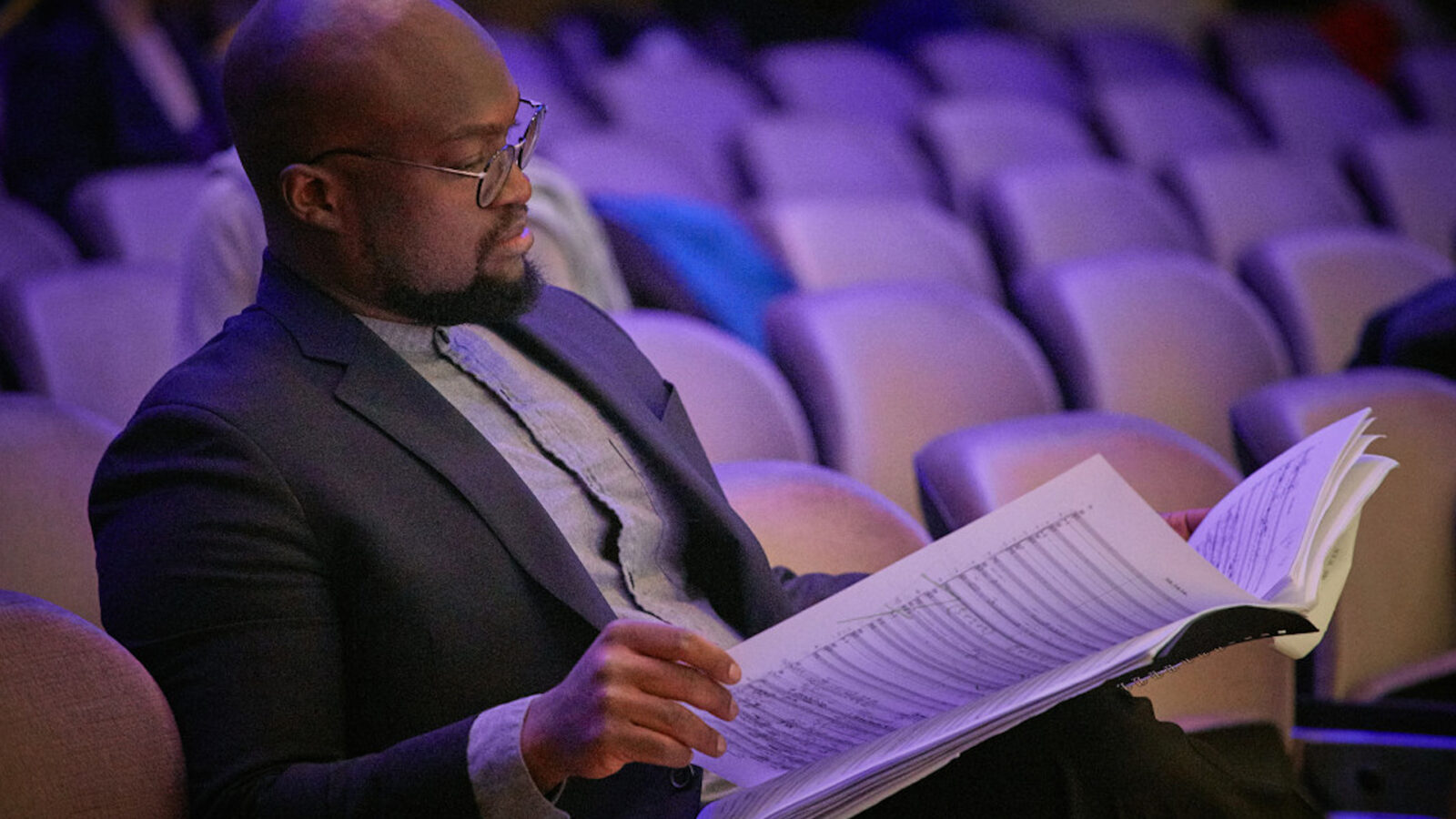 His Brilliant Career
Alum Vimbayi Kaziboni has created a multi-faceted career across continents as a conductor, artistic director, and teacher.
---
Vimbayi Kaziboni (BM '10) came to USC Thornton as a rising percussionist, left as a conductor hailed as a major talent, and has continued to expand his musical résumé ever since. An abbreviated list of his accomplishments since his undergraduate days would include:
Named conductor of the International Ensemble Modern Academy in Germany, then assistant conductor of Ensemble InterContemporain in France.
Earned a master's degree in music in Germany.
Received a Fulbright fellowship to Uzbekistan, where he worked with an ensemble creating avant garde music and experimental theater.
Named assistant professor of orchestral studies and contemporary music at the Boston Conservatory at Berklee, where he leads numerous ensembles including the graduate program in contemporary music. (He was Teacher of the Year there in 2019.)
Appointed artistic advisor for the Boston Lyric Opera, where he works on innovative projects such as opera film productions and taking opera performances to neighborhoods, in addition to curating and conducting conventional opera productions.
And, in a normal (non-Covid) year, he lives out of suitcases half the time conducting in the world's most prestigious concert halls. Even during this Covid-limited year, he made his premiere at the Berlin Philharmonie with Ensemble Modern.
Kaziboni, who came to America at age 13 with his family to escape catastrophic economic and political conditions in his home country of Zimbabwe, heard a great orchestra in person for the first time that year, and knew from that moment he wanted to be a conductor. Here's how he describes the experience:
"Moving to a new country at that age was one of the most difficult experiences of my young life. It felt very alienating leaving home and adjusting to a foreign culture, not to mention navigating suburban middle school politics in a second language.
"During this time, my great uncle who loved classical music took us to a Sunday matinee concert to hear the Los Angeles Philharmonic, who that afternoon performed Dvořák's 9th Symphony, The New World, a work in which the composer is grappling with his own experiences in a new country, in America, and missing home.
"It's at the climax of the slow movement, "Largo," that the composer seems to get very introspective. He reduces the orchestra momentarily to only the front eight string players in an orchestra of more than 70 musicians. As they play the melody nostalgically, if not melancholic, he puts fermatas right in the middle of the phrases, as if the melody is struggling to go on, as if it has a lump in its throat, as if it is crying.
"This is the moment I knew my calling was to be a musician."
After living in California for a few years, Kaziboni's family moved to Omaha. Within a short time, he was in one of the top youth orchestras as a percussionist and received a scholarship to USC Thornton.
Arriving at USC Thornton
Lucinda Carver, Vice Dean and Professor of Practice, Conducting and Keyboard Studies, quickly recognized him as a major conducting talent, and arranged for him to take private instruction with her as an undergraduate, which he continued doing for two years after he graduated.
"Lucinda has been my most important teacher," says Vimbayi Kaziboni. "As a bright-eyed undergraduate novice conductor, she kindly took me under her wings and helped me unleash my artistic capacity as a musician. In the disguise of learning how to conduct, she taught me how to listen to my inner self and trust my intuition, musically and otherwise."
He says that over the years Carver has been "a loving and unwavering mentor. She has even encouraged me to take on mentorship roles myself with aspiring conducting students at USC as part of the Thornton Mentorship Program, which has proved to be a very enriching experience of giving back and investing in the future of our art form."
Carver says Kaziboni's talent was easy to spot. "First of all, he had that percussionist incredible sense of rhythm. He was so expressive, and he was able to communicate with gesture just so naturally."
She recalls him as a junior deciding to do a non-required project, staging Act II of The Marriage of Figaro, which was a huge undertaking. "Quite often, our conducting students are struggling to put an orchestra together because the students are busy," says Carver. "Vimbayi was so well loved that everybody wanted to be part of this project. And he had never conducted opera before. Working with singers and conducting opera is much more challenging than simply conducting an orchestral program. You have to learn to breathe with the singers, you have to have a sort of sixth sense about working with them. And he had that immediately."
His senior conducting recital was another extraordinary undertaking, she says. It was all contemporary music, with voices and various combinations of instruments. "I can't even describe it," says Carver. "He conducted a piece that involved not only conducting but playing, and even motion where at one point he was on the ground. It was choreographed, an unbelievable piece.
"And now he's done just spectacular things in the world of contemporary music. He has a profound respect for music and a profound respect for the musicians that play it. That quality in a conductor is something that musicians can sense immediately. There's a humility about him that is so endearing and yet he's commanding on the podium. He's truly my pride and joy as a conducting teacher."
Erica Muhl, Dean of the Iovine and Young Academy, was another of Kaziboni's professors at USC Thornton. "His musicianship was exceptional, as was his ability to apply a rare combination of passion, creativity and deep scholarly inquiry to fuel new boundaries and new explorations for his artistry," she says. She adds his many accomplishments have come as no surprise to those who were part of his student journey, and says she is thrilled to be able to reconnect with him in her upcoming role as president of Berklee.
Another seminal influence at USC Thornton was famed composer and National Medal of Arts recipient Morten Lauridsen, who taught Vimbayi Kaziboni in his freshman music theory class, and later gave him private composition lessons. Kaziboni says Lauridsen's lessons made a deep impression on him, and calls them "life impacting.
"We spoke about everything from music, art, politics, philosophy and life and how they all relate to our work. I grew personally and discovered a lot about myself in those weekly lessons. I learned from Morten Lauridsen about how to live a creative and ruminative life."
Reached for comment, Lauridsen vividly recalled his first impressions of Kaziboni in his freshman theory class. That's an accomplishment, because Lauridsen – despite his superstar status – insisted on teaching that early morning, five-times or three-times-a-week class for freshmen for more than 50 years. Kaziboni's class included Jack Stulz ('10), a violist who became Kaziboni's closest musical friend.
"That was really an exceptional class and both Jack and Vimbayi were standouts," recalls Lauridsen. "We covered a lot of ground, and I remember very clearly that Vimbayi really embraced this class. He looked at all these projects that were given to him not as assignments so much but as knowledge, and he used that knowledge with great enthusiasm.
"One of our major projects was a huge one, to compose and orchestrate and conduct and record a set of variations over a passacaglia base. And Vimbayi was exceptionally good on that."
Warmth and Kindness
Jack Stulz, contacted in Paris where he is a member of the new music group Ensemble Intercontemporain, said that several students in that freshman theory class with Lauridsen remained close during their years at USC Thornton and have stayed in contact, including having a Zoom reunion earlier this year.
While they were still USC Thornton students, he and Vimbayi Kaziboni started a new music ensemble in Los Angeles, What's Next? Then, a few years after graduation, they auditioned for Ensemble Intercontemporain at the same time. Stulz remembers not sleeping because of jet lag and anticipation for his two-day audition, then staying up all night due to the excitement of winning, then not sleeping the next days due to anticipation for his friend's audition, and then another sleepless night to celebrate Kaziboni winning his audition. "I'm pretty sure it was six to seven days straight without much sleep," he recalls.
Kaziboni lived with Stulz when he came to Paris for his assistant conductor duties, and Stulz remembers inadvertently locking Kaziboni in his apartment and going off to rehearsal. Kaziboni had to throw the keys to someone in the street to come let him out.
"Vimbayi's character is warmth and kindness, and he emanates that when he's on stage," Stulz observes. "He doesn't just smile with his face; he smiles with his whole body. And he's a very generous conductor. Very collaborative. The other quality anybody will instantly recognize is his honesty. He's honest in conversation, he's honest artistically. And that's something we all respect."
Stulz says he and his good friend like to have "big, grandiose arguments and passionate discussions" about music. An example of a subject they go head to head about is concert programming. "He's someone who likes to have a theme for each program and have a reason for each piece," says Stulz. "And I don't know if I'm more romantic, but I'm thinking more about each piece itself as an individual experience."
Kaziboni identifies another recurring argument the two friends have about what is more important, the process or the result. "It's difficult to keep score because over the years we are each always changing our minds," he says.
Looking Ahead
So what's ahead for Kaziboni? In the coming months, he has a super-charged schedule. He's collaborating with pioneering opera director Yuval Sharon on an inventive new production of La Bohème with the Michigan Opera Theatre, Boston Lyric Opera and the Spoleto Festival.
He's conducting the world premiere of a work by Swiss composer Georg Frederich Haas at the Donaueschingen Festival in Germany, and the world premiere of a work by American composer George Lewis at South Bank Centre's Queen Elizabeth Hall in London.
He's premiering a new work for orchestra by German composer and director, Heiner Goebbells with the Ensemble Modern at several European concert halls.
He will conduct a production of French composer Gerard Grisey's orchestral magnum opus, "Les Espaces Acoustiques" in Switzerland.
And he has a forthcoming premiere with the San Francisco Symphony for a program curated by his friend and colleague, flutist Claire Chase.
It's a fantastic group of assignments with celebrated orchestras from all over the globe and esteemed collaborators that include MacArthur "Genius" grantees, Guggenheim Fellows and National Medal of the Arts winners, but Kaziboni lists them simply.
That's another quality he displayed at USC Thornton, says his major percussion professor, Erik Forrester. "It was very much Vimbayi's mode not to talk about what he was doing," Forrester says. "He would never ever come in and say 'you wouldn't believe what I did last week.' He's extremely humble.
"But from the beginning, there was so much talent there. It was almost uncontainable."
As Morten Lauridsen sums up: "I'm not surprised at all that he's gone on to such an illustrious career. I see all his accomplishments and they are just outstanding. Wow."
Never miss a story
Subscribe to USC Thornton's e-newsletter
Subscribe