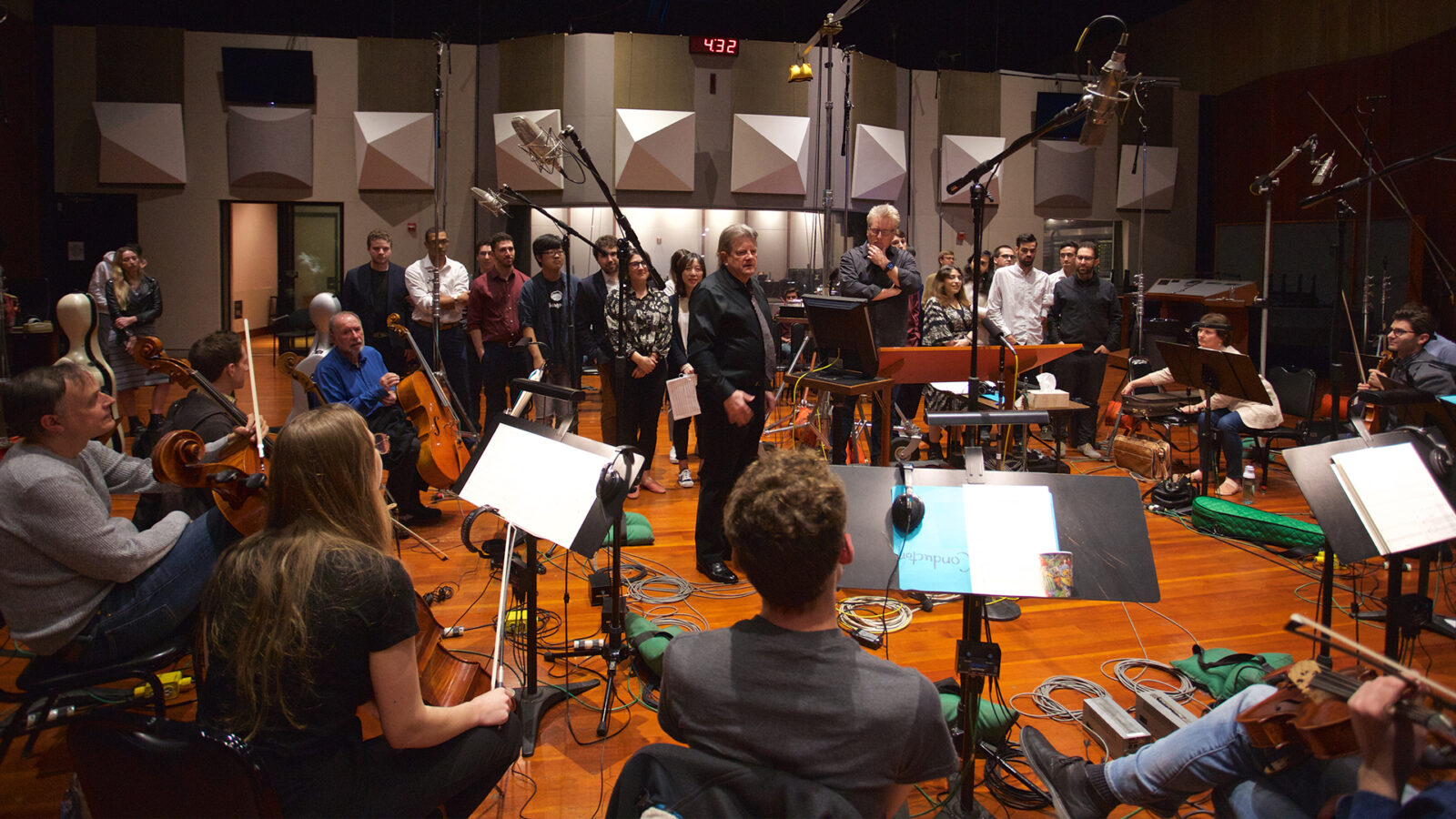 In Conversation With | Daniel Carlin & Marco Valerio Antonini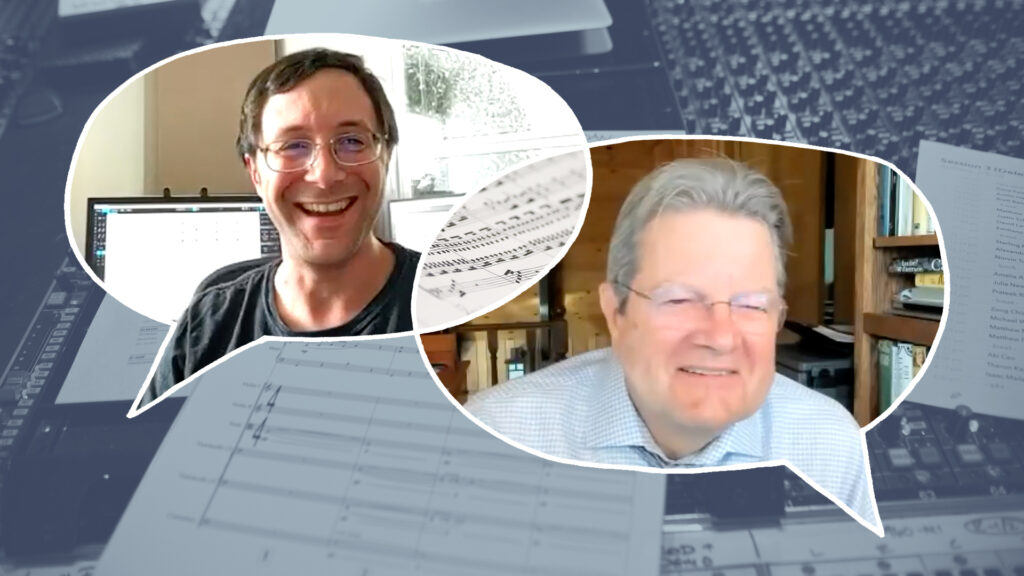 The IN CONVERSATION WITH | series uses the power of dialogue to profile the careers, accomplishments and relationships of USC Thornton professors and alumni. In the first of this series of conversations, we talk to Daniel Carlin, the longtime chair of the screen scoring program, and alumnus Marco Valerio Antonini.
---
Ask Daniel Carlin what he's gleaned from the last four decades of working in the Hollywood film industry, and you'll hear a seven-word mantra that will never steer you wrong.
"I have a mantra that I'm sure my students are sick to death of hearing," says the Emmy-winning music editor, Emmy-nominated music director and longtime chair of the USC Thornton Screen Scoring program, who retires this year after a decade at Thornton. "Work hard, be nice and get lucky."
"This is a really, really hard field," Carlin explains. "The hours are way too long, the pressure's way too intense, and the deadlines come way too soon. So, you have to be willing to work hard. But you can't let that make you into a crabby bear. What I've found over the years is that, of course you run into people like this, but you usually don't run into them a second time."
Carlin speaks from experience when he outlines the third, most elusive, element of his philosophy: getting lucky. And luck is what you make of it, as the old saying goes. Carlin says being in the right place at the right time landed him his first film credit: music editor for the Oscar-winning 1978 Terrence Malick period drama Days of Heaven.
"It's like comedy; it's all about timing. If I hadn't been available [for Days of Heaven,] you might be interviewing somebody else today," he says. "I like to quote Samuel Goldwyn, who said about luck, 'I find that the harder I work, the luckier I get.' As I tell students, you're not going to get more jobs by sitting at home improving your writing skills, because nobody knows about you. You need to be out mixing and mingling and going to festivals, workshops, presentations and panels, where you meet people and talk. You also need to help your colleagues when they need it, as you might impress others who are paying attention."
Marco Valerio Antonini heeded Carlin's advice. A 2016 graduate of the screen scoring program, Antonini works as a composer and orchestrator for film, TV and video games. His credits include creating the score for COVID-19 Ground Zero, an official selection of the 2021 Chelsea Film Festival, and composing music for Tesla, a film by graphic novelist and graduate of the USC School of Cinematic Arts Rick Ross.
"It's not about the music – it's about the film."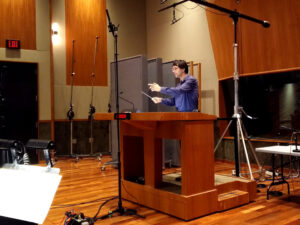 Antonini recalls the phrase of Carlin's that stuck with him, which he took to mean, "One thing is for sure: your vision as a composer is not the vision of the movie. The director's is. If you start with this attitude, you realize that the necessity of redoing a cue or addressing some notes on a cue that might, at first, seem to take away from something you put a lot of thought into generating is instead a process that can actually spark creativity."
He calls Carlin a mentor for not only the quality of his advice but for his willingness to share his true passion for the field with his students.
"In a world of teachers, there are only a few mentors. And with him, what I experienced is continued support six years after the program. It's been support with a patient and steadfast consistency that speaks of a true passion in passing on knowledge," Antonini says. "I've had a lot of great teachers over the years, but I haven't very often had someone who you can tell cares about the knowledge that he passes on. I think one of the legacies that he will leave behind is that he informed north of 20 people a year with this set of values and work ethic. He passed it down with grace, lightness and irony without being stiff."
How It All Began
"If you're a surfer, you know what this means: you can surf the entire wave or you can just ride the soup – that white, choppy water after the wave breaks. That's kind of how I look at post-production. We only get to ride the surf at the end. But when you start in pre-production, you get to ride the whole wave and it's really rewarding," says Carlin, who has overseen music for film at every point in the creative process as a music director, conductor, music supervisor, music editor, music consultant, playback supervisor and soundtrack producer.
Carlin's career in screen scoring began (by a stroke of luck, or maybe fate) in the mid-1970s – he had just passed his Ph.D. exams in anthropology and was living in Los Angeles before starting an appointment to teach at the University of Khartoum in Sudan. When political upheaval closed the university, Carlin began working for his father, an independent music editor.
He credits his father with providing him the mentorship and trust needed to make a name for himself in the field. When his father turned down an opportunity, Carlin was given his first big break: music editing Days of Heaven, which he quickly followed with music supervision and conducting work on The Black Stallion. Over the next couple decades, Carlin's list of credits blossomed to include celebrated titles like The Last of the Mohicans, An Officer and a Gentleman, Steel Magnolias, The Bodyguard, Coming to America, Moonlighting and the television mini-series The Temptations, which garnered him his first Emmy nomination for music direction. In 1986, he won an Emmy for music editing the television movie Under Siege.
In addition to his creative work, Carlin became an entrepreneur, learning skills in business and management he imparts to Thornton students today. For 25 years, Carlin was the CEO of Segue Music, Hollywood's most extensive providers of on-set and post-production music services.
In 2004, he segued into a career in music education, serving as the executive director of the Henry Mancini Institute, chair of film scoring at Berklee College of Music and chair of the USC Thornton Screen Scoring program, formerly known as Scoring for Motion Pictures and Television. He also served as vice dean for the USC Thornton Division of Contemporary Music from 2018-2020.
When reflecting on the thrilling, fulfilling journey his career has taken, Carlin says, "It's a craft, and so like all crafts, you start out as an apprentice. You get trained to learn the more challenging skills as you go along. I had probably the best teacher in town, my dad, so I got really lucky, as did about two dozen others he trained."
Contributing to 'glorious music'
"The Thornton Screen Scoring program under your tenure became sort of a microcosm embodying a small-scale version of what the industry is for real," Antonini tells Carlin. "It wasn't a course where you study a bunch of things and then graduate, only to discover that half of what you've studied you have to throw away because it's not really how the world works. You created this overlapping space between the actual world and the program. Yes, we're in a school, but the moment we have to record something, we have actual engineers coming in. We get to know all the major contractors in town. Through them, we get to meet some of the best players, some of whom also do contracting on the side. So, we end up working with them on projects after the program. We got a very good industry introduction, both in a professional and a human sense."
"Thank you very much, Marco, for saying those kind things," Carlin says, his voice deep with emotion. "We've talked about networking and the importance of making relationships. That is also a reward, not only in getting jobs but in building a community, a lifetime of friendships with people. This is really where I count my blessings. I just have wonderful friends, whether they're former students, people who mentored me early on or people who I came up through the ranks with that have been successful in their endeavors. You build a common, long-lasting bond."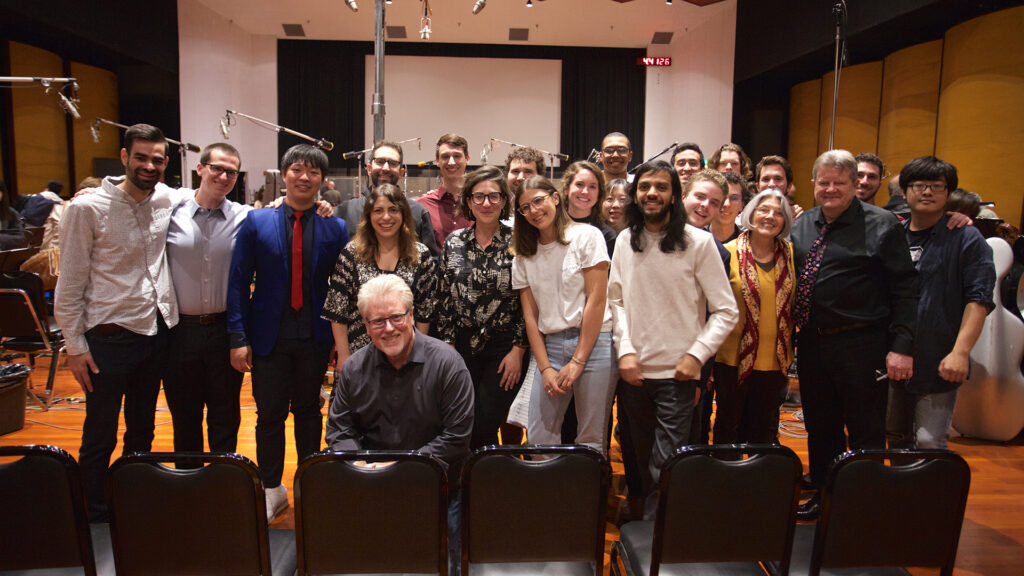 As he prepares to retire after more than a decade of service at Thornton, Carlin is awed by the opportunities he's been given throughout his career and humbled by a legacy of helping students like Antonini realize their exceptional careers as composers. With four decades of experience in the field, Carlin delivers each of his lessons to his students with unmatched enthusiasm for the craft of screen scoring.
"You just don't imagine, when you're sitting in a movie theater as a kid and hearing glorious music, like Elmer Bernstein's score for The Magnificent Seven or Georges Delerue's Jules et Jim, or something for the later generations like John Williams' music for Star Wars or E.T., that you can be a part of that," Carlin says. "Then, you find yourself as an adult actually working alongside these giants and contributing in an important way. It's more gratifying than I can really explain."
---
Read more about the USC Screen Scoring program
Emmy Award-winning composer and USC Thornton Screen Scoring program faculty member Laura Karpman is set to compose the music for The Marvels, the sequel to Captain Marvel.
Screen Scoring alum Daniel James Chan ('08) has produced an album of original songs and arrangements from the TV series DC's Legends of Tomorrow.
Never miss a story
Subscribe to USC Thornton's e-newsletter
Subscribe