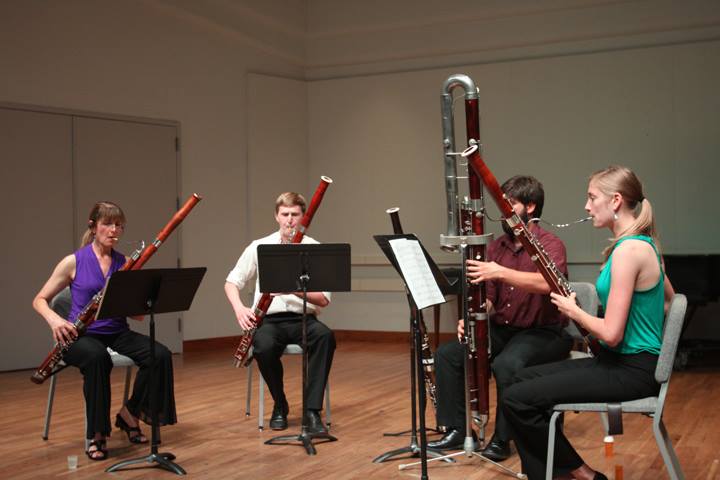 In Music, There's Always More to Learn with Judith Farmer
"You can never prepare enough, you're never done. Music is a work in progress, there is always more to learn."
When Judith Farmer was invited to perform this past summer at the 42nd Annual International Double Reed Society Conference at the University of Redlands, she brought friends and family alike with her. In addition to performing the Gordon Jacob Bassoon Concerto with The Redlands Symphony, a group of former Thornton students—alumni Robert Curl BM'12, Dana Jackson BM'09 and Paul Curtis BM'08, MM'10—joined her in performing Dance of the Polar Bears, a bassoon quartet by her husband, composer Gernot Wolfgang (SMPTV '93).

"It made me very happy, I have to say. I'm so proud of all of them," Farmer remarked about her students. "And to be doing a piece of my husband's, it was a very…warm and fuzzy experience."
Farmer has worked in Germany, Austria and the U.K. and is currently the principal bassoonist of the Santa Barbara Chamber Orchestra. Having performed with the L.A. Philharmonic and on over 150 major motion pictures, the well-versed musician describes her experience at the conference as nothing short of "very gratifying."
When it comes to teaching, Farmer believes that a career in performance requires dedicated practice and an innate sense of musicianship.
"Some people use music to play an instrument, but it should be the other way around, Farmer said. "One should play an instrument in service of music. Of course you have to bring technical perfection to the game in addition to having something to say. That combination will stand out to any listener."
And standing out has increasingly become the expectation for music students today, regardless of their professional pursuits post-graduation. While students who play with absolute precision and note-for-note accuracy are becoming the standard, Farmer remarks that it takes a broader interpretation of their music education to be heard amongst an increasingly and similarly talented crowd.
Paraphrasing Esa-Pekka Salonen, Farmer says that one of the things that's exciting about being in Los Angeles is that there are so many possibilities here because there aren't all the constrictions of traditions that are found elsewhere.
That Farmer perceives music with a more open interpretation is apparent in not only her mentorship but in the philosophy she applies to her own performances. "For us, our most standard concerto is a Mozart concerto. I've been playing it since I was 13 and I still find new things in it," Farmer said. "That's one of the many things that's wonderful about music…it's so infinite."
For those who don't see how a traditional instrument like the bassoon can bridge the gap to the present and remain relevant, Farmer credits the attitude that has come to define Thornton as a music school. "What we teach here in addition to the instrument and musicianship are the professional skills of how to market yourself," Farmer said. "When I was in school, there was nothing like that."
"You can never prepare enough, you're never done," Farmer advised. "Music is always a work in progress, there's always more to learn."
For Farmer, the best advice she can pass on to her students is that in addition to making the commitment to the necessary practice time, they also need to understand that the study of music is a lifetime endeavor.
– Jenevieve Ting
---
Excerpt from Dance of the Polar Bears by Gernot Wolfgang
Recorded in in 2008 as part of the Bassoon Bonanza at Alfred Newman Recital Hall featuring Judith Farmer, Benjamin Yingst (MM '08), Rose Corrigan, and Paul Curtis (BM '08, MM '10).
Never miss a story
Subscribe to USC Thornton's e-newsletter
Subscribe