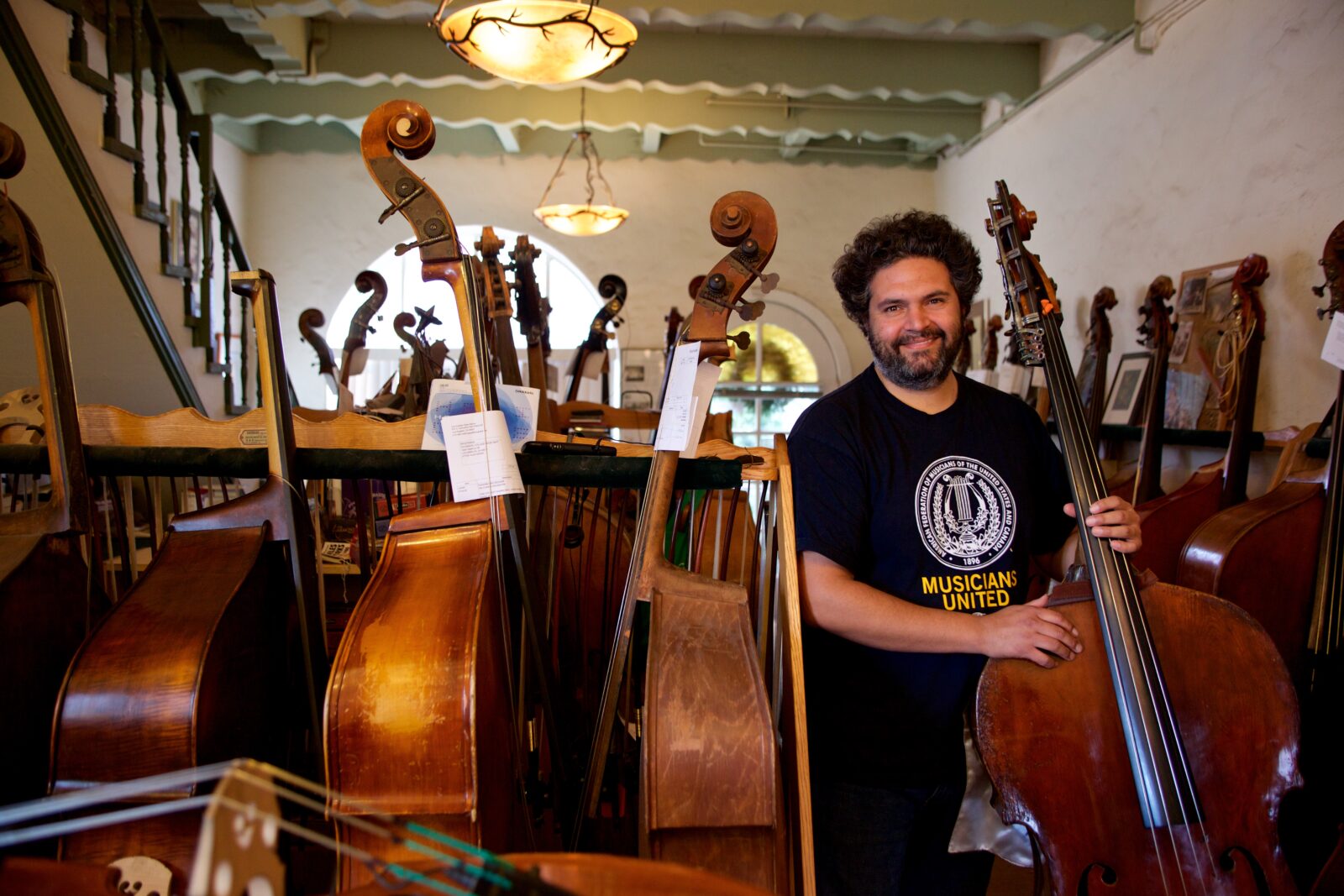 Instrument Repair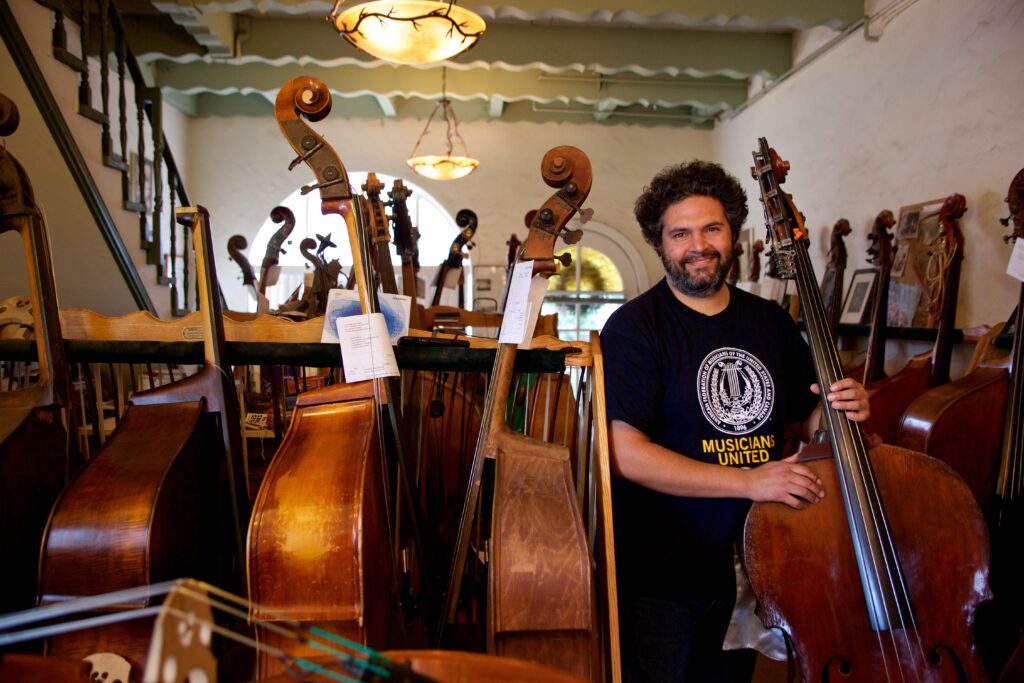 Gabriel Golden photographed at LA Bass Works. (Photos: Dario Griffin/USC)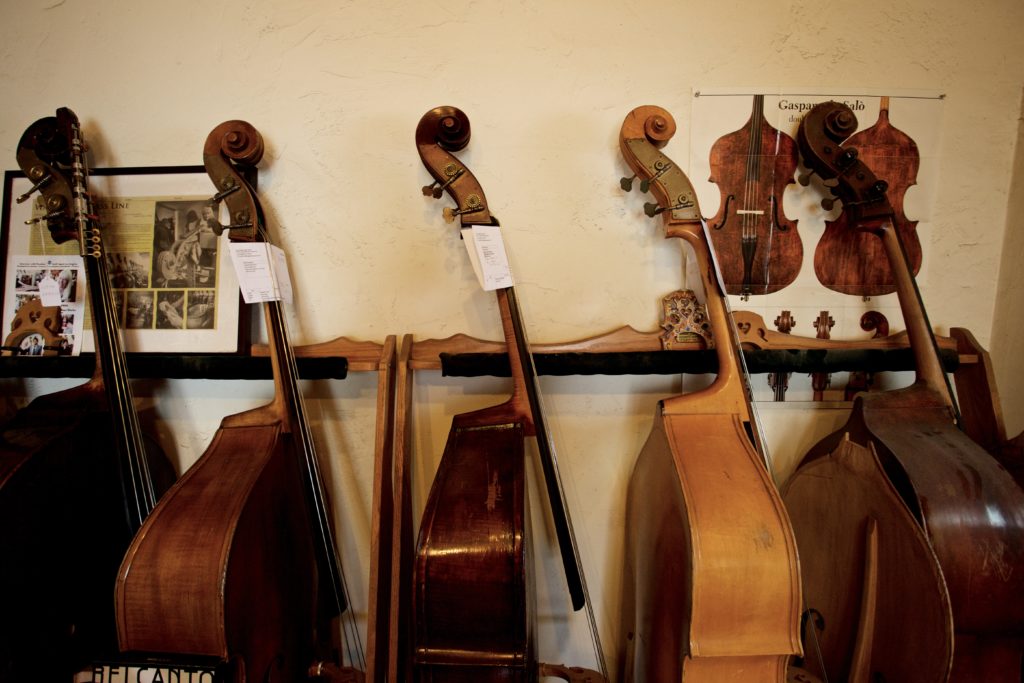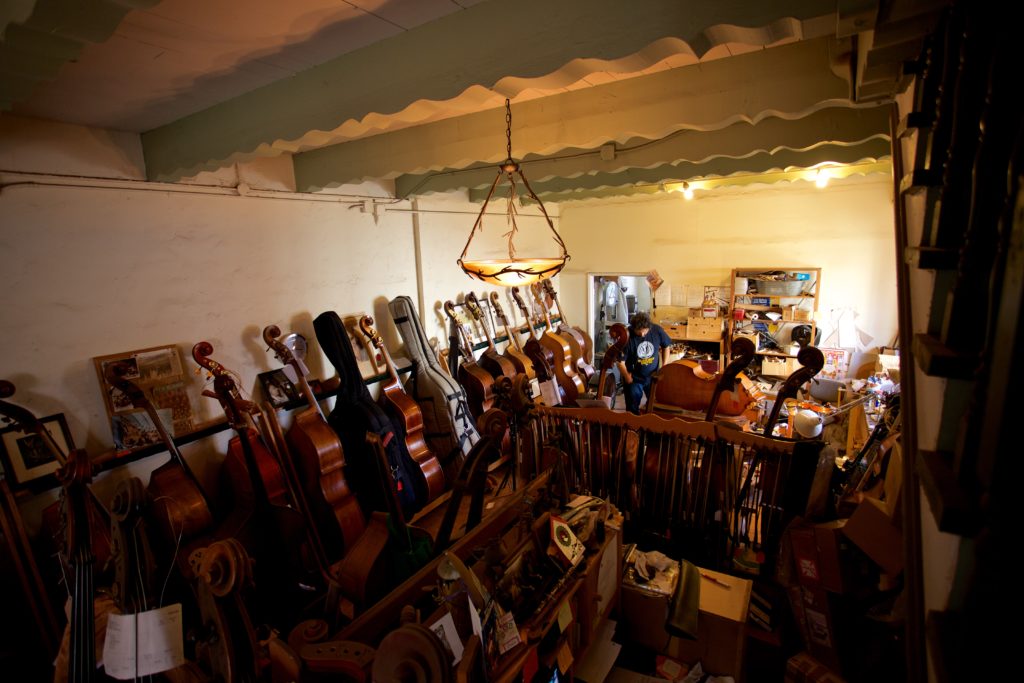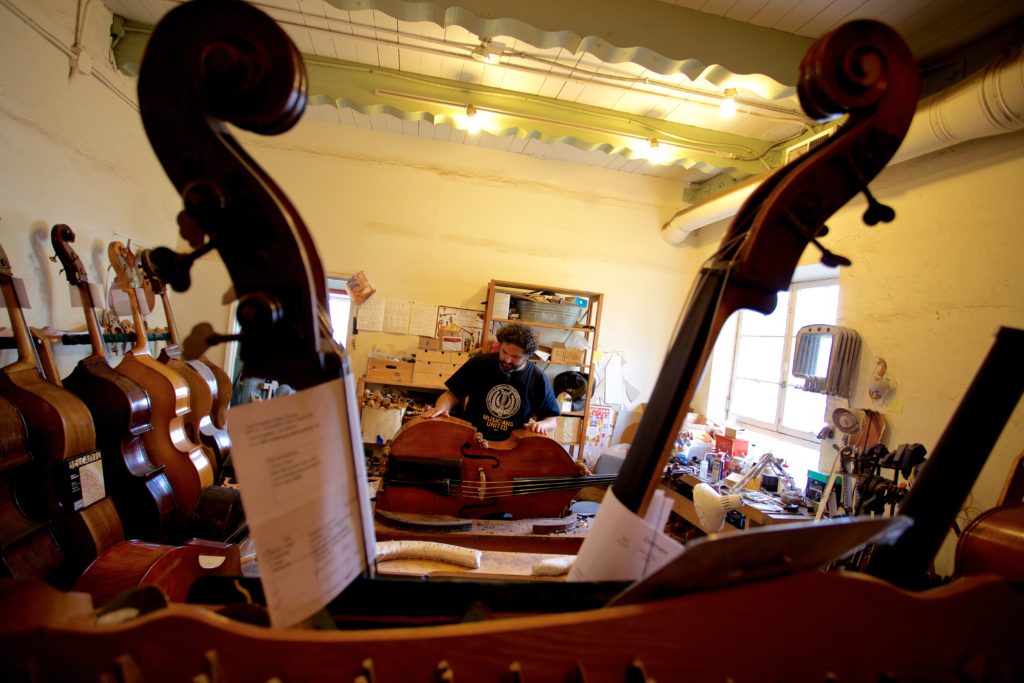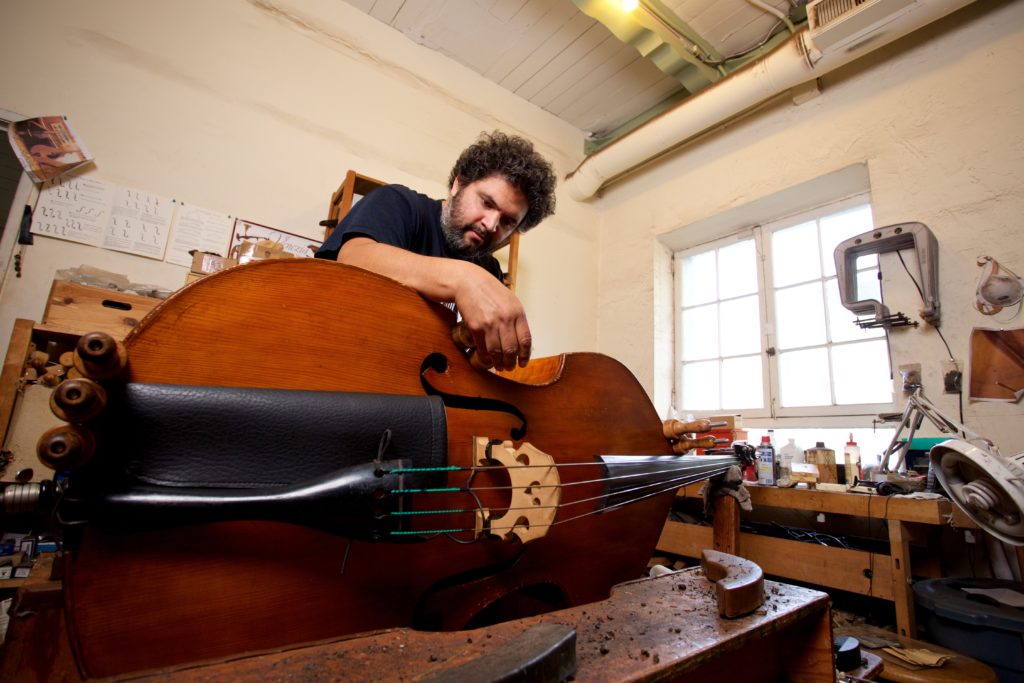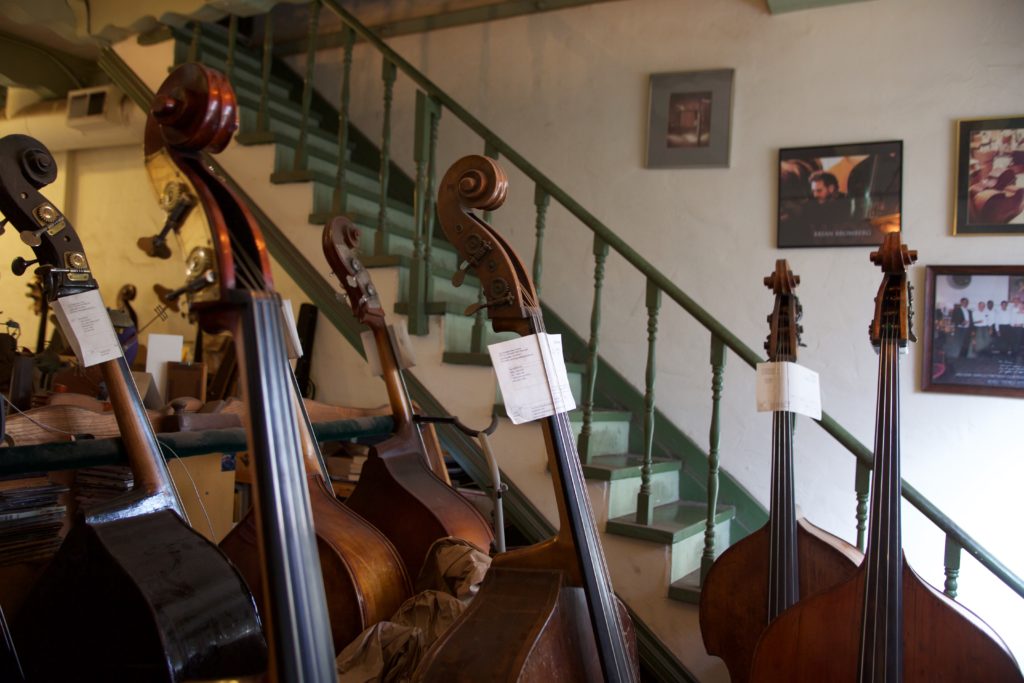 There are many ways for musicians to make a rewarding living beyond the symphony hall. Instrument repair is a particularly intriguing and satisfying one. 
---
Alum Gabriel Golden used to dream of playing the double bass in a major orchestra. Now he dreams of performing surgery on the stringed leviathans. Literally dreams about it. The Guatemala-born, Los Angeles-reared freelance musician and luthier will go to bed stumped by some technical problem—say, a buzz.
Basses are plagued by such acoustical enigmas, Golden (MM '09, GRCT '10) explains. "Sometimes there's a quick and easy solution. Sometimes it becomes a years-long headache."
Inspiration occasionally comes in dreams. At his workbench the next morning, it's a great feeling when the fix he dreamt of actually works.
Golden is living proof that musicians can make a rewarding living beyond just the symphony hall. Instrument repair is a particularly intriguing and satisfying one.
Performing Bass Surgery
He and longtime mentor Lisa Gass, owner of Los Angeles Bass Works, are world-class "bass surgeons." Surgery is an apt metaphor. The patient securely clamped to the table, Golden dons surgical mask, goggles and gloves, shines a light inside the body cavity and pokes around with pointy tools. The waiting room is jammed with 60 sick basses. Upstairs, another 20 or 30 healthy basses are on display for sale.
Business is brisk, because double basses are always at high-risk of injury. Due to their immense size, they're usually transported in soft cases which provide little protection. Golden delights in patching up the battered behemoths.
"It's really rewarding work, with multiple layers of mysteries," he says. "I feel like my work is not work. It's very calming and peaceful."
Shavings and wood chips dust the workshop floor, and sawdust scents the air. NPR or KUSC softly plays in the background. It's solitary work, and interacting with clients is a pleasant change of pace for Golden, who describes himself as an extravert. "They can come and stand right next to us while we are working on their instrument," he says.
The clientele runs the gamut from children to professionals, students to people in their golden years picking up the bass for the first time, Los Angeles Philharmonic musicians, studio players, jazz bassists, national and international clientele performing with visiting orchestras or here for some special event.
The Luthier's Apprentice
A woodworking course at Oberlin College, where he earned a double degree in bass performance and visual arts/architectural studies, first got Golden interested in instrument repair. He was a freshman home for winter break when he walked into Lisa Gass's repair shop, looking for an internship.
"I immediately fell in love with the place," he recalls. "I thought: What a cool marriage of music making and architecture, of building and working with your hands and fixing things!" He started apprenticing for Gass that winter and returned every summer during college. From sweeping floors and shaking out the rugs, he progressed to gluing seams and sanding fingerboards. In time, he was carving scrolls and body parts.
"She taught me everything I know," Golden says, of his boss and mentor of 18 years. By the time Golden finished his USC Thornton graduate degrees, he was a skilled bass and violone luthier.
Golden took up the period instrument, a pre-cursor to the double bass, while studying at USC. He now plays violone professionally at baroque festivals and in early music ensembles like Con Gioia and Tesserae, the latter a group he co-founded with other USC Thornton graduates in 2010. An active freelance musician, Golden plays double bass with regional orchestras and in studio sessions for film, television, music videos and video games.
When gigs, rehearsals or recording sessions interfere with repair shop hours, Golden and Gass cover for each other. She, too, is an active freelance bass player.
"I feel incredibly lucky," Golden says. "We work really well together."
The balance he has found as a freelance musician and luthier gives Golden the freedom to pursue other pleasures. He loves spending time with his wife, a choir teacher in the Culver City school system, and their baby daughter. He sees his mom regularly and, before his 93-year-old grandmother passed away last year, Golden was spending at least one day a week reading to her, going over her bills and running errands for her.  An outdoorsman, he also skis, swims, bodysurfs and plays frisbee golf regularly. He recently took up gardening.
Asked if he has any advice for performance students, he offers this: "One should work to live, not live to work. If you're not loving what you're doing, then switch gears." While instrument repair "is not the most financially rewarding job in the world," he adds, "I love it and personally don't need a ton to be happy. There are lots of wonderful things to celebrate in life besides money or fame."
Flute Dissection
Cynthia (Grinstead) Kelley (BM '91, MM '94) remembers the first time she saw the inside of a flute. It was in Jim Walker's studio. The longtime USC Thornton flute professor and former Los Angeles Philharmonic principal held an impromptu repair master class that day. "He brought all his tools to school, and said, 'Let's take a flute apart,'" Kelley recalls.
Walker's father, a woodwind repair technician in Kentucky, had taught his virtuoso son the trade.
Twenty-five years later, Kelley sometimes returns to Walker's now-famous flute repair master class as a special guest. Flutacious!, the flute specialty shop she opened in Glendale, repairs hundreds of flutes a year.
Kelley came to USC intending to become an orchestral musician. But in her freshman year, the sudden death of her younger brother shook Kelley's complacency, and she started planning for contingencies.
"I was always looking for ways to expand my education," says the Long Beach native. As an undergrad, she worked in the Winds and Percussion office and, later, in the Conducting office. She was orchestra librarian under Dan Lewis all through grad school. Once she finished her master's degree, Kelley took auditions and landed a chair with a regional orchestra. She freelanced on the flute performance gig scene and taught a full studio of 30 students. But in her spare time, Kelley would hang out in the repair shop of master-saxophone technician Rheuben Allen. One day, she asked Allen to teach her to fix flutes, and he agreed.
"He gave me these two horrible flutes to overhaul," Kelley recalls. She surprised him by getting both to play. She apprenticed with Allen for two years before striking out on her own as a flute repair specialist. As the business snowballed, she gradually stopped teaching and freelancing and threw herself "completely into the repair and sales end of the universe."
Surrounded by Flutes
Though Kelley no longer performs professionally, she gets to play "every single day," for pleasure and as part of the job. "My life is a flute. I'm surrounded by flutes and flute players," she says.
Kelley employs two full-time technicians to help with the workload. Each repair can take anywhere from 30 minutes for a simple adjustment to 30 hours for a full overhaul.
Reflecting on her career, Kelley says, "I am happy with my choices. If I had stayed on the 'I'm-going-to-only-play-my-flute' path, maybe that would have worked out, but I would have missed out on so many adventures. I get to work with the most prominent flute players of our time, from all over the world, and I get to meet little girls excited to play flute in the school band."
Her husband, Daniel Kelley (BM '90) took a more traditional performance route. He plays French horn with the Los Angeles Opera Orchestra and works in the motion picture industry. All three of their high school and college-age kids are gifted and accomplished musicians, but the Kelleys have encouraged them to be well-rounded and not feel locked into performance careers.
It pleases Kelley that her alma mater is on the same page.
"I love that USC is trying to engage students to see that success in music isn't just defined by who wins an orchestra job," she says. "Musicians do so many different things to make our careers happen. We should give students the gift of saying, 'These are all the opportunities out there in the music world. Go forth and conquer all of them.'"
Brass Medic
Trombonist Brad Close (MM '89) found his way into the instrument-repair world thanks to eBay. Close is owner of the Brass Medic, the go-to repair shop for LA's horn scene.  He shares the La Crescenta-based retail space with fellow trombonist and USC Thornton alum Noah Gladstone (BM '04, MM '08), owner of the Brass Ark, a dealer in high-end used and vintage brass instruments and mouthpieces.
Trombone has been Close's passion since 5th grade. The son of a Bay Area high school band director, he majored in the brass instrument at Indiana University before coming to USC Thornton for his Master's degree.
"I wanted to be an orchestral trombone player," Close says, of his original ambition. "And, to be clear, that's what I do."
Close plays on the "freeway philharmonic"—shuttling between regional orchestras in Thousand Oaks, Santa Barbara, San Bernardino, Downey and Palm Desert. That alone fills his calendar with roughly 150 rehearsals and concerts a year. He also freelances with various ensembles, for example, playing baritone horn with Der Madderhorns, a traditional-style polka group that plays on authentic instruments. In addition to playing trombone for film, television and video game recordings, he also plays the sackbut, a Renaissance precursor to the trombone.
Recently, he began building the period instruments "in as authentic a way as possible"—starting from sheet brass and hammering, rolling and hand-soldering each part without power tools. So far, Close has built a dozen sackbuts, each taking up to 30 hours.
Bought It On eBay
Close got into instrument repair 15 years ago. To supplement his income as a freelance musician, he had previously worked office jobs at a law firm, a college bookstore, a tech company and so on. It was while he was office manager at the Horn Guys, a brass retail shop, that Close started buying used instruments.
"Back then eBay was kind of new, and you could get really good deals," he says.
As his inventory grew, however, maintenance costs added up. Because brass instruments tarnish and corrode over time, they require periodic cleaning and alignment. To play right, slides and valves need to move flawlessly, but few musicians know how to make these adjustments. To save money, Close started experimenting.
"I never took any classes, and I didn't intern with anybody," says the self-taught artisan, "but I definitely talked to repair guys in the area, asked questions, watched them do things, and learned a lot that way."
As friends in the horn community started calling him to repair their instruments, Close invested in the specialized tools of the trade. Today, Close works on about 200 instruments a year. He also designs custom leadpipes and other tubing modifications that upgrade a trombone's playing characteristics. "I probably make at least 100 custom leadpipes a year," he says.
Looking back, Close's one regret is discovering instrument repair relatively late in life. Those lost years in office jobs could have been better spent brazing bells.
"I find that I really enjoy working with my hands," he says. "I especially like building things, creating something that's artistic and shows craftsmanship. It's a great feeling to be able to do that."
Never miss a story
Subscribe to USC Thornton's e-newsletter
Subscribe