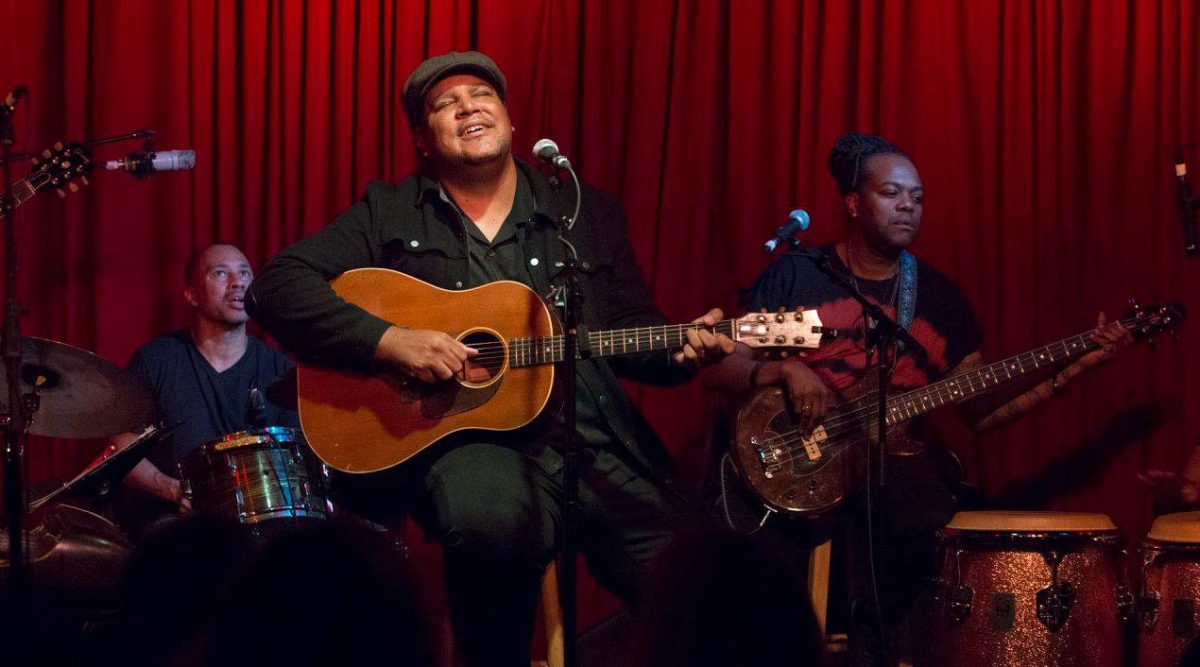 It's A Family Affair
Jazz Studies alum Robert Perkins has built a thriving career as a contractor, regularly putting over 100 musicians to work each month, most of them friends he met through USC.
He's drummed with jazz immortals Louie Bellson and Billy Higgins, and toured with GRAMMY Award-winners like Michael Bublé and Tierney Sutton. But these days, Rob Perkins prefers to tap on his iPhone, snaring gigs for other artists.
"As much as I love playing the drums," says the jazz artist-turned-contractor, "I'm addicted to the pleasure of calling up a musician friend and saying: 'Hey, I've got a job for you.' I just love to deliver that message, because plenty of times in my early years those calls made all the difference to me."
Perkins (BM '97, MM '02) is the founder of On the Beat, a Los Angeles-based agency that puts to work dozens of musicians—nearly all somehow connected to USC Thornton.
"My experience at USC really is the seed that grew into the tree that is my business," he says. Besides earning two Thornton performance degrees, Perkins burnished his artistry as a 1999-2001 fellow in the Thelonious Monk Institute of Jazz Performance, back when it was headquartered at USC.
Today, he books close to 40 events a week through the "curated music programming" side of his business. On the Beat contracts with luxury hospitality properties, five-star hotels and restaurants across Southern California to provide fine musicians for their lobbies and lounges, where, Perkins says, a discerning clientele can detect mediocre musicianship as readily as sub-par wine. The artists Perkins sends change weekly, but their quality is consistent. Jazz-trained and in-demand, most are on the road several months a year. When they're home on a break, Perkins keeps them occupied.
"It's really intense calendaring, knowing what people are doing," he says. The drummer remembers how it was as a touring musician. "On the road, putting in long days, the last thing you'd think about is what you'll be doing two months from now. Then when you land in your home city, you face an empty calendar. That's where I come in. I'm constantly reaching out to my musicians and getting stuff on their books. And by doing that, I have a large, high-quality pool that I can put into action here in town."
Over the last three years, Perkins has expanded his business model to provide first-class live entertainment for weddings, private parties and corporate events, drawing two primary bands he's assembled called Soul Station and Sir Duke, a dozen independent ensembles and two house bands.
Booking His Friends
Though he founded On the Beat in 2010, Perkins' career as a contractor started in his sophomore year when he learned the trade as a student-worker in USC Thornton's Jazz Studies office.
"In a moment of 'please-someone-get-this-off-my-plate,'" he recalls, "Professor John Thomas turned over to me all the incoming phone calls requesting student-musicians to work private engagements." Once Perkins started, he never really stopped.
"I've always been known as someone to get in touch with if you're looking for musicians," he says. "In a casual sense, I've been doing this since the mid-'90s."
Even at the peak of his professional drumming career—when he was living in New York and touring with Michael Bublé's band for eight years—Perkins continued to look out for his extensive network of musicians friends. For a while he even took it upon himself to put a roof over their heads, renting out the extra bedrooms in his New York apartment whenever he or his roommates were on tour. The same concept applied to housing that applied to "in-town" gigs. If someone could manage the housing needs and opportunities created by touring artists, there's a significant value created for artists who can take a break from paying rent while they're on the road. At the high point, he kept three large Manhattan apartments filled with fellow musicians.
Then as now, USC formed the backbone of Perkins' professional network.
"Almost all the musicians I book are either people I knew from my time at USC, people who came along after me, or people who I met through the music community I established at USC," he says.
Making Connections
USC became the epicenter of Perkins' life the moment he arrived as a freshman Jazz Studies major in 1993. Born in Dayton, Ohio, and raised in sleepy Catskills town of Kingston, New York, Perkins was blown away by the connections he made in Los Angeles. He was dazzled by the industry moguls and marquee artists he'd bump up against at receptions in the USC President's House or working signature Thornton events like the annual Dickens Dinner.
The night Perkins performed a drum duo with the legendary Louie Bellson, his Thornton scholarship's namesake, stands out as particularly magical—and not just artistically. "The hands I shook that night and the business cards I received were eye-opening," he recalls. Executives from Warner Bros., Universal and other companies were urging the 19-year-old drummer to stay in touch.
Rob Perkins performing with Micheal Bublé in 2010.
The off-campus jazz scene was no less dazzling. "The Leimert Park neighborhood was a big, big part of my musical education as an undergraduate," says Perkins. He haunted The World Stage in those days. Around the corner from Billy Higgins' legendary jazz cultural center was Fifth Street Dicks, a Leimert Park nightclub where Perkins performed Thursdays, Fridays and Saturdays through most of his college years.
Perkins moved seamlessly between USC and the LA jazz scene, while Thornton recruited top L.A.-area drummers like Jeff Hamilton and Ndugu Chancler to the faculty. The latter continued teaching at USC until his death last year.
"What's great about the music school faculty is they're all working professionals. I'd have a class with a professor in the afternoon, and we'd play a gig together later on that night. It's a fluid relationship," he says.
An Extended Family
Perkins toured the world with Bublé, as well as artists like Bobby Watson, Tierney Sutton, the Clayton Brothers, Vanessa Rubin and the Benny Lackner Trio.
He met his future wife, Australian singer Shelley Rosenberg, in 2005 during a Bublé tour Down Under. An established jazz vocalist, Rosenberg was already looking to exit the concert stage. They got married after she moved to New York to become an independent producer-songwriter; and in 2009, they settled down for good in Los Angeles. By then, Perkins, too, was weary of concert tours.
"We were really serious about starting a family," he says, "and I didn't want to even entertain the idea of being a dad from the road."
On the Beat was born in 2010, though Perkins continued to tour with Bublé through 2013. The agency now supports not only his biological family life—including two-year-old Jonah and four-year-old Olivia—but dozens of musicians from his Trojan family.
Though he no longer performs seven nights a week, Perkins still keeps his hand in the game. The drummer plays with two old friends, Ty Taylor, the lead singer of soul/rock band, Vintage Trouble, and soul singer-songwriter Chris Pierce ('95) is a friend from USC Thornton. "We used to have an 8:00 a.m. ear-training class together," Perkins recalls, with a chuckle.
Through On the Beat, he's making contact with a new generation of Thornton musicians. Perkins recently tapped jazz vocalist and Thornton faculty member Sarah Gazarak to identify her most impressive students. He also books faculty members, some of them his former classmates. Others, like faculty member Sean Holt (MM '91), were once his teachers.
"Now I have the great privilege of getting to hire him from time to time," says Perkins of Holt, a longtime creative entrepreneur who returns the favor by offering advice to Perkins as he grows his business. Often, the teacher/student relationship never ends, it only deepens over time.
It's all about family.
Never miss a story
Subscribe to USC Thornton's e-newsletter
Subscribe