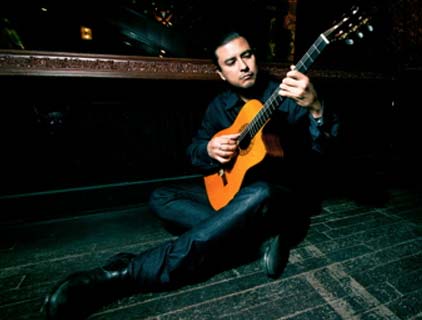 It's All Latin To Andy Abad
"The contribution of Latin artists in the past 100 years has been quite significant, so I wanted to acknowledge and perform this music with an emphasis on pop music."
To the average audience member, every aspect of a performance by the USC Thornton Latin Pop Ensemble appears effortless. Each performer, from the singers to the musicians, seems like a seasoned veteran of the genre.
Looks, however, can be deceiving. The ensemble is composed primarily of pop music majors, and every aspect of the genre is new to them — the songs, the language and, in some cases, the instruments.
Popular music faculty Andy Abad started the Latin Pop Ensemble last year as a way of exploring the influence and relevance of Latin music in popular culture.
"The contribution of Latin artists in the past 100 years has been quite significant, so I wanted to acknowledge and perform this music with an emphasis on pop music," Abad said.
Prior to the influx of successful Latin crossover artists that emerged in the late 90s, Latin pop was only a minor participant in conversations concerning popular music. Although some artists, such as guitarist Carlos Santana, managed to infuse Latin characteristics into mainstream genres, the style was largely overlooked by the public. The rise of performers like Ricky Martin, Marc Anthony, Enrique Iglesias and Christina Aguilera gave Latin pop the push it needed to enter the public sphere.
The Latin Pop Ensemble covers and incorporates many songs by these iconic musicians.
"I've toured and recorded with artists like Backstreet Boys, Marc Anthony and Ricky Martin — so I know how a lot of our covers are supposed to be performed," Abad said.
The ensemble has explored music from a diverse range of Latin styles including Caribbean and Mexican mariachi, as well as music by Colombian artists such as Juanes and Shakira. The ensemble has also recently began exploring reggaeton, a high-energy, hip-hop influenced style relatively new to Latin music.
"All of the songs we focus on are from different areas that have influenced other genres and artists in [the] mainstream," Abad explained.
Though the Latin Pop Ensemble is new, Abad has expressed his admiration and appreciation for the growth of the ensemble and its performers.
"I was just hoping I would have enough people in the class," he explained. "But the response has been overwhelming and the students come ready to learn new music. Watching them develop has been most rewarding."
Abad believes that understanding the relevancy of Latin music in pop will help students to become better songwriters and more well-rounded musicians.
"You have to have some type of experience in this music if you become a pop artist because it is growing," Abad said. "I would love to have every pop major in my class. You never know, we may foster a Latin pop star."
Never miss a story
Subscribe to USC Thornton's e-newsletter
Subscribe