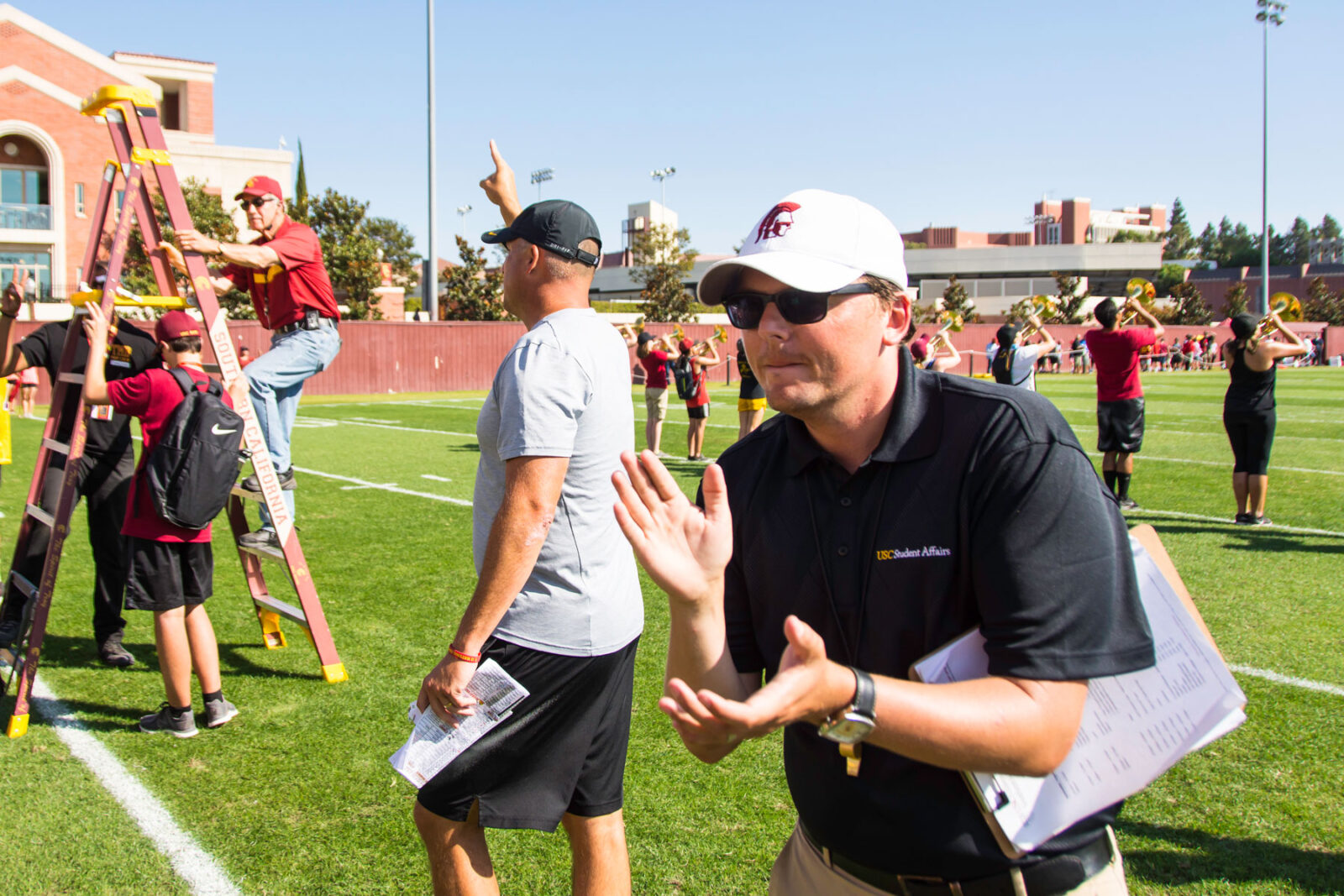 Jacob Vogel announced as USC Trojan Marching Band director
This story was originally published by USC News.
---
Jacob Vogel has been named the next director of the USC Trojan Marching Band, one of the most recognized and honored bands in collegiate sports.
Yet Vogel — currently the Trojan Marching Band's associate director and arranger — got a nontraditional start to his career. His undergraduate school, Chapman University, didn't have a consistent athletic band until he was tasked with creating one. He eventually was hired as the director.
On Jan. 1, 2021, he'll become the new director of the USC band that inspired him in the early years of his career.
"The Trojan Marching Band is essential to the culture of the university," Vogel said. "It's not just about performing for events and supporting our USC student-athletes. We are the heart and soul of USC, for the students and for the greater Trojan Family."
A Southern California native, Vogel knows USC well. After he graduated with his bachelor's in music at Chapman University, he went on to earn his Master of Music and completed studies toward his doctorate from the USC Thornton School of Music.
Vogel credits his USC journey to his wife, Jessica (Bogenreif) Vogel. The two met at Chapman University before she transferred to USC and joined the Trojan Marching Band as an alto saxophone player. She encouraged him to reach out to Anthony Fox at the Trojan Marching Band for lessons in band arranging. Fox, at that time the band's associate director and arranger, became Vogel's mentor.
Upon being accepted to graduate school at USC, Vogel began his work as a teaching assistant and assistant arranger of the band. Upon graduating from USC Thornton with his master's in 2011, Vogel continued to work as a music educator for USC, as well as at Chapman University and at the high school level. He was promoted into Fox's role after the longtime arranger retired in 2016.
"There were so many steps along the way that it's hard to look back and not think that these moments in time were all there for a specific reason," Vogel said.
Vogel will hold an academic appointment at USC Thornton.
"We are thrilled to welcome Jacob Vogel to this esteemed position," said Robert Cutietta, dean of USC Thornton. "Since starting at USC, Jacob has proven to be a great music educator poised to continue the Trojan Marching Band legacy. We are excited for the years to come under his leadership."
New USC band director embraces flexibility, improvisation
Dubbing itself "The Greatest Marching Band in the History of the Universe," The Spirit of Troy has a long Hollywood history. It has appeared at the Grammys, shared the main stage at Coachella and collaborated with renowned acts from Fleetwood Mac to Radiohead.
Created just after the university was founded in 1880, the Trojan Marching Band is the largest spirit group on campus. It features more than 300 students from nearly every major and represents the university at more than 350 engagements each year. In an organization with so many events and in a position with so many moving parts, he jumped in quickly four years ago.
"Whatever the event is, oftentimes things change and you have to turn on a dime," Vogel said. "The nature of the job is constant improvisation."
Vogel said the same flexibility and willingness to change will benefit the Trojan Marching Band today. The organization can be more proactive to help its students have an equitable experience, he noted. At the same time, Vogel plans to honor the legacy and traditions the band has built over the last 140 years.
"While I do think it's time for a change, there are elements of the program that the students appreciate, so the focus is going to be working with Student Affairs, band staff and students to identify the elements of the program that work really well and want to be maintained, as well as those that are in need of innovation," Vogel said.
Among his new directions, Vogel has suggested expanding on the curriculum of the program, continuing to develop and improve the training for its student leaders, and taking a thoughtful look at the repertoire of the Trojan Marching Band.
"Our student leaders within the band have done such a great job at supporting our projects, and one another. Their willingness to learn and perform in these circumstances has been inspirational, and it's really been phenomenal to watch their resilience through all of this," Vogel said.
Jacob Vogel wants his band to inspire Trojans everywhere
Winston Crisp, USC vice president for student affairs, said Vogel's commitment to using the band's platform for a positive impact on all students is what made him rise to the top of the candidates for the directorship.
"Our No. 1 priority at USC is to enrich the lives of our students, and that extends into the members of the Trojan Marching Band," Crisp said. "Jacob's student-centered values align perfectly with those of the university, and we look forward to the future of The Spirit of Troy under his direction."
As a fan of stage and film, Vogel had a childhood dream: to work in Hollywood. Though his path changed, he has still accomplished part of that wish by working with "Hollywood's Band." This passion has found its way into his work with the Trojan Marching Band, from inviting members of the USC Kaufman School of Dance to participate in a Hamilton-themed halftime show to working directly with film composer Alan Silvestri on a Marvel Cinematic Universe-themed halftime show celebrating USC alumni in cinema and music. He also traveled to the Shanghai World Expo with the Trojan Marching Band, performing on the same stage as Harry Connick Jr.
He takes the helm at a time where live performances are limited due to the COVID-19 pandemic. Despite the pandemic's impact on the band's usual engagements, the Trojan Marching Band has livestreamed performances on YouTube for every Trojan football game this season.
"I have been more impressed with the students through this process than anybody else," Vogel said. "They really have the most to lose right now. They're the ones who are missing out an entire season of running down the Coliseum tunnel, playing a halftime show in front of thousands of screaming fans or sharing in the joy of a thrilling Trojan victory."
When students can finally run on the field at the Los Angeles Memorial Coliseum again, it will mark a first for many. The same can be said for Vogel in his position as director.
"I think about the first time I went into the Coliseum when I first started with the band, walking in and just sort of taking it all in, and now I get to do that all over again," Vogel said. "That's going to be the big memory I take away: that first walk through the tunnel and looking out there, realizing that everybody's waiting for this band and I'm at the head of it."
Never miss a story
Subscribe to USC Thornton's e-newsletter
Subscribe