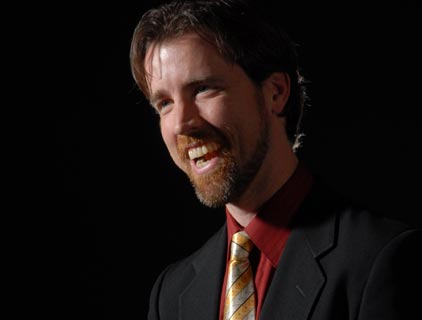 Joel Clifft
"The instruction I received was excellent and the network I built is varied and deep."
Joel Clifft, Thornton alumnus and current faculty member, is an accomplished collaborative pianist and educator and is particularly passionate about software applications for music education. Clifft developed an iPhone app called Music Theory Pro. The app was tremendously successful, and is used by current students at USC Thornton as well as almost 100,000 people around the world. The app – designed for beginners or accomplished musicians – offers skill practice such as naming notes on the piano and on the staff; mastering key signatures, intervals and chords; and training the ear to recognize chords. The app provides detailed, multi-media explanations for each concept. Clifft is currently developing several complementary apps.
Clifft's passion for music came when he was 19 years old. Though both of his parents are musicians, and he began piano lessons at the age of three, he didn't truly embrace it until he wanted to learn to play some of The Beatles' music on the piano.
"My teacher at the time was a little sneaky – he said if I would learn to play some Bach I would be able to play all The Beatles songs," says Clifft. "In the process I fell in love with Bach."
As a student at USC Thornton, Clifft MM '02, DMA '07, earned his master's degree and DMA in keyboard collaborative arts. He was named the outstanding graduate for both degrees. Clifft notes that as a student he kept a busy schedule, but realizes now how valuable that time was.
"During my studies I met many people pursuing the exact same field as I was," says Clifft. "There is a camaraderie that exists in that environment which is difficult to find in the work environment."
Clifft says that he gained so much practical experience as a student and developed resources that he continues to draw from in his teaching and performing career.
"The instruction I received was excellent and the network I built is varied and deep," he says.
Clifft also recalls fond memories of sharing performances with outstanding faculty and students.
"It was thrilling to perform with Midori, and it was an honor to perform some of Dr. Alan Smith's compositions with him in the audience," says Clifft.
An active performer as a collaborative pianist, Clifft has performed in concert with world-class musicians. He is sought after by many singers and instrumentalists and gives approximately fifty concerts per year of new repertoire. Dr. Clifft has also been engaged for many master classes, including those given by the Jascha Heifitz Society, Alice and Eleanor Schoenfeld, Martin Katz, and Midori.
"One of the greatest perks to being a performing musician is the travel," says Clifft. "I've had the privilege of performing around the world at many world-class venues, and music has allowed me to see many places that I would not have otherwise experienced."
Clifft is currently on the faculty at Azusa Pacific University as the director of keyboard studies. He also teaches at USC Thornton as an adjunct instructor of collaborative piano. Clifft has a long-standing relationship with Azusa Pacific, where he earned his undergraduate degree and has been on the faculty for 14 years, and appreciates the connections APU and USC Thornton have with one another. Clifft notes that many of the music professors at APU have earned their graduate degrees at USC Thornton also, and that several students have earned degrees from both institutions. For Clifft, the connection is somewhat more personal.
"My father started teaching at APU the year before I was born so I have a long-standing relationship with APU's School of Music," says Clifft. "I never thought I would be the chair of the piano department there."
Clifft's sense of creativity and innovation demonstrate his commitment to music performance and education. Alumni wishing to learn more about Clifft's Music Theory Pro app can find more online.
Never miss a story
Subscribe to USC Thornton's e-newsletter
Subscribe