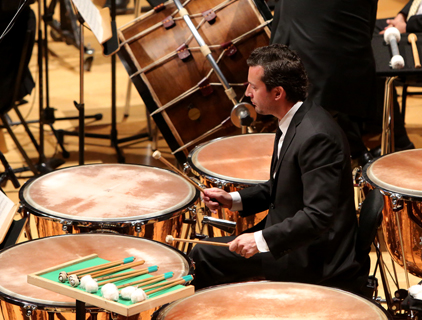 Joseph Pereira guides percussion students into exciting, new 'Encounters'
"The most successful percussion student is a curious percussion student."
This evening, the USC Thornton Percussion Ensemble, led by Winds and Percussion faculty Joseph Pereira, will take the stage for the group's annual fall recital.
Dubbed "Encounters," the program features a wide and diverse offering of percussion works ranging from classic, more traditional pieces to newer experimental works.
"The whole idea to call the show 'Encounters' came from the concert program itself," explained Pereira. "These works have different pieces and parts — whether it's a movement or something else — and brings them together. It really covers the whole spectrum of percussion music."
The performance also features several high profile premieres, including: the American premiere of Ashkan Behzadi's Percussion Quartet, the West Coast premiere of Eric Nathan's Bright Light, and the Los Angeles premiere of Mark Applebaum's 30. William Kraft's Encounters VI will also be performed.
"I try to give students real music from real composers that they might see in the working world," said Pereira. "With this ensemble, I try to make it as close to a professional situation as possible."
Part of Pereira's dedication to exposing percussion students to engaging, boundary-pushing music often involves soliciting commissions from living composers. Mark Applebaum's 30, scheduled to be performed in the November 10 concert, is actually a work commissioned by USC Thornton and nineteen other universities.
"Percussion these days is very 'anything goes,'" said Pereira of the piece. "It's three separate pieces that can be played in any combination, together or separately. One of the pieces is for seven players, and it combines standard percussion instruments with the use of a lot of household objects – frying pans, sponges that drip water into a cookie tray."
In addition to his dedication to promoting new percussion works, Pereira also says he strives to teach his students how to cultivate a lifelong enthusiasm and excitement about performing.
"The most successful percussion student is a curious percussion student," he said. "I tell my students to constantly look for something new in a piece, whether it's a new way to approach a specific part, or changing what mallets you use. If you're not curious every time you're playing something, even if it's something you've played hundreds of times before, then why play at all?"
The USC Thornton Percussion Ensemble performs Monday, November 10 at 7:30 p.m. in Newman Recital Hall. For more information, visit the USC Thornton Events Calendar.
Never miss a story
Subscribe to USC Thornton's e-newsletter
Subscribe