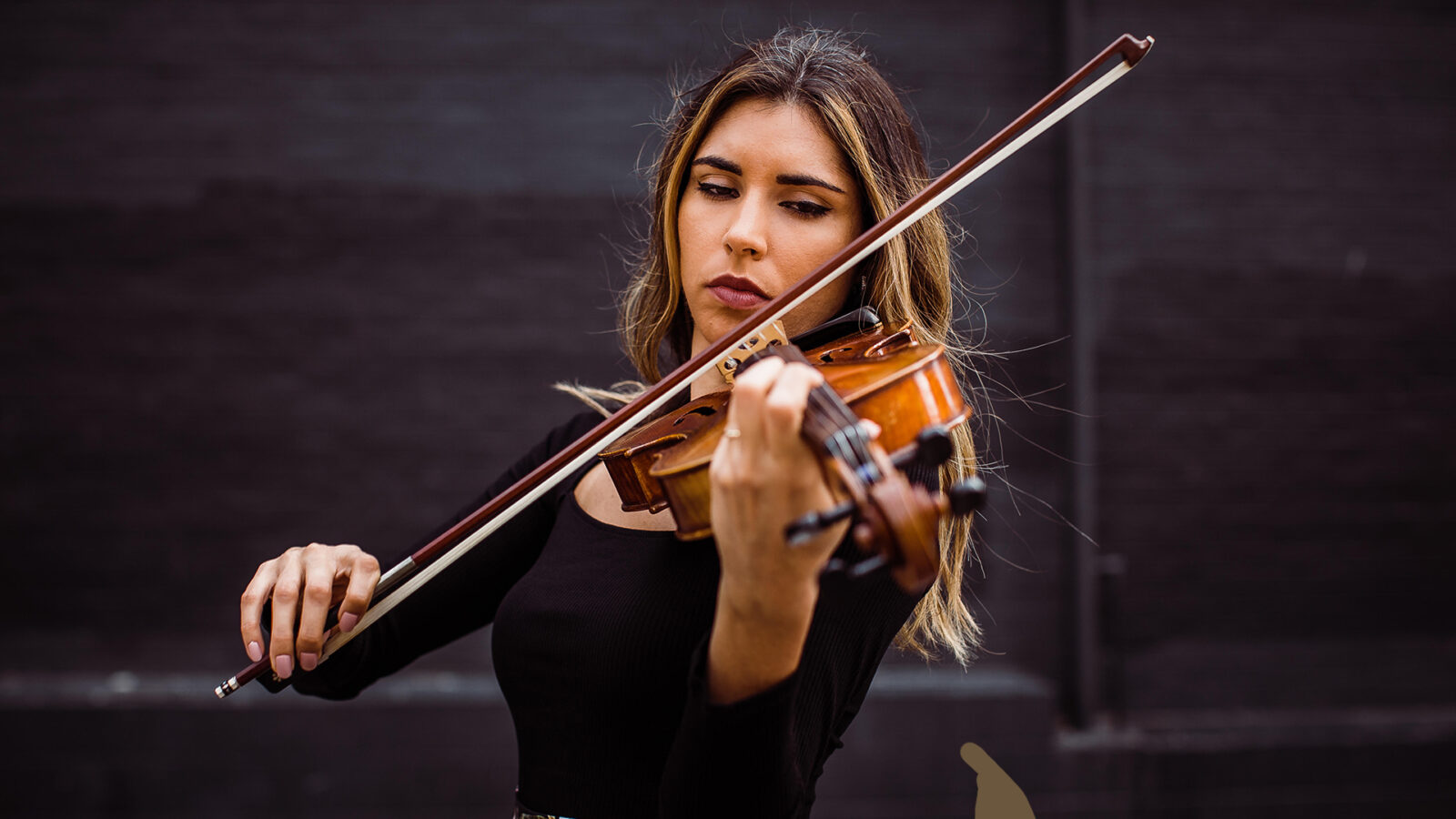 When Dreams Become Reality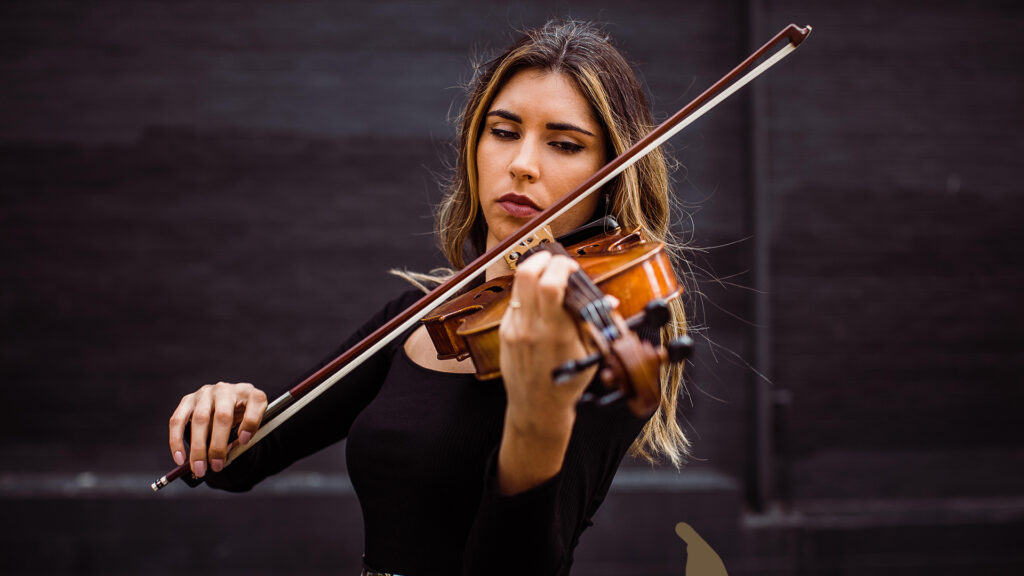 USC Thornton Strings department alumna Karoline Menezes discusses her career as a freelance musician in Los Angeles performing as part of the Academy Awards orchestra among many other opportunities. 
---
The Dolby Theatre draws millions of eyes to its Los Angeles stage every year for the Academy Awards ceremony.
It's nerve-wracking and exciting to imagine what it would be like to perform at the Oscars, but for Karoline Menezes (MM '15, GCRT '17), an alumna of USC Thornton School of Music Strings Department, it's a dream that has become a reality multiple times.
Menezes is a dedicated viola player, and as such, she's performed at the Oscars four times — most recently at the 2022 ceremony, where she appeared in a pre-recorded performance of Beyoncé's "Be Alive" from the movie "King Richard," nominated for Best Song, as well as a live appearance onstage for "No Time To Die," the James Bond theme sung by Billie Eilish that took home an Oscar.
In a recent interview with the USC Brazil Office, Menezes described her journey to the Oscars, what it was like performing with a global superstar like Beyoncé and how her time studying at USC shaped her career path.
From USC Thornton to The Oscars Stage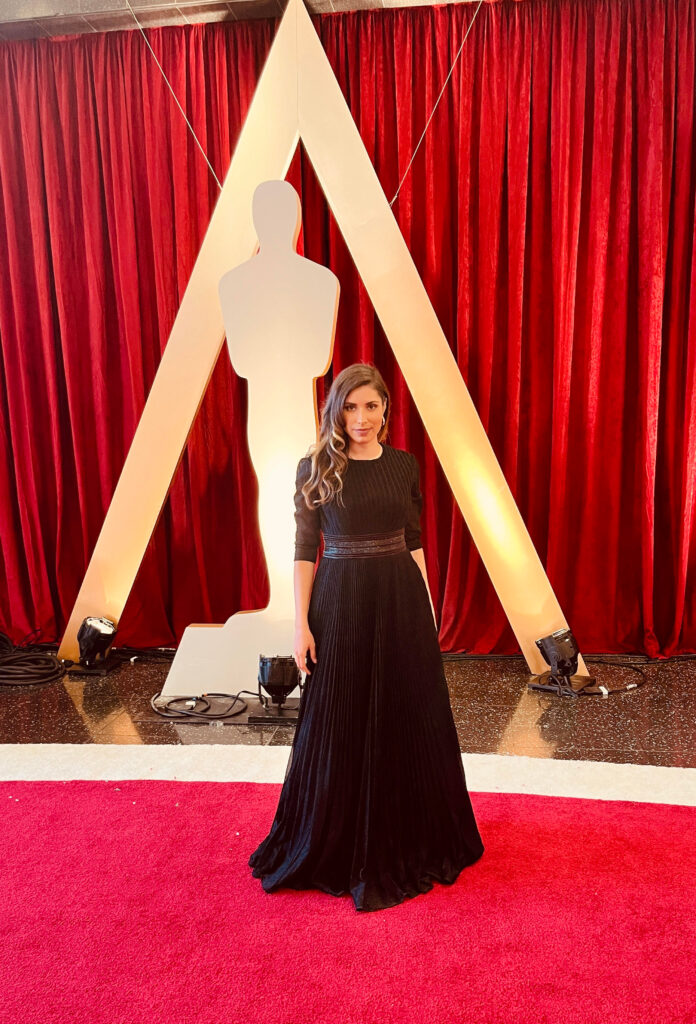 For Menezes, who is originally from Brazil, attending USC was always an educational goal. After obtaining her undergraduate degree from Azusa Pacific University, she wanted to pursue a master's program at a larger university — one with a renowned music department.
"I knew I really wanted to go to USC so I could continue on the path of freelance music here in Los Angeles, and I knew that USC was at the heart of enabling this network to grow because of the strategic location of the university, its connections and its strong alumni network. I knew that being part of USC would open doors that perhaps others wouldn't because it's so respected," she explained. "I was ecstatic to learn I was accepted."
Menezes' experience at USC provided exactly what she expected: top-tier faculty, challenging courses, an engaged musical community and opportunities for growth. The variety of people she was able to meet — the kind of people she wouldn't have formed connections with if she had attended a musical conservatory — was also another major highlight.
"It was wonderful because there are amazing professionals from all over the world at USC who are doing incredible work in engineering, biology and more. It really opened up my worldview [and] helped shape me to be this musician who has a more open mind toward different things. It offered me that platform and that space to grow my journey as a human being, as a musician," she explained.
In 2015, Menezes graduated with a master's of music performance degree from USC Thornton, earning a graduate certificate from the same program two years later. Since then, she's nurtured a flourishing freelance career playing the viola — a career that brought her directly to the Oscars stage. While in her last year of the master's program and practicing for finals, she received an invitation for an audition following someone's recommendation.
"I did the audition and I had no idea what it was for. It wasn't until much later on that I learned it would be for the Oscars with The Weeknd. I was shocked and surprised, plus I had to move a few things around with the school, but thankfully I could work that out with them," she explained.
Performing With Music Legends
That first time Menezes performed as part of an Academy Awards orchestra was for The Weeknd's rendition of "Earned It," a track for "Fifty Shades of Grey" that earned a Best Song nomination. Years later, she was contacted by a local contractor and invited back to the stage for Eminem's performance of "Lose Yourself."
More invitations followed: During the 2021 Oscars ceremony, which went forward with strict regulations because of the COVID-19 pandemic, she performed "Hear My Voice," a song by Celeste Waite and Daniel Pemberton from "The Trial of the Chicago 7." And of course, in 2022, she was able to play the viola for both Beyoncé and Billie Eilish.
The Academy Awards ceremony is an exciting experience, Menezes noted, although each year, the performances vary. Usually, she said, there are a few rehearsals before it's time for pre-recording in the studio. Sometimes, the performance itself is live onstage, while other times it's taped days in advance.
The project with Beyoncé, for example, required "a bit more time" because it involved multiple rehearsals and studio sessions, as well as a full day of recording prior to the Oscars, as it took place off-site. On the other hand, her collaboration with Billie Eilish encompassed one pre-recorded day, two on-site rehearsals and the day-of performance.
When asked whether any of the ceremonies were her favorite, Menezes was diplomatic, noting that each one is special in its own way, whether it be because of the artist delivering the song, the way the performance was planned or the overall theme of the show.
"They were so different and all had a different vibe. I think the performance with The Weeknd was very special because it was the first time for me, and I was kind of in disbelief that I was there. I can physically go back to that moment where we were onstage. I can recall those numbers very vividly because it was so special for the first time," she said.
Witnessing Beyoncé spread her message of empowerment throughout her performance was also an unbelievable, memorable experience for Menezes.
"I kept thinking to myself, 'No wonder why she's called Queen,' because of the humility and the gratitude that she expresses during rehearsals. It's hard to believe that someone at that level is so incredibly kind," she said.
These days, Menezes is busy with all types of musical work: contributing to film and television soundtracks, performing in live shows and subbing in for different orchestras. Still, she made it clear she'd love to be asked back to the Dolby Theatre.
"It's always an honor to be invited back. It's beyond just a work call. It's something that's part of history, especially as an immigrant and a Brazilian immigrant. Sometimes, it's hard to imagine myself in places like this because society is still not set up for making space for people like me. It's an honor to see the change and to be experiencing the change. I have a lot of gratitude, an open heart and trust and belief that places like that will continue to open up for me," she mused.
---
Learn more about the Master of Music Performance program at the USC Thornton School of Music today.
Never miss a story
Subscribe to USC Thornton's e-newsletter
Subscribe