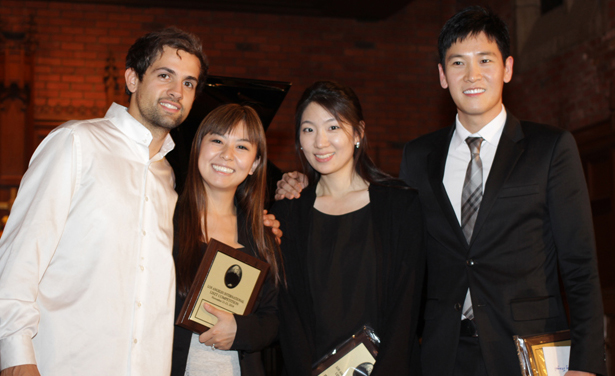 Keyboard Studies students win big at Los Angeles International Liszt Competition
The Los Angeles International Liszt Competition on Nov. 21-23 showcased many students from USC Thornton's Keyboard Studies program and even a few teenage musicians who study in Thornton faculty's precollege studios. Ranging from longer piano works and etudes to the best Hungarian rhapsody, the event proved an amazing accomplishment for the entire program.
In the prestigious Budapest Concert division, USC Thornton artist diploma student Somang Jeagal, who studies with Thornton faculty Kevin Fitz-Gerald, took home first prize and will be receiving an all-expense-paid trip to present a solo recital at the Liszt Museum in Budapest, Hungary in May, 2015. Jeagal also won the Dr. Erno and Katinka Daniel Memorial Prize.
Students Esther Lee, Jacopo Giacopuzzi and Yuxi Qin kept the awards within the Keyboard Studies department when they went on to take second, third and fourth prize in the same division, respectively.
Budapest Concert Division Results
First Prize: Somang Jeagal, student of Kevin Fitz-Gerald
Second Prize: Esther Lee, student of Bernadene Blaha
Third Prize: Jacopo Giacopuzzi, student of Kevin Fitz-Gerald
Fourth Prize: Yuxi Qin, student of Norman Krieger
In the longer works category, USC Thornton students Athena Tsianos and Daniel Linder, both students of Thornton faculty Bernadene Blaha, claimed first and third prize in their division.
"It was thrilling to hear the wonderful performances and artistry of these young award-winning pianists last weekend," said Blaha, an associate professor of practice at Thornton.
Founded in 1990, the Los Angeles International Liszt Competition has grown to include over 177 contestants from 11 states and 5 countries and was hosted this year by Azusa Pacific University and the Trinity United Methodist Church in Pomona.
USC Thornton students held themselves to a visibly high standard in nearly every division. Jacopo Giacopuzzi, a student of Fitz-Gerald, went on to take first in the 21-35-year-old division in addition to being awarded the best Hungarian rhapsody and The American Liszt Society Award.
Jaemo Ku, who studies under professor Norman Krieger, took home first prize in the age 17-20 division, while Sakurako Eriksen, who is studying in Blaha's precollege studio, was awarded second prize in her respective division for 13-14 year olds. Additionally, Eriksen was later awarded Best Performance of an Etude in the entire competition.
"Each one of these students has a significant voice and promising future in music," Blaha said. "It continues to be a privilege for all of us to be part of this inspiring department."
Never miss a story
Subscribe to USC Thornton's e-newsletter
Subscribe