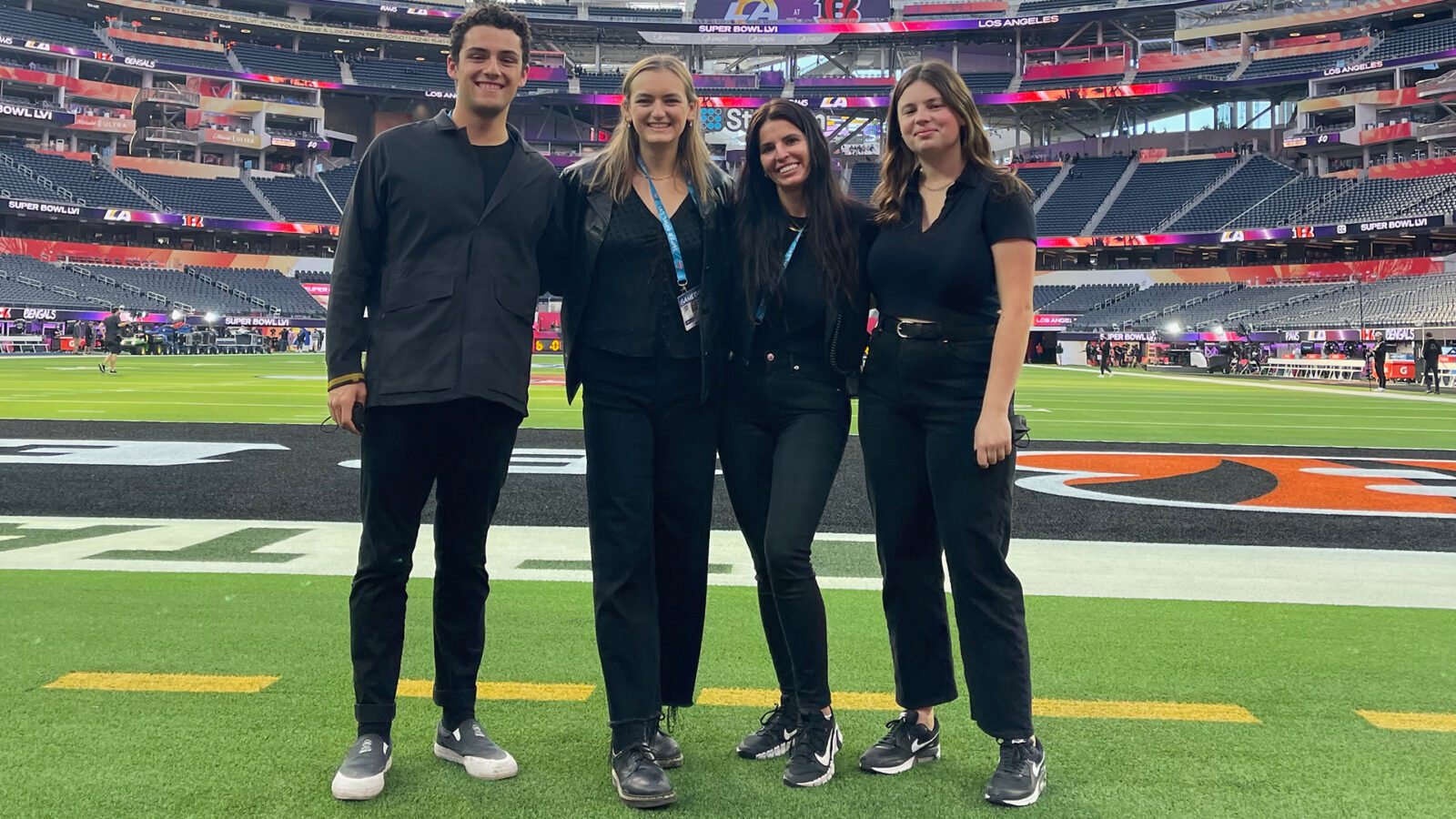 Leading By Example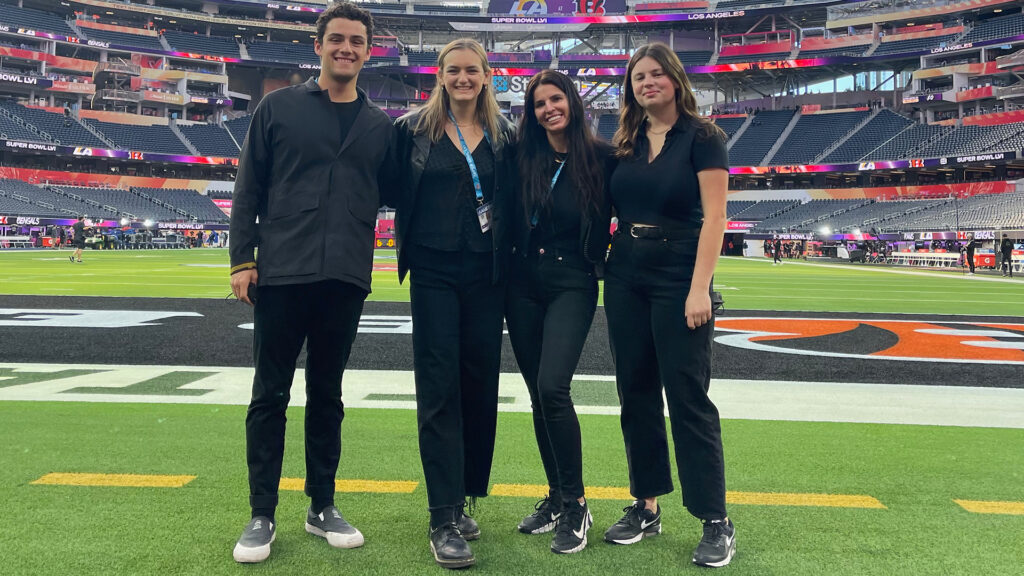 USC Thornton adjunct instructor Sophie Reeves gives life-changing, student opportunities to work the Super Bowl and Ye and Drake performance
---
Before she became a USC Thornton Music Industry program student, Evan Sheldon would excitedly plop down on the couch with her family each February to watch the Super Bowl. Never did she think, while gazing at the TV, that she might one day be part of producing the event, in her native Los Angeles nonetheless.
A few days ago, Sheldon's dreams became a reality when she and her music industry program classmates Ben Kronenberg and Sophia Barber worked as professional production assistants (PAs) for the Super Bowl LVI. In December, 22 Thornton students including Sheldon and Kronenberg worked backstage at the Free Larry Hoover Benefit Concert featuring Ye and Drake.
These opportunities of a lifetime happened as a result of enrolling in a course taught by USC Thornton Music Industry program adjunct instructor Sophie Reeves, who comes to USC with over a decade of experience in tour management, artist management, artist relations and large-scale event production, having worked with stars like Nas and Frank Ocean. Reeves currently oversees shows and touring for Production Club, an event design and production company formed by USC alumni Corey Johnson and Vivek Srinivasan.
Though her class meets regularly on campus, Reeves says there's no better vehicle for imparting the lessons she's learned over the last decade than parting the curtains and bringing her students backstage with her. Sheldon says she learned how to manage and prioritize multiple, simultaneous requests that ranged from outfitting Ye's dressing room to running errands across all corners of So-Fi Stadium to managing $20,000 in cash.
"It's hard to explain what's it like behind the stage and on tour, so it's better for them to experience it first-hand in real life," Reeves says. "I treated the students like adults and tried to give them tasks that were hard. When they got to the finish line and completed them, I think that was very important for a lot of them. I'm blown away by their capabilities and willingness to participate and learn."
Senior music industry student Ben Kronenberg (standing, far left) sets up a performance stage on USC's University Park Campus on the quad outside Doheny Library. (Photos courtesy of Ben Kronenberg.)
Ben Kronenberg, a senior music industry student, said working as a PA for the Ye and Drake performance gave him a first-hand understanding of how to work with professionals on a large-scale production, showing him that "true hard work" pays off.
"It felt very gratifying to know I had played a part in producing such a monumental production," he says.
Sheldon says working as a PA at the Super Bowl showed her the degree of detail and precision required to execute such a large-scale, high-security event, a feat that stoked her curiosity to learn more about careers in live production.
"The entire event was scheduled down to the minute, sometimes even to seconds. Being able to look over a plan from 11 a.m. when the gates open to the moment of kickoff – and realizing how much time and effort went into that schedule – was very cool," she says. "Everyone I worked with was so incredibly lovely that I got to ask a bunch of random questions and hear about their experiences in the music industry."
Reeves says she hoped immersing her students on production staffs that contain USC alumni now working at large-scale events like the Super Bowl would illuminate the path forward, showing Thornton students that their future careers may be marked by myriad opportunities. For Sheldon, that was accomplished tenfold.
"The connections that I made with the four or five members of the production team who were USC alumni were really special," Sheldon says. "It was cool to see how USC brought them to where they are today. These people were once in my same exact position: USC students. And now they want to help current students. It shows how truly deep the Trojan family runs. When you're a Trojan, you're always a Trojan."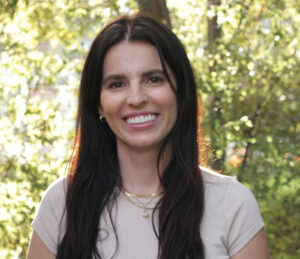 Reeves is committed to mentoring the next generation of music industry professionals, offering them much-needed guidance that she didn't always receive when she started her career in live event production.
"Very few people really opened up to me about how to work in the industry or shared any resources, documents or budgets. I felt I had to fake it 'til I made it, which was a disservice to the artists I was working with early on," Reeves says. "I want to teach the next generation how to do things, cause that's going to serve the artists best."
Sheldon says her experiences working the Coliseum concert and the Super Bowl have cemented her goal to work in live event production or tour management after she graduates. She credits Reeves and the USC Thornton Music Industry program for pairing the ultimate resume-building opportunities with a thoughtful mentorship that will extend long after Sheldon graduates from USC and embarks upon a career marked by true love and passion for her work.
"By connecting with Sophie, I've received two of the biggest and coolest opportunities of my life. That would have only happened in L.A. and through USC," she says. "Mike Garcia and the music industry program have led me to a woman who I can look up to for the rest of my life, someone who will be in my life forever. She's shown me what I want to do with the rest of my life. Seeing Sophie in class every Monday and getting to consistently work with her have been indescribable experiences. I'll never be able to thank USC or Sophie enough."
---
Learn more about the USC Music Industry program
Music Industry faculty member Lindsay Wolfington recently appeared on the I Love Music podcast with colleague Laura Webb discussing her career as a music supervisor for film and television.
Cole Pham, a recent graduate of the Music Industry program, released his second studio album, LA 2 LA, late last year.
Never miss a story
Subscribe to USC Thornton's e-newsletter
Subscribe