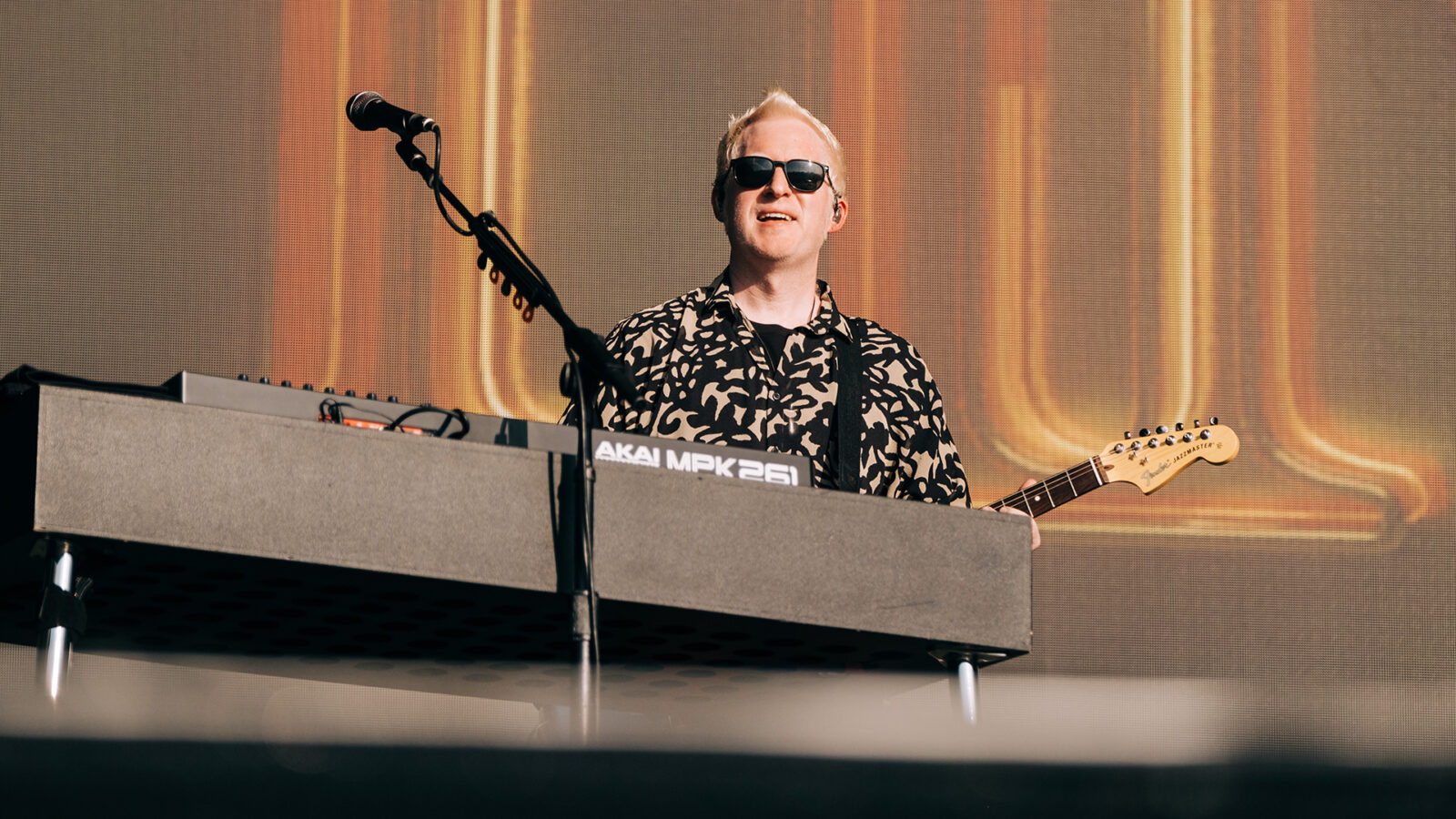 Leading from the Stage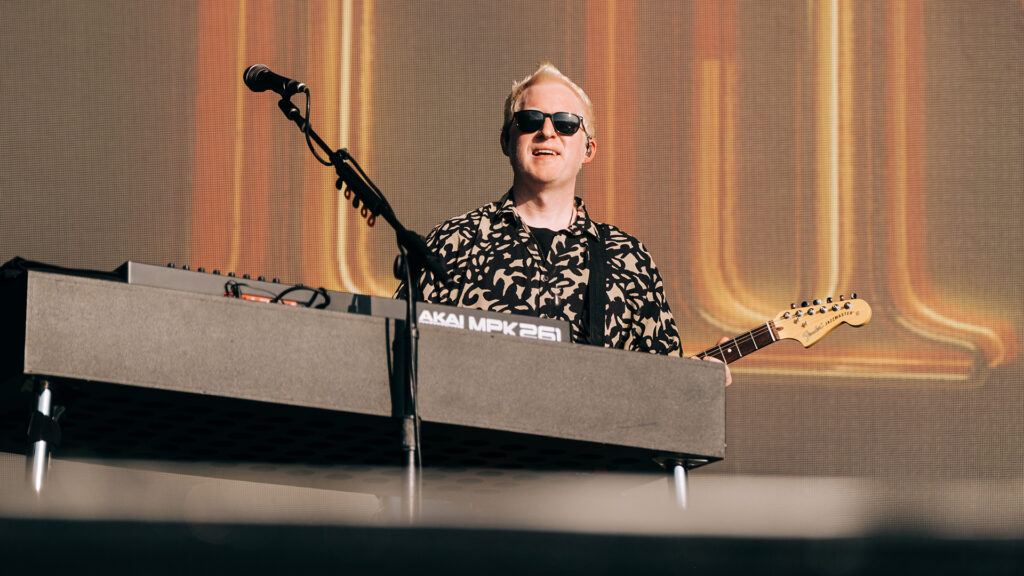 Aron Forbes (BM '07) works as a music director, songwriter and producer for stars like Billie Eilish and Olivia Rodrigo.
---
The role of a music director is multi-faceted, with responsibilities ranging from ensuring that every aspect of a live performance goes off without a hitch to creating the final mix of a documentary film. When it came to The World's a Little Blurry, a documentary about singer-songwriter Billie Eilish, that role belonged to Aron Forbes (BM '07), a graduate of USC Thornton's Studio Guitar program and a multi-platinum songwriter, producer and music director.
Forbes was nominated for two primetime Emmys for his work on the documentary in Outstanding Music Direction and Outstanding Sound Mixing for a Nonfiction or Reality Program. The USC Thornton alum, known for his work with Eilish, Olivia Rodrigo, Conan Gray, Banks and Halsey, says these nominations were a humbling reminder of the value contained within work conducted behind the curtains.
"To be in a role that is more or less behind the scenes doing heavy lifting and to have my peers see that as special is so humbling. It's taken a while to process how monumental this is," Forbes says. "I've worked with Billie since her early days, before she became this global superstar. It was so special to see that unfold, from the month 'Ocean Eyes' came out to today."
Forbes' own early days growing up in Big Sur were similarly marked by a fascination with music. Witnessing his father's career as a folksinger and scouring his parents' extensive collection of Sixties psychedelia on cassette tape convinced Forbes to pick up the guitar at the age of 5.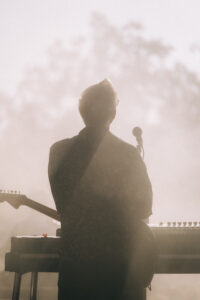 "Some of my earliest memories are of falling asleep while lying on the hardwood floor underneath my dad playing the guitar. The floor would resonate with the vibrations, and it was so calming," Forbes recalls. "I wanted to play guitar like Dad. Growing up in Big Sur was super remote, so guitar was a great thing to focus and work on."
At age 11, Forbes was regularly performing with The Blue Tones, a blues band he founded with his classmates. The group was featured in Teen People magazine and opened for Beyoncé's group, Destiny's Child, at the Apollo Theater in 2000. He says the mentorship he received as a student from accomplished players and teachers like Bruce Forman, who later became his professor in the USC Thornton Studio Guitar Program, provided a strong foundation upon which to cut his live chops.
"We had a steady gig every Sunday for years on end in Monterey. There's no better place to grow up because of the support for the arts within the school system," Forbes recalls. "Bruce Forman was my clinician back in middle school. He was a serious mentor and teacher of mine for years. My senior year at USC, he started teaching there. It was a cool, full-circle moment to study with him all these years later."
USC was the ticket
By the time he graduated from Carmel High School in 2003, Forbes had more than 1,000 live performances under his belt. He felt ready to conquer the big city, and "USC was the ticket." At USC Thornton, Forbes cultivated a community with his classmates and faculty that resulted in opportunities both during his schooling and soon after, ultimately leading him to the varied and rewarding career he enjoys today.
"The greatest thing about going to USC is it's how you move to L.A., meet people and develop a network. I got so many gigs after coming out of USC just from being a part of the Thornton family," Forbes says. "To this day, it's this benchmark in L.A. If you went through the Thornton program, there's a baseline expectation that you're going to be a great player."
Forbes recalls a pivotal moment in his career that occurred during a one-on-one meeting with Forman after he joined the Thornton faculty. During this session, Forman empowered Forbes to follow his truest passion. For a young Forbes, that meant hopping on a tour bus and seeing the world.
"Bruce is one of the most honest people you'll come across, and he unapologetically tells you what he thinks. When I was a senior, we were playing Giant Steps together. He said, 'You sound really great, but I just don't believe you.' I was like, 'Wow, you're right,'" Forbes says. "I was thinking how I wanted to get pop gigs. In some cool way, he was freeing me of feeling like I had to be this idealized version of myself as a musician. I wanted to get on a tour bus – the allure of playing around the world was my motivation."
Forbes landed his dream gig in 2009 when he was asked by fellow Thornton alum Zane Carney to music direct and play guitar for Esmée Denters, a Dutch YouTube sensation on Justin Timberlake's Tennman Records. He toured the world and opened for acts like The Black Eyed Peas and Lady Gaga. Here, on the open road, music director Aron Forbes was born.
"I toured for a year straight, all over the world. I got to do the most extreme childhood dream tour you could imagine. It was absurd. I was 24," Forbes says.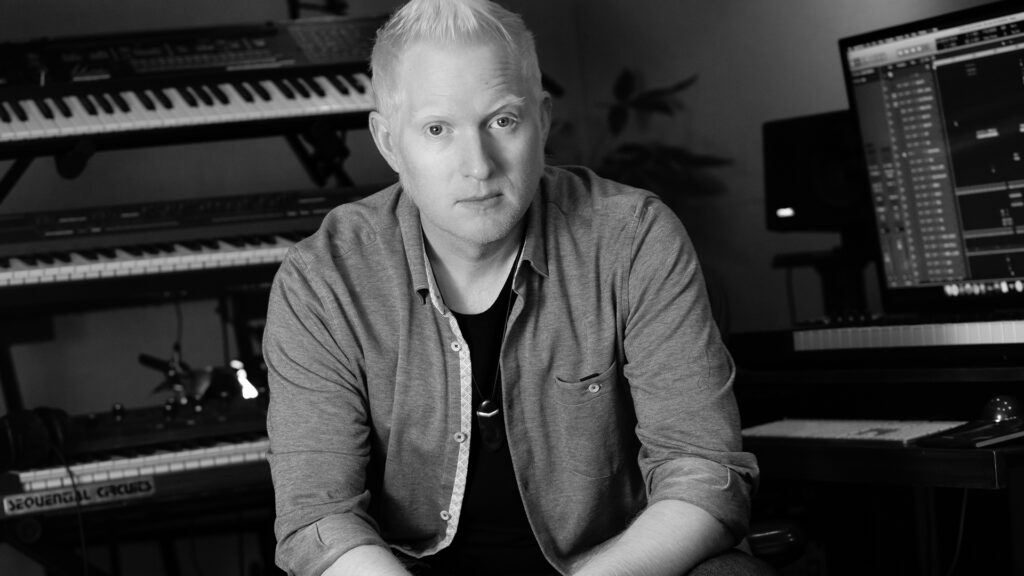 The open road can leave one lonely for the comforts of home though, so Forbes' next move was into the recording studio. He formed a partnership with Thornton screen scoring alum Alexander Burke (GCRT '07) and began focusing on scoring opportunities at home in Los Angeles. A friend loaned the pair the keys to his studio while he wasn't working, and Forbes took up residence there from 7 p.m. to 5 a.m. each night, "grinding away at any opportunities [he] could get [his] hands on."
"That was the beginning of my passion where it lies now," Forbes says of this time. "A live show is cool because it's a moment in time that happens once. If you get to see it, it's magical. And then it's gone. It's the most present, meditative thing you can think of. With producing and writing music, you can work all night, go to bed and wake up the next morning, hit play and hear what you did. I couldn't get enough of that concept. It became obsessive."
Making the most of opportunity
These days, Forbes' responsibilities vary depending on the day, hour or minute. Recently, he's music directed Olivia Rodrigo's debut performances of "drivers license" on The Tonight Show Starring Jimmy Fallon and Saturday Night Live, as well as music directed and executed the music mix for Rodrigo's concert film, Sour Prom. No matter if he's music directing, writing, producing or mixing, Forbes calls upon skills culled from his training at USC Thornton to get the job done.
"The skill set to be a music director is very wide-ranging. You have to know what a great show sounds like, be a good musician and be a good mixer, but above all, you have to be a good leader and manage personalities," Forbes says. "At USC Thornton, I was exposed to a lot of things and put in situations I wouldn't choose for myself. In that process, I learned to make the most of those opportunities. That's very applicable to real life. When you get out of school and try to make a living, you're going to do things you never thought you would do, like when I found myself this last year at the Sony lot doing a mix for The World's A Little Blurry. Behind every door is a massive question mark. Going to Thornton helped me manage the workload I have, which is a ton of things flying all over the place all the time."
Never miss a story
Subscribe to USC Thornton's e-newsletter
Subscribe