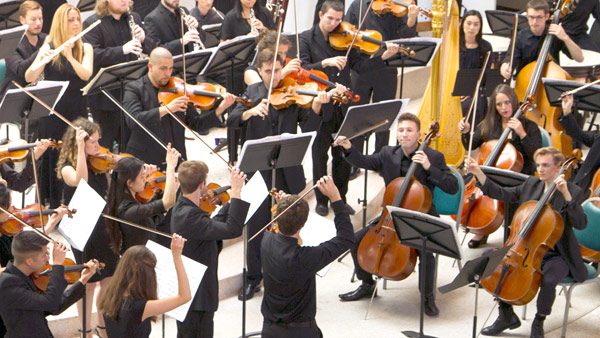 Learning On the Job
Picture this: it's 10pm in Los Angeles. An orchestra has just started performing the work of a contemporary composer, and after an hour of uninterrupted music, an electronic DJ takes over to play until the early morning. There's a diverse audience, bar, food trucks, and no conductor in sight.
This is the Kaleidoscope Chamber Orchestra, founded by USC Thornton alum Benjamin Mitchell (GCRT '17, arts leadership), and they do things differently.
Kaleidoscope is an innovative and conductorless ensemble that's breathing new life into classical music in Los Angeles. It features some of the best players in town who collaborate through a democratic process to prepare and perform a wide range of orchestral pieces. Kaleidoscope also challenges what it means to be a classical musician and is dedicated to reaching new and diverse audiences through unique concert experiences.
In addition to performing in nontraditional locations, like Union Station in Los Angeles, the orchestra puts on free concerts in schools, hospitals, homeless shelters, and retirement communities. In everything Kaleidoscope does, there's a strong emphasis on accessibility and connecting audience members with the music.
The concerts are around an hour long and operate on a pay-what-you-can model, allowing each audience member to decide how much they can and want to pay.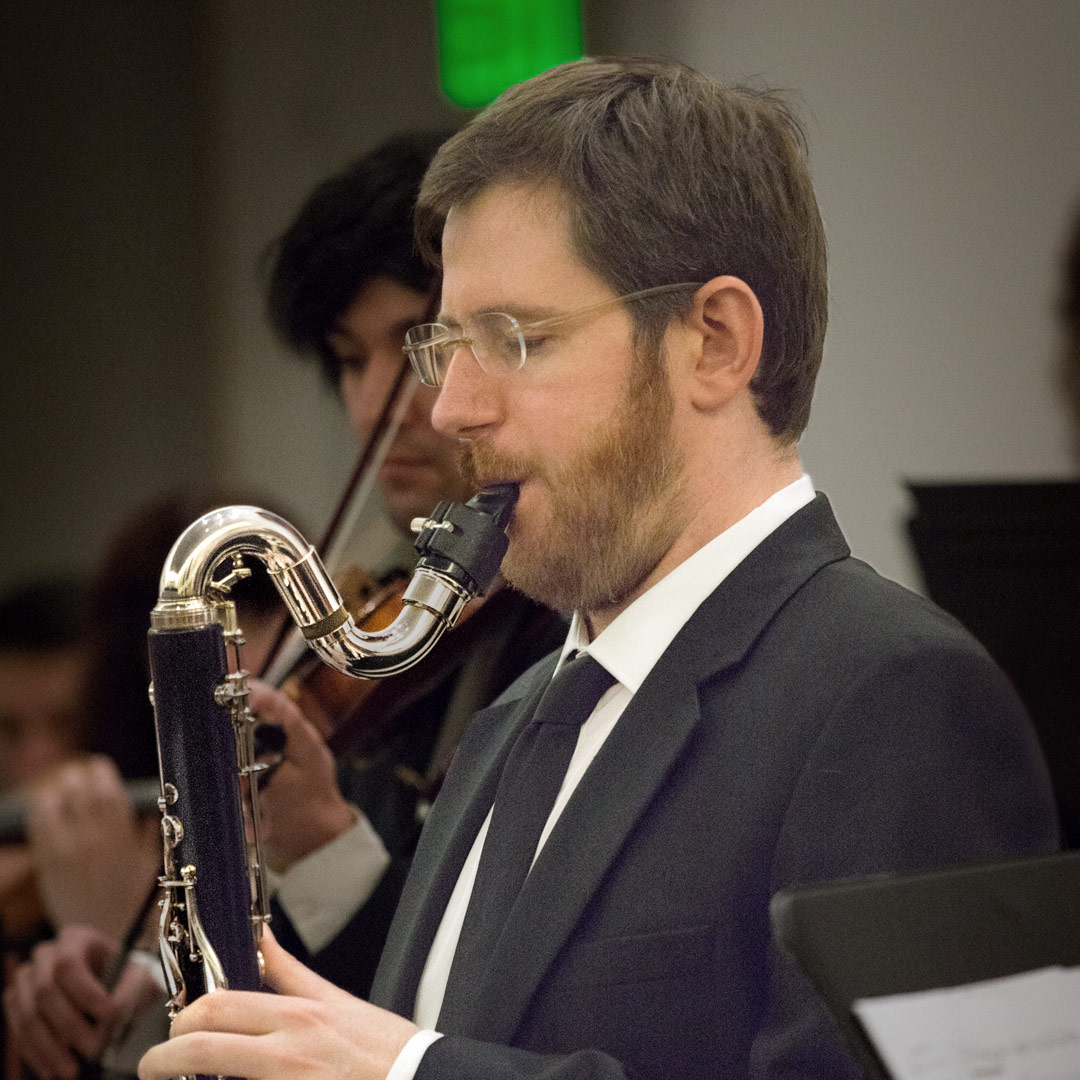 Benjamin Mitchell.
"Our model doesn't pose a financial barrier for anyone," Mitchell said, "and that can lead to the audience being more diverse and bring in people who normally don't go to classical concerts."
New Work, New Ideas
While most orchestral programming includes compositions from status quo composers, Kaleidoscope is searching for diverse and inclusive programming. For the past three years, the organization has hosted a call for scores which allows composers from all over the world to submit their compositions to be played by the orchestra.
"This past summer, we received almost 1,800 applications from composers in over 50 countries," said Mitchell, "I'm really excited about what we're doing this year. It's much more diverse than any other orchestra I've seen."
Mitchell has been a performing clarinetist most of his life. He holds three graduate degrees in clarinet, performs with symphonies and orchestras around the world, and collaborates with an impressive roster of composers. However, in 2014, he switched gears to take on the role of entrepreneur when he decided to found the Kaleidoscope Chamber Orchestra.
"It's funny, I didn't see it coming at all," Mitchell says, of his transition to entrepreneur, "I just fell into it out of necessity. Through all my other school programs I was always very driven to be a performer and play at a high level. I still am, but now I'm balancing that with running Kaleidoscope."
Mitchell organized Kaleidoscope's first concerts on a nonexistent budget. "We only got started because there were so many really great and generous musicians who wanted to be a part of this," he said.
Since Mitchell's background is in performance, he had to learn the ins and outs of entrepreneurship on the job. Shortly after Kaleidoscope completed its first round of concerts, Mitchell raised over $30,000 on Kickstarter to carry the organization to the end of its first season, and he wasn't sure if they'd make it after their first season.

Arts Leadership at Thornton
About a year after he founded Kaleidoscope, Mitchell was introduced to Kenneth Foster, director of USC Thornton's Arts Leadership program.
The Arts Leadership curriculum is designed for arts administrators and cultural entrepreneurs who are looking to take their artistic vision or project to the next level. The program is a rigorous incubator for big ideas with highly individualized instruction to meet each student's unique needs. Through focused mentorship and a lean Silicon Valley startup mindset, it inspires artistry, innovation, and professional development.
"The biggest thing that drew me to the arts leadership program was Kenneth Foster," said Mitchell, "He really impressed me right away as being a clever and thoughtful guy, who had a lot of great experience and wanted to share it with me and other people."
The summer before he enrolled in the Arts Leadership program, Mitchell attended an intense 10-day seminar on the Essentials of Orchestra Management through the League of American Orchestras, an annual seminar held in the summers at USC in partnership with Thornton and the Arts Leadership program.
"I was learning how things had been done before and how I might want to do things in a different way," he explained, "It made sense to get some more training to help with what I was doing."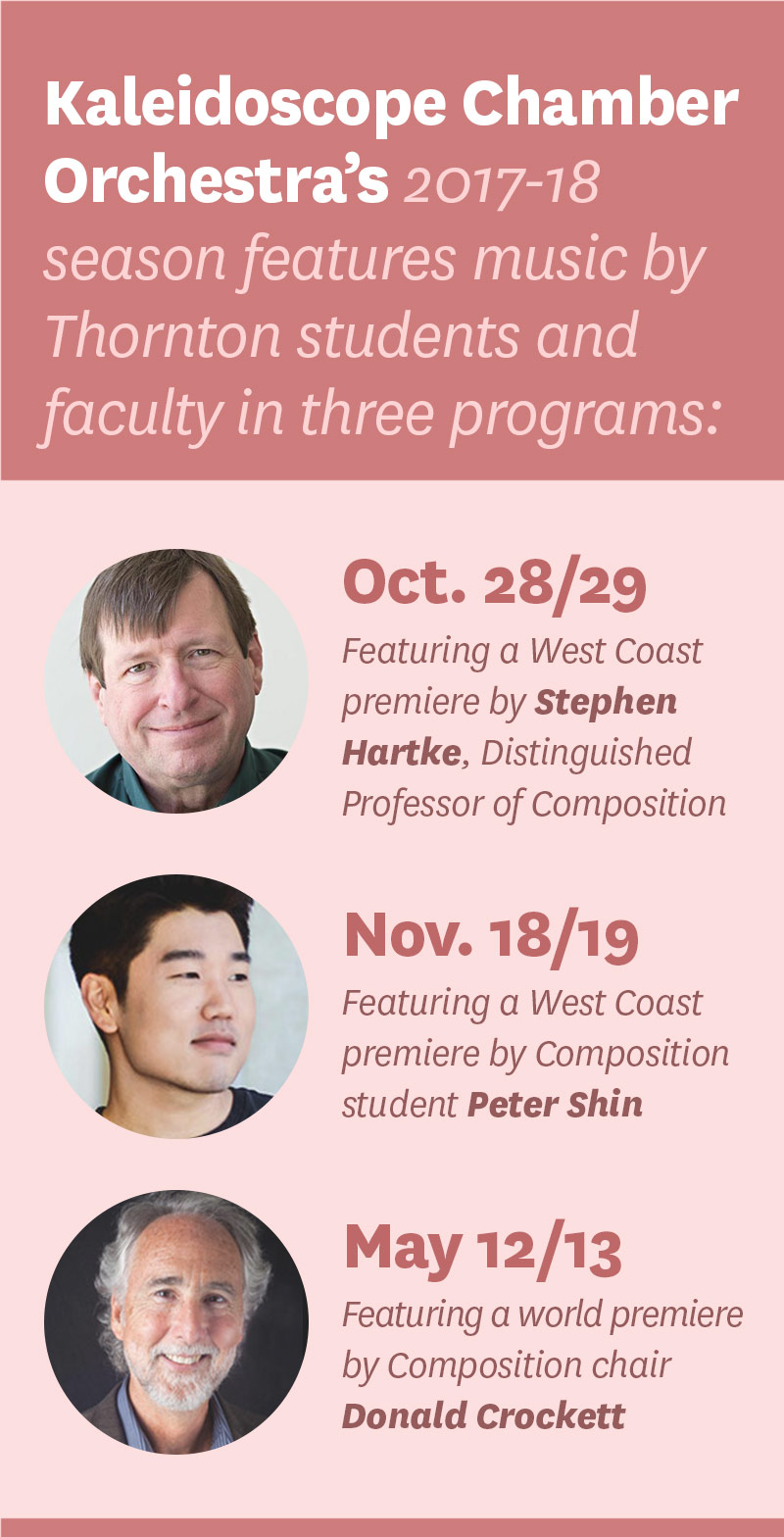 Determined to keep Kaleidoscope around for the long haul, Mitchell enrolled in USC Thornton's Arts Leadership program.
"What I found to be most beneficial was meeting more people and learning from both the students and the faculty," said Mitchell, "I had a couple of really great classes at the Price School of Public Policy, one on board development taught by Claire Peeps and another one on fundraising for nonprofits. One of the things I really love about the program is that it was really flexible. It was really appealing to me at the time to be able to take this core group of classes in the Arts Leadership major and also be free to take other music or public policy classes. You make of it what you want and get out of it what you put into it."
"Benjamin is a terrific example of the type of students we draw to Arts Leadership," said Kenneth Foster. "He is passionate about his art and driven by his desire to make a difference in the world. You can see he is willing, even eager, to challenge some of our basic assumptions about how music is performed and presented. These are the characteristics of the arts leaders of tomorrow and, as Benjamin points out, the program meets their need to follow their own dreams."
Shortly before Mitchell graduated from the Arts Leadership program in 2017, Kaleidoscope ran another successful Kickstarter campaign and raised $73,000, the 4th highest grossing Kickstarter campaign in classical music history. Kaleidoscope also recently received a gift of $250,000, allowing them to expand programing, raise the pay for musicians, and transition from an all-volunteer to a small paid staff.
A New Season of Premieres
For their 4th season, which was just announced on Oct. 13, the orchestra will be presenting over 20 premieres, a staggering number for any orchestra, let alone one with Kaleidoscope's budget. Mitchell hopes to continue to reach new and diverse audiences and bring the conductorless ensemble to mainstream success.
"I think there's a very good chance we'll be around in five, and even fifty years from now," he said, "We're still working to get to the next level with the organization, but with everything happening in the world today, we need great art more than ever."
---

Click here to learn more about USC Thornton's innovative Arts Leadership master's degree program.
Never miss a story
Subscribe to USC Thornton's e-newsletter
Subscribe