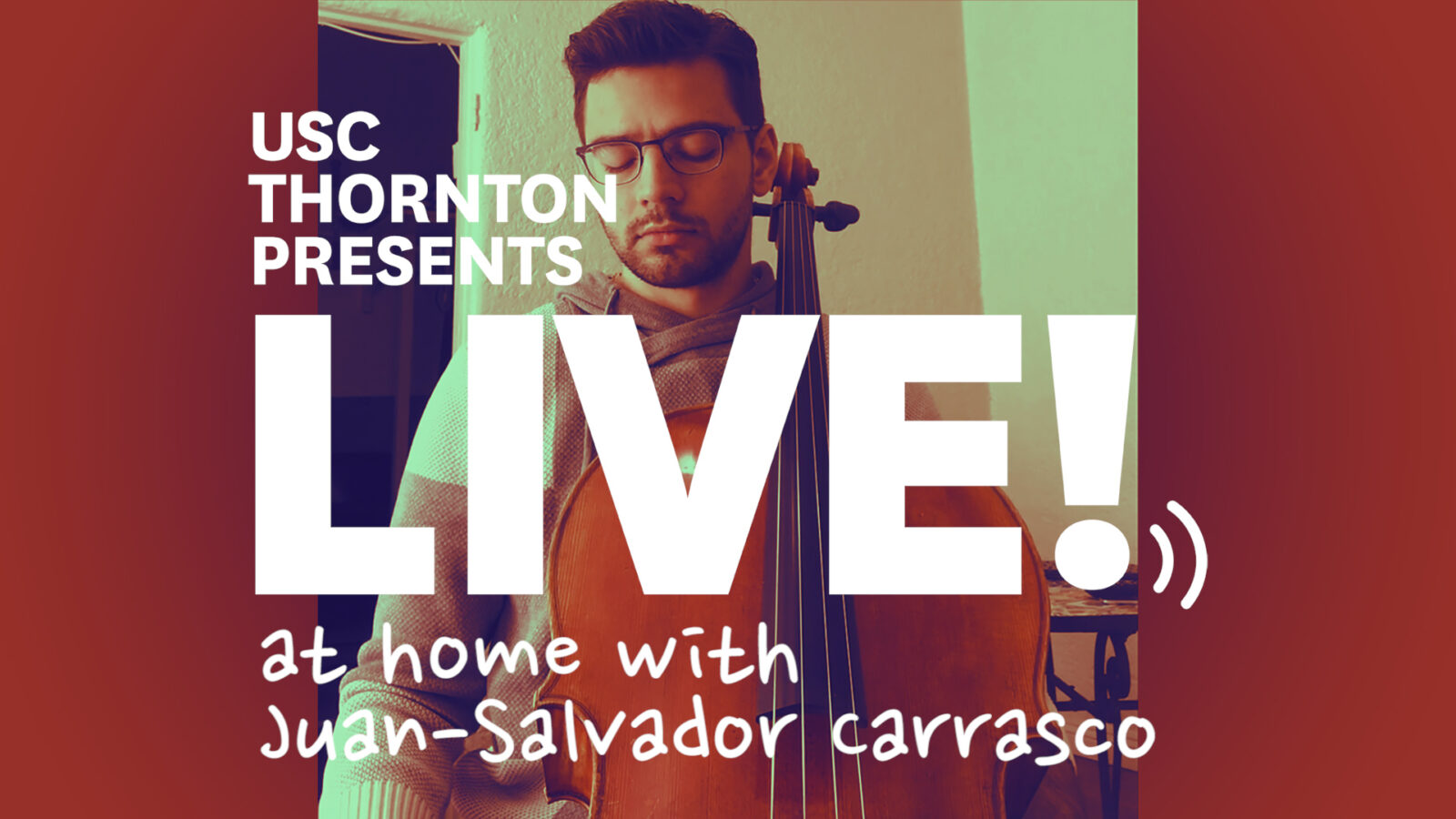 Live! From Somewhere: Juan-Salvador Carrasco
USC Thornton student Juan-Salvador Carrasco finds the humor in uncertain times with a performance from his home in Santa Monica.
---
While venues around the world go dark, USC Thornton musicians are finding ways to exercise their creativity and keep each other smiling in our new video series, Live! From Somewhere.
USC Thornton student Juan-Salvador Carrasco had a bit of fun with his performance of Le Cygne, or The Swan, by Camille Saint-Saëns, playing with the help of a rare artifact, the white gold that has proven so elusive recently: a roll of toilet paper.
Carrasco is a Master's student at USC Thornton and one of the inaugural fellows of the Los Angeles Orchestra Fellowship, a program designed to increase diversity in American orchestras that was conceived in partnership with the Inner City Youth Orchestra of Los Angeles, Los Angeles Chamber Orchestra, and USC Thornton.    
This fall, he launched a new chamber music concert series with colleagues at USC Thornton. The Mixape Series features concerts inspired by the mixtape, assembling chamber music programs with classic repertoire and contemporary songs arranged by different themes, as one would a playlist. It is a wonderful update on chamber music programing, and like Carrasco shows here, not without humor, something much needed right now.
Live! From Somewhere brings you homemade performances by USC Thornton students, faculty and alumni, live from wherever they may be. Though unprecedented circumstances have canceled concerts everywhere, our musicians remind us that the show must go on.
Enjoy. Live from wherever we are.
---
USC Thornton students, alumni and faculty are invited to submit their homemade performance videos to the Live! From Somewhere series. Click here for more from the series, and to submit a video of your own.
Never miss a story
Subscribe to USC Thornton's e-newsletter
Subscribe