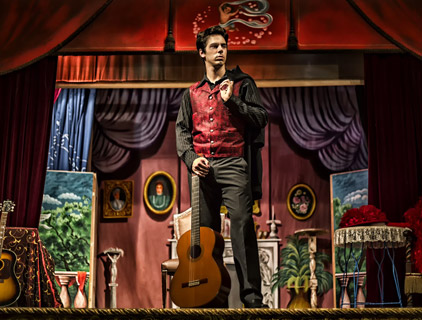 Mak Grgic pays homage to classic films with 'Cinema Verismo'
"There's so much power and nostalgia behind this type of music."
This month, USC Thornton student Mak Grgic, a Doctoral degree candidate in the Classical Guitar program, released his debut solo album titled Cinema Verismo.
The album features original arrangements of classical works written specifically for, or featured prominently in popular films. Among the album's highlights are Nino Rota's "Godfather's Waltz" from The Godfather and Ennio Morricone's theme from The Good, the Bad and the Ugly.
"We wanted to create something that would be very attractive to a wide audience," Grgic said of the album. "We wanted to transcend the idea that classical music is stiff or boring  — but at the same time not lose sight of the importance of recording classical music. It was a long process of discovering what type of project might satisfy both classical and mainstream audiences."
A native of Slovenia, Grgic has already positioned himself as a vibrant new star in the world of classical guitar. With a performance repertoire spanning a wide variety of genres from avant-garde new music to the traditional sounds of Brahms and Kreisler, Grgic's versatility and unique on-stage flair makes him a favorite with audiences around the globe. In recent years, Grgic performed with the Spokane Symphony, the RTV Slovenia Symphony Orchestra, the Croatian Chamber Philharmonic, and the St. Petersburg Symphony, among others.
"I was transfixed by the variety of sounds and colors that Mak infuses into his refined guitar playing," said Martin Chalifour, Principal Concertmaster of the Los Angeles Philharmonic. "He surmounts the obstacle of emulating an orchestra with a single instrument, always creating the illusion of many voices singing in unity — all executed with gorgeous tone and panache."
Guitar Salon International (GSI), a classical and flamenco guitar dealer based in Santa Monica, Calif., assisted in the production of Cinema Verismo by providing Grgic with a wide selection of rare and handcrafted guitars to use during recording. According to Grgic, this allowed him to choose the perfect instrument for each song on the album, rather than using the same guitar throughout the recording process.
"Every guitar has its own tone, its own atmosphere," he explained. "The difference in instruments makes such an impact on the recording. The oldest guitar on the album is an incredible Antonio de Torres, and that guitar just brought some resonances I have never heard before form a guitar in my life. It influenced my interpretation of the music."
In recording Cinema Versimo, Grgic sought to capture not only the emotional essence of album's songs, but the nostalgic power of each track as well. In the months leading up to Cinema Verismo's release, Grgic included several of the album's most well-known tunes in his concert repertoire — most notably, a medley of two songs from the musical West Side Story.
"People would start to sing along," Grgic said of the medley. "It was incredible. You don't see this happen often in a classical music concert. There's so much power and nostalgia behind this type of music. It's not just about the music at that point, it's also about the memories."
It is this nostalgic power that, according to Guitar Foundation of America president Martha Masters, makes Cinema Verismo a unique and refreshing release within the scope of the classical genre.
"Cinema Verismo showcases the vast and deep interpretive skills of Mak Grgic," she said. "His compelling musicianship brings imagination and life to familiar tunes, allowing the listener to hear them with the right balance of nostalgia of an old friend combined with a refreshing new perspective."
Cinema Verismo is available now on CD via Marquis Music.
Never miss a story
Subscribe to USC Thornton's e-newsletter
Subscribe