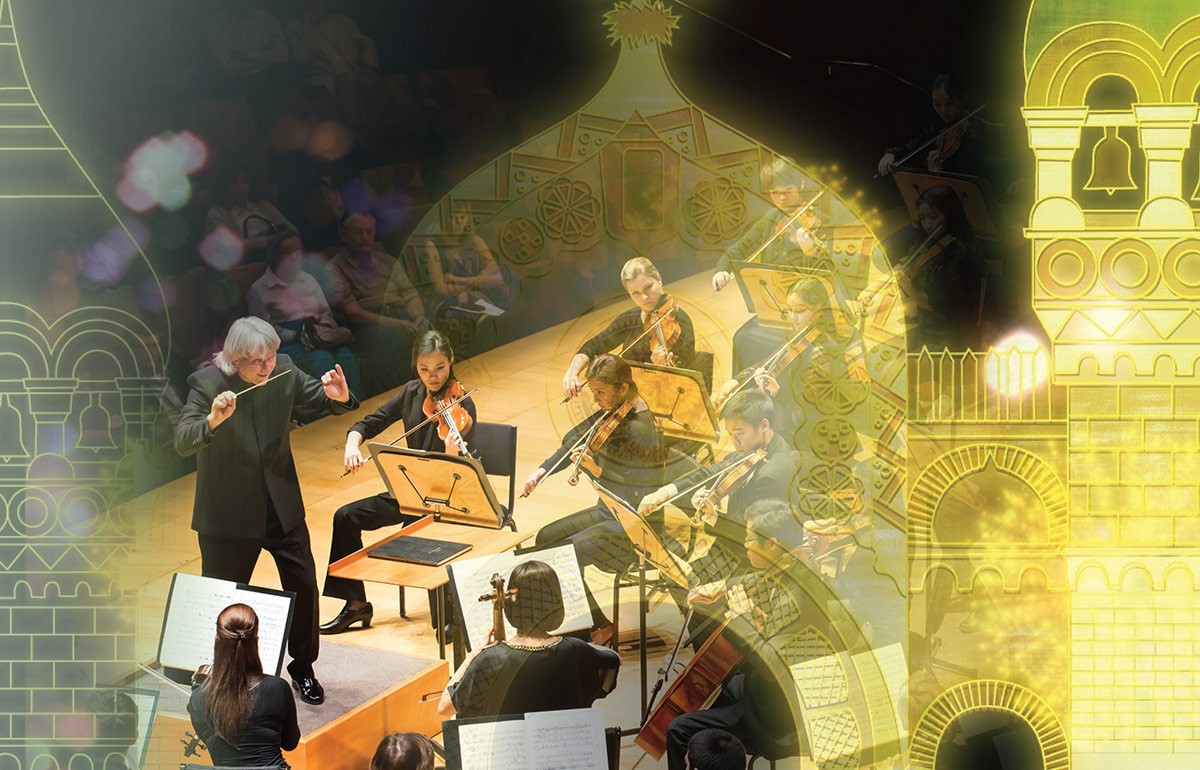 Melting the borders between film, animation and music
"Not every university orchestra is asked to play at venues that regularly host touring orchestras."
— Carl St.Clair
The USC Thornton Symphony and conductor Carl St.Clair will travel to Santa Barbara September 12 and 13 for a stunning multimedia presentation of Modest Mussorgsky's Pictures at an Exhibition at the historic Granada Theatre.
Along with high-definition projections on a large screen, the concerts will feature a new technology called Muséik, which allows a human performer to manipulate the visuals in real-time, from within the orchestra. Muséik's developer, Scott Winters, will "play" the visuals from an iPad, taking cues from conductor St.Clair.
In a continuation of the Russian theme, virtuosic pianist Daniel Pollack, professor of Keyboard Studies at USC Thornton, will join the orchestra for Tchaikovsky's Piano Concerto No. 1. Pollack famously performed the piece at the first International Tchaikovsky Piano Competition in Moscow, where he and Van Cliburn were prizewinners. The USC Thornton Symphony will also perform the overture to Mikhail Glinka's opera Ruslan and Ludmilla.
St.Clair, the artistic director of the Thornton Orchestra Program and music director of the Pacific Symphony, said that the symphony's opportunity to play at the Granada is a tribute to the high quality of its past performances at Disney Hall and Bovard Auditorium. "Not every university orchestra is asked to play at venues that regularly host touring orchestras," he said.
Mussorgsky based Pictures at an Exhibition on paintings and drawings of the Russian artist Viktor Hartmann. The visuals for these performances were created by USC School of Cinematic Arts faculty members Michael Patterson and Candace Reckinger, along with 11 of their animation students and graduates. Incorporating 2-D and 3-D animation, illustrations, live action photography and stop-motion animation, the projections were first seen at the opening of the New World Symphony's Miami concert hall in 2011.
This summer, Patterson and Reckinger, who are the creative directors of the Pictures at an Exhibition visuals, spent weeks reconfiguring the work for the Granada Theatre. The collaborators, who trained as mixed-media directors, said that combining music and visuals can result in a rich immersive experience for the audience.
"We're melting the borders between film, animation and music," said Patterson. He noted that while electronic dance music VJs have been mixing visuals with live music for years, it is relatively new for classical music. "We use the term 'visual music,' said Reckinger, "a field that is finally being recognized for its emphasis on the power of merging the moving image and music to create a unique experience."
Scott Winters of Ion Concert Media, who developed the software for the Muséik system, said that typically, when a film is projected with live music, the film controls the tempo. Musicians often play to click tracks, keeping time with the pace of the film. He considers his system, which can speed up or slow down the film, a musical instrument. "There's no fingering, breathing or bowing, but it's a musical experience," Winters explained. "Instead of a static 24 frames per second, we've turned it into a living, breathing performance."
---
The Granada Theatre is at 1214 State St. in downtown Santa Barbara. The Saturday concert begins at 8 p.m. and the Sunday concert is a matinee, beginning at 3 p.m. Tickets are available at www.granadasb.org
Never miss a story
Subscribe to USC Thornton's e-newsletter
Subscribe