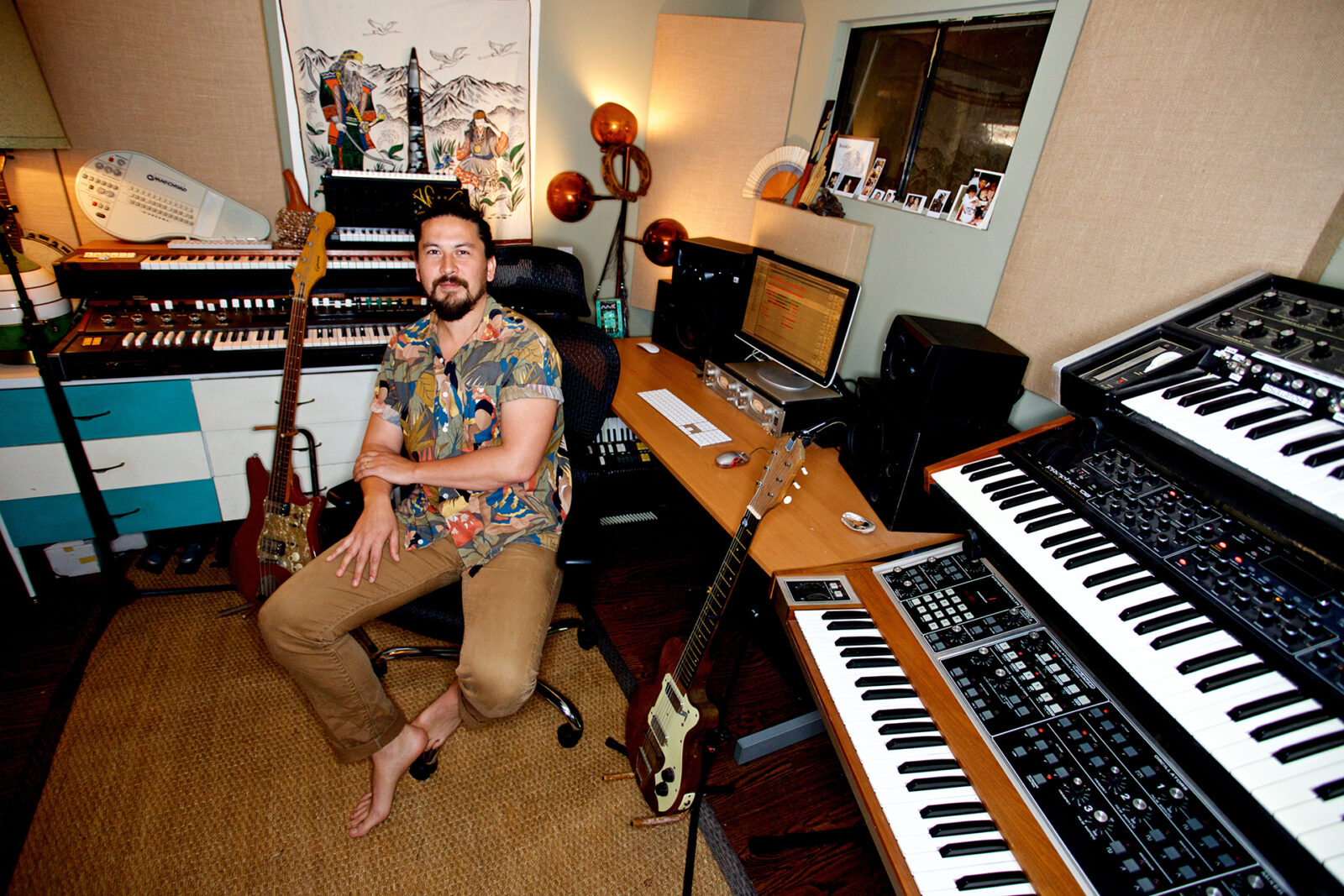 150 Percent
Jazz Studies alum Mitchell Yoshida has built a multifaceted career as a film composer, bandmember, artist, and more – what just might be the prototype for a musician in 2020.
---
Walk into Mitchell Yoshida's house and prepare to be amazed. Yoshida ('05, Jazz Studies) has no fewer than three pianos in the living room, and laments that he couldn't find space to add a grand piano to the mix. There's a Wurlitzer student piano he found in a Brooklyn, NY, store called Junk (he likes it for horror soundtracks), a rare 1960s Wurlitzer electric piano (found in pristine condition on Craigslist) and a 1969 Yamaha upright that he prefers for classical music and rock and roll.
But that's only a preview of his eclectic instrument collection. A very partial list includes accordions, banjos, electric and acoustic guitars, analog synthesizers, Rhodes keyboards, tenor and bass trombones, melodicas, a Hammond B3 organ and Leslie speaker, a clavinet, and a 1917 tuba he found at the Pasadena Flea Market. Each instrument is important to the multi-faceted career he's created that just might be the prototype for a musician in 2020. Or, as he puts it, "Each one fills a completely different part of recording history and a function."
Mitchell Yoshida, who is equally comfortable with vintage instruments and of-the-moment technology, moves easily among musical genres and has created a successful composing, recording and performing business. A quick rundown of what he does includes film scoring; movie trailer composing; sound branding for corporations, apps and video games; recording; touring; live performance and art installations.
Projects in the works include trailer music for a big-budget Hollywood film, scoring a feature film set in medieval France that plans to shoot in the Czech Republic, and an EP of original music.
The nexus of his business is his home studio, a former bedroom outfitted with acoustic sound panels on the walls and ceiling, bass traps in the corners to neutralize sounds and a desk filled with electronic equipment: a pre-amp, recording interface, two sets of studio monitors and a computer connected to several hard drives filled with music samples.
"When I graduated, it was right when home production software was coming in," Mitchell Yoshida observes. "Now, tons of pop music is done on a computer."
Circuitous Routes are the Main Routes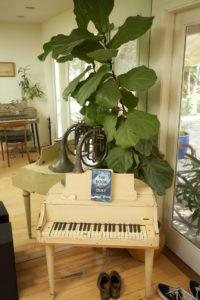 Mitchell Yoshida, who grew up in Santa Barbara, started as a classical and jazz pianist, and was playing professional gigs by the age of 15. He also played trombone in a youth symphony and jazz band, and auditioned and was accepted at USC Thornton in both instruments. He graduated with a double major in Jazz Studies and Philosophy. At USC, he was influenced by faculty member Alan Pasqua, who helped him focus on piano. Pasqua, who has an illustrious and varied career as a session and touring musician and composer in multiple genres, has served as a career inspiration for Yoshida. "He played with Tony Williams at the highest levels of jazz, and then he joined this glam band and did 80s power ballads," notes Yoshida. "Alan does film scoring as well. He showed me what success could look like as a musician. I took that and ran with it."
Pasqua says "it's terrific that his long and circuitous route" has inspired his  former student. "I do emphasize to students that it's not good enough simply to be a great performer," he says. "You have to be a great composer as well."
The skill sets required to play jazz well – collaboration and improvisation – are exactly what is needed to have an entrepreneurial musical career, Pasqua says. Being able to record and engineer your own music is an added plus.
"These days, almost nobody has the money to drop thousands of dollars in a recording studio," he says, "and you can find the same opportunities in your laptop." Digital recording is second nature to newer students such as Yoshida. "They don't even have to read the manual," Pasqua observes.
Launching Careers as Students
Yoshida's career took off before he even left USC Thornton. In his last semester, he went to a keyboard audition, got the job and plunged into 8-hour-a-day rehearsals for a national tour for pop singer Jesse McCartney. It turned into a full year of work – he had to fly back from the tour to attend graduation – and he experienced playing in medium-sized theaters, festivals and as a supporting act in huge arenas.
Concerned he might get typecast as a pop musician if he stayed in L.A., he moved to New York. There, he played with serious bebop and jazz players, but soon branched out. "New York is a crossroads of all different worlds," he says. "I started playing with musicians from all over Africa and the Balkans, and began collaborating with artists doing weird cabaret stuff. I was working with aerialists and people setting themselves on fire – this crazy world of performance and art that exists in New York."
He also did work for a company creating a music database for NBC for the Olympics. "It was a giant meta-tagging project, and they needed people who were familiar with multiple genres of music," says Yoshida. That project led to sound branding projects for tech companies. Yoshida worked with brands to identify their personalities and characteristics and then translated them into short sounds. "For example, for a company that wants to be perceived as simple, smart, clean and fun, you want to make a sound that reflects those qualities." He did work on the Android operating system, Google voice search, Bluetooth speakers, the Amazon Echo and Kindle, among others. "It's a niche of the music world that you never really hear about," he says. "It's work I enjoy because it's completely different from arranging parts for an orchestra or improvising jazz. You get these cool moments of surprise. You also want to build something so that people don't get annoyed by something that they're hearing over and over. The scale can tip very easily."
A Multifaceted Career
After nearly a decade in New York, he joined the folk rock ensemble Edward Sharpe and the Magnetic Zeros. A USC Thornton connection there was key: Aaron Arntz ('03, Jazz Studies) a fellow jazz pianist who had been in the band. "To go from a pop tour to a tour with people who are naturalists and like-minded and love to go ride bikes, it was really a revelation and a breath of fresh air," says Yoshida. "I became friends and then family with the band."
Even before he joined Edward Sharpe, Yoshida had been doing scoring for commercials and short films, starting with a silent film a friend directed with a vintage, low-fi look. For that project, he played all the instruments in the score. He then scored a feature-length documentary, Brasslands, about the world's largest trumpet festival, held in Serbia.
He's gone on to score several film and television projects for a fellow member of the Edward Sharpe band who is now a writer and director. He also has found time to tour with Mika, an English singer-songwriter, visiting cities in France and Italy that he hadn't seen on American band tours. In Brussels, he did recording with Mika "at a really cool vintage recording studio. I had like every classic keyboard at my fingertips."
Mitchell Yoshida describes his packed schedule as "half vacation, half tour, half work. It's 150 percent, always."
"It's central to my own personal philosophy to be diverse and eclectic," he sums up. "I don't think I would be happy being the best jazz pianist in the world. Or the best concert pianist in the world. It's that repetition. It's like eating spaghetti for dinner every night. I want to have different challenges and I want to activate different parts of my brain."
Never miss a story
Subscribe to USC Thornton's e-newsletter
Subscribe