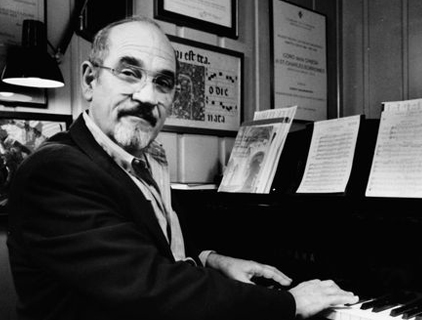 Morten Lauridsen, Jo-Michael Scheibe remember Paul Salamunovich
"Paul's name will live on in so many ways. Not only by my music, but in all the lives he touched."
Paul Salamunovich, widely recognized as one of America's most influential choral conductors, passed away on Thursday, April 3. His name is most closely associated with the Los Angeles Master Chorale (LAMC), which flourished under his direction from 1991 until 2001, cementing the Chorale as one of the world's top choirs.
Salamunovich also had ties to USC Thornton; he served as adjunct professor of Choral Music from 2007-2008, and also frequently collaborated with USC Distinguished Professor of Composition, Morten Lauridsen, who served as Composer-in-Residence at LAMC during Salamunovich's tenure.
"He was a choral man through and through," Lauridsen said of Salamunovich. "He was as fine of a man as I've ever met. We will be very much bound through history together because of the works I composed for him while at the Los Angeles Master Chorale. It's a huge loss, but when I look back upon it, we were so fortunate to have him as long as we did."
Salamunovich's long and distinguished conducting career began at the age of 22, when Roger Wagner installed Salamunovich as director of the St. Charles Borromeo choir in North Hollywood. Wagner, himself a renowned conductor, was a longtime mentor to Salamunovich. For the next 60 years, Salamunovich led the St. Charles choir in many high-profile performances including appearances at national conventions, in scores of major motion pictures, and even at a private performance for Pope John II at the Vatican.
"He was larger than life," said Jo-Michael Scheibe, chair of the Department of Choral and Sacred Music. "Paul was very committed to making sure choral music transcended notes and rhythms, and was part of the soul. My memories of him go back to being a high school student under his leadership. Experiencing his intensity, his passion and his understanding of text changed me for life. I had such respect for him as a musician."
Wagner eventually chose Salamunovich to serve as assistant conductor of the Roger Wagner Chorale, as well as for LAMC when Wagner formed the ensemble in 1964. Even as an assistant, Salamunovich was key to developing LAMC's signature sound. He led nearly all rehearsals for the ensemble, while Wagner stepped in to conduct performances.
After Wagner's tenure as director of LAMC ended in 1986, he was replaced by Scottish conductor John Currie. Currie conducted the ensemble until 1991, prompting LAMC to name Salamunovich as its Music Director. Salamunovich worked to regain the sound the choir embodied during his first years with the ensemble.
"The foundation is built on the male voices," Salamunovich said in an interview with the Los Angeles Times in 2000. "I don't allow the sopranos to override them. I take the growl out of the basses, the ping out of the tenors. It's a kinder, gentler tone that says 'I love you.'"
"He created a blended, warm sound that is a very unique in choral music," explained Lauridsen. "In the music I wrote for Paul, I included the kinds of phrases that he did so well — phrases that were chant derived and with the legato sound that he loved. I designed my music for his expertise and the special sound he got from the choir."
Lauridsen served as composer-in-residence of LAMC from 1994 until 2001. This significant collaboration between conductor and composer propelled both Lauridsen and LAMC to unexpected success. During this period, LAMC premiered Lauridsen's "O Magnum Mysterium" — which remains a best-selling choral octavo worldwide — "Lux Aeterna" and "Ave Maria," in addition to performing several other works by the composer. The choir's 1998 album of Lauridsen's works, Lauridsen: Lux Aeterna, garnered the ensemble a Grammy nomination.
"It was a very simpatico relationship," said Lauridsen. "I wrote music to Paul's strengths and the very special sound he got from the Master Chorale. We had regular Monday meetings at his home for over five years. I would show him what I was writing, or we would go over other pieces of mine he was conducting. I can't imagine a better relationship between a composer, a conductor and a group."
According to Lauridsen, Salamunovich treasured the connection he shared with the composer.
"He once said that, to have his name on these scores, was an honor," Lauridsen shared. "'Conductors are often forgotten,' he said, 'but music of this type lives on and on.' Paul's name will live on in so many ways. Not only by my music, but in all the lives he touched."
From 2007 until 2008, Salamunovich served as an adjunct professor of choral music at the USC Thornton School of Music. During this time, he also conducted the USC Thornton Chamber Singers, the university's premiere choral ensemble.
"We needed somebody who could help the program transition from one conductor to the next, and Paul was perfect," said Schiebe. "He brought a different style of music making to the department, and he set up a new paradigm for us as a choral organization."
One of the highlights of Salamunovich's tenure at USC Thornton was a performance of Maurice Durufle's Requiem by both the USC Thornton Symphony and USC Thornton Chamber Choir.
"The students who sang in that performance were deeply affected by it," Schiebe explained. "If anyone wanted to talk about Durufle's Requiem, Paul was the person who understood that work far deeper than most. He was the master of that composition."
Lauridsen, too, acknowledged the impact Salamunovich had upon the USC Thornton students he directed.
"Those students had the benefit of working with an historic individual on this campus," he said. "Paul was very proud of the year he spent here."
Services for Paul Salamunovich take place this weekend in Los Angeles. A rosary will be held Friday, May 2 at St. Charles Borromeo Church in North Hollywood beginning at 7:00 p.m., followed by a funeral mass at Blessed Sacrament Church in Hollywood on Saturday, May 3 at 10:00 a.m..
– Kat Bouza
Never miss a story
Subscribe to USC Thornton's e-newsletter
Subscribe