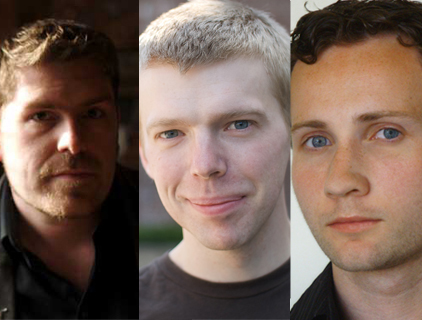 Newest members of Composition faculty to be celebrated at USC Thornton Edge concert
On October 1, 2014, Donald Crockett, chair of the USC Thornton School of Music Composition Program, leads USC Thornton Edge in USC Thornton Composers: The Younger Generation. The program features the work of USC Thornton composers under the age of 40 and includes music by Composition faculty Ted Hearne, Andrew Norman and Sean Friar.
These three faculty members, respected Composers in the world of New Music, are among the most recent hires by the Composition department and represent the Classical Division's commitment to innovation and groundbreaking musical endeavors.
In just ten short years, Andrew Norman has quickly become one of the most celebrated composers of new music. The USC Thornton alumnus (BM, '02; MM, '04) is the recipient of numerous awards and honors, including: the 2005 ASCAP Nissim Prize; the 2006 Rome Prize; and the 2009 Berlin Prize. His 30-minute string trio, The Companion Guide to Rome, was named a finalist for the 2012 Pulitzer Prize in Music.
"Andrew was a student in my freshman composition class several years before he worked with me as a graduate student," Crockett said. "From the time of Andrew's first composition project, a set of short pieces for solo violin, I knew that an extraordinary talent had landed in my class."
In May 2014, Norman was awarded USC Thornton's Outstanding Alumnus Award at the school's annual Honors Convocation. The event featured a performance of one of Norman's works, "Sabina" from The Companion Guide to Rome (2010), by USC Thornton students.
"At first it was a little weird coming back to Thornton, because I'm teaching in the very rooms where I was taught," Norman said. "But, now that I've joined the faculty, I've been aware of how I can continue making this school a great place and build upon the amazing work the Composition department has done."
Ted Hearne's work draws from a wide variety of genres and influences — from orchestral and choral music, to experimental rock, hip-hop and noise. The Los Angeles Times said of his work, "No single artist embodies the post-genre Brooklyn scene, but Hearne may be its most zealous auteur."
https://www.youtube.com/watch?v=agSziOP5bZ0
Hearne's music has been performed and commissioned by the Brooklyn Philharmonic, Minnesota Orchestra, New York City Opera, the Calder Quartet and Present Music in Milwaukee, WI, among many others. His Katrina Ballads, a modern-day oratorio with a primary source libretto, was awarded the 2009 Gaudeamus Prize. The recording, released on New Amsterdam Records, was named one of the best classical albums of 2010 by Time Out Chicago and The Washington Post.
The youngest winner of the Rome Prize in over 25 years, Sean Friar has received awards from ASCAP, the American Academy of Arts and Letters, Copland House, Chamber Music America, Composers Inc., the New York Youth Symphony, New Music USA, the Fisher Piano Competition and SCI/ASCAP. He thrives on composing for ensembles both within and outside the realm of traditional concert music, and his recent commissions run the gamut from works for orchestra and string quartet to a junk car percussion concerto and music for laptop orchestra. His music has been performed throughout the world by ensembles including the Los Angeles Philharmonic, Berlin Philharmonic Scharoun Ensemble (Germany), and the American Composers Orchestra.
Friar grew up in Los Angeles, where his first musical experiences were in rock and blues piano improvisation. His composition reflects the energy and directness of those musical roots, blending these contemporary styles with an expansive classical sensibility that Slate called "refreshingly new and solidly mature."
More information about tonight's USC Thornton Edge event can be found on our web calendar.
Never miss a story
Subscribe to USC Thornton's e-newsletter
Subscribe