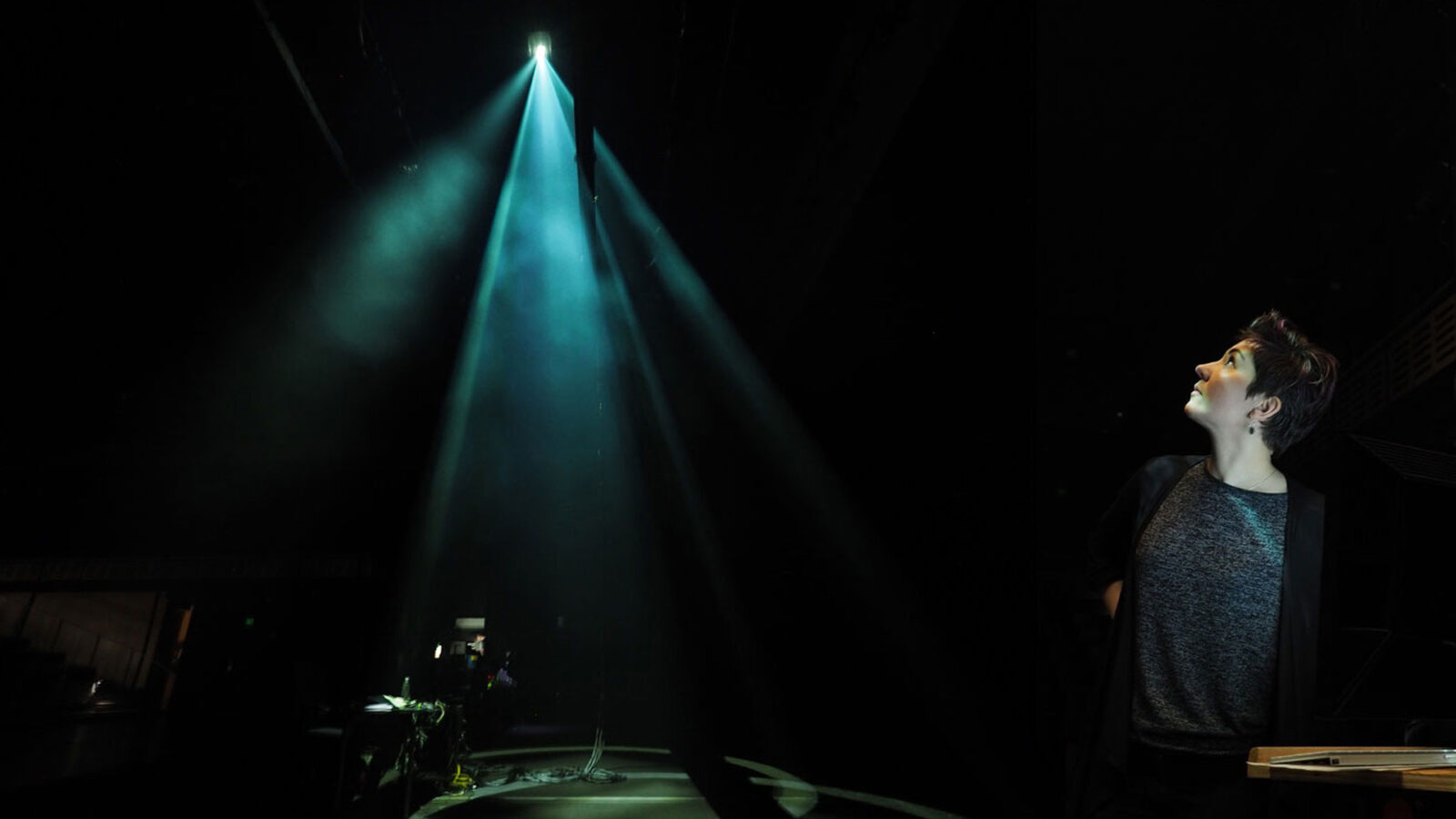 Nina C. Young awarded 2021 Guggenheim Fellowship
The celebrated composer will focus on finishing new works while investigating the possibilities of aural architecture with the award. (Photo courtesy of EMPAC)
---
Nina C. Young, an assistant professor of composition at the USC Thornton School of Music, has been awarded a 2021 Guggenheim Fellowship. Young is among 184 fellows selected this year for excellence in scholarship and the arts.
The celebrated composer is known for genre-defying work that pulls equally from the classical canon, electronic music, minimalism, and a host of other idioms. She plans to use the fellowship to pursue an ambitions fleet of creative work.
"I am so grateful for this award," Young said. "I'm really excited for the artistic focus this fellowship allows. I think it will be a rejuvenating experience."
Young has several projects lined up, some new and some that were delayed by the pandemic. A unifying interest is an exploration of aurual architectures.
In a 2006 paper published by the MIT Press, Barry Blesser defines aural architecture as "that aspect of real and virtual spaces that produces an emotional, behavioral, and visceral response in inhabitants. A space can produce feelings of intimacy, anxiety, isolation, connectedness, warmth, as well as a mystical sense of spirituality. Such responses parallel those of visual architecture, except that the space is experienced by listening rather than seeing."
"I have been working a lot with the idea of creating virtual, physical, and perceptual spaces with sounds," Young said. "Much of my work is focused on finding a flexible composition language that moves easily between acoustic concert music, electronic music, and performative installations, and I've been increasingly interested in the aurual architecture within physical spaces, both real and imaginary."
Her list of projects she wants to finish is impressive:
The premiere of The Glow that Illuminates, the Glare that Obscures, an immersive 90-minute installation-performance piece at the Experimental Media and Performing Arts Center (EMPAC) incorporating EMPAC's unique wave field synthesis spatial audio system, video projection, light, and fragmented musical performance by the American Brass Quintet.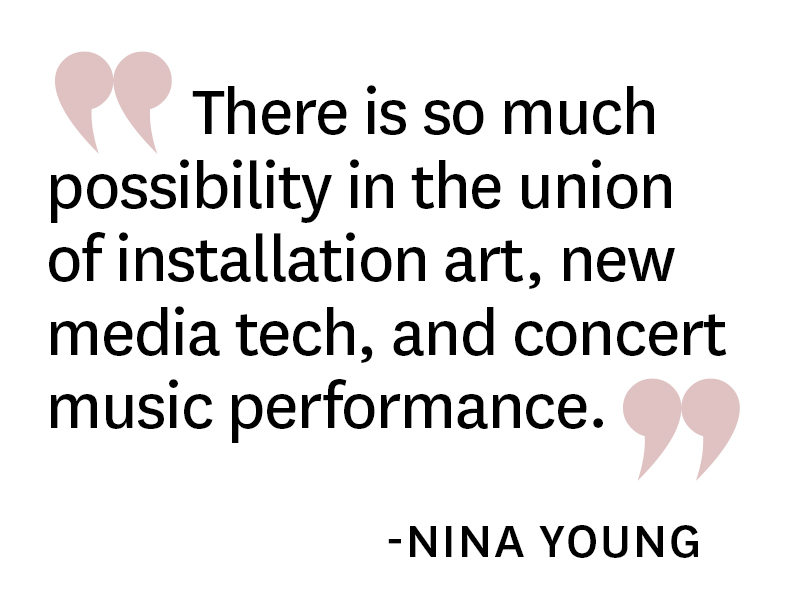 A new evening-length work for the Percussion Collective with violinist Soovin Kim that explores the use of space and movement throughout a ritualized concert performance that will be premiered by Chamber Music Northwest.
A new 30-minute piece for Hub New Music that utilizes performer spatialization and computer-synthesized speech to cast a virtual "reading" of new writings by poet and gender-studies scholar Rosie Stockton.
After a postponement due to the pandemic, the completion and premiere of a violin concerto for celebrated violinist Jennifer Koh, a co-commission with the Philadelphia Orchestra and Los Angeles Chamber Orchestra.
It is an amazing year ahead for Young, full or exploration of new sounds and new collaborations. "I find it so much more meaningful to collaborate with musicians rather than create in a solitary way," Young said.
That interest in collaboration and connection extends to her students at USC Thornton. Young teaches composition and interactive media classes at Thornton while leading the Electro-Acoustic Concert Series and collaborating with artists across USC. She's currently leading the construction of a new sound lab at the school, an ambisonic dome that will allow students to further explore spatial elements of composition and sound design.
"There is so much possibility in the union of installation art, new media tech, and concert music performance," she said. "We mostly encounter these in separate spheres. I'm excited to use this inquiry into aural architecture as a way to explore the relationship between these modes of practice, and I look forward to seeing what I and my students at Thornton find in these new methods."
Never miss a story
Subscribe to USC Thornton's e-newsletter
Subscribe