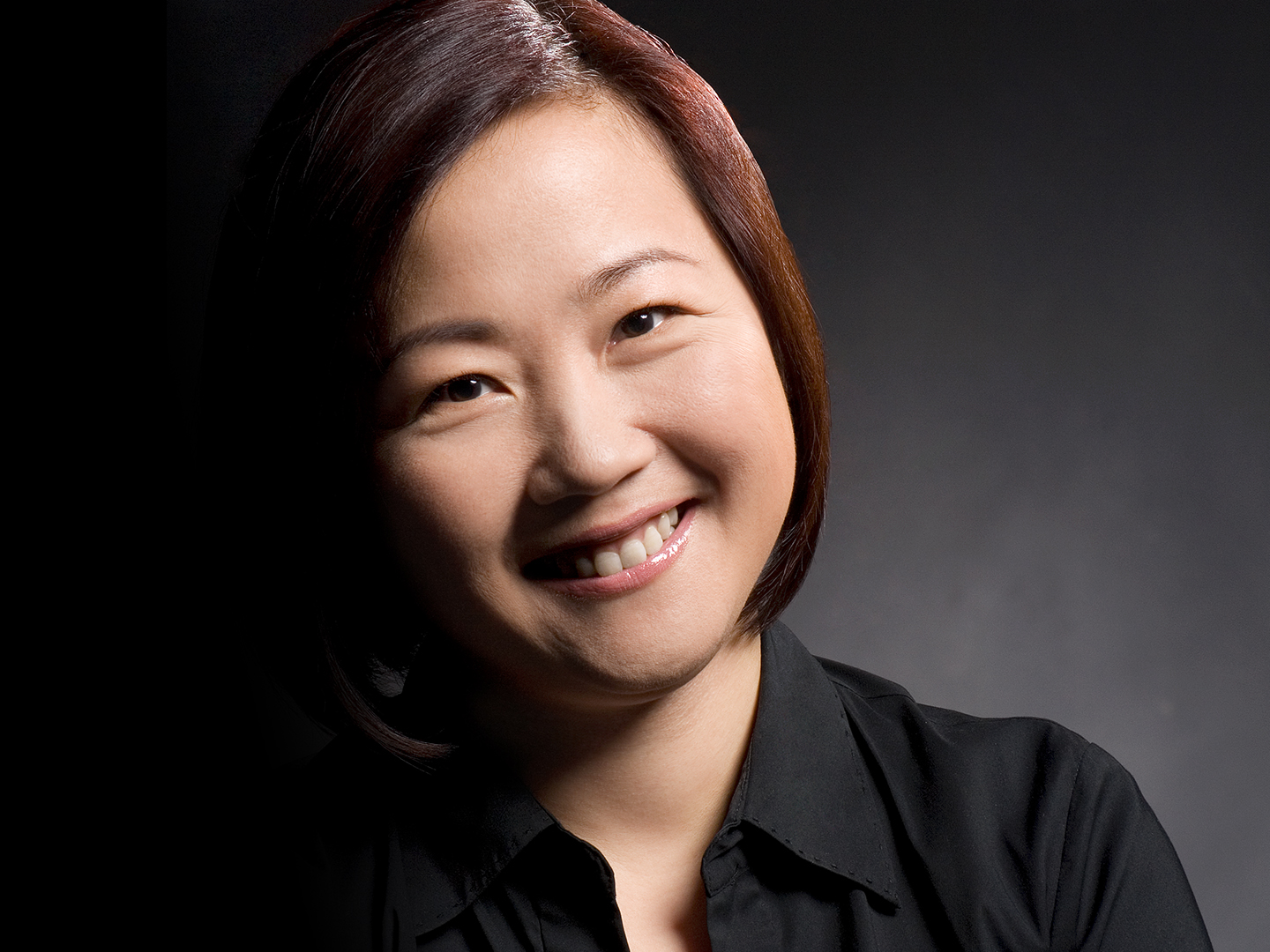 Office Hours with Bing Wang
In this ongoing series called "Office Hours," get to know some of the exceptional scholars and artists who make up USC Thornton's faculty as they answer questions about themselves.
---
Bing Wang, Strings
What did you do this summer?
Summer is a very busy time for me. As a member of the LA Phil, we have an 11-week summer season at the Hollywood Bowl, so we performed from July through mid-September. I always take a few weeks to teach and perform at the Aspen Music Festival and School. This, in fact, was my 20th season in Aspen. It's great for me to perform with students from everywhere, and to perform with colleagues from other orchestras and music institutions that I don't see during the year. After three weeks of packed teaching and performing, I always return to Los Angeles very energized. And then I delve right into the Hollywood Bowl.
I have to say, I have a few highlights from this season that stand out. I've been John Williams' concertmaster and soloist at the Bowl for more than 25 seasons now. This summer, I got to play Schindler's List with John Williams at a concert co-conducted by Gustavo Dudamel. That was a big honor for me, to really appear as a soloist with two of them as conductors, each conducting half of the program. The concert was seen by over 55,000 people, I think, and all three concerts were sold out. The other two highlights happened in August. I was concertmaster for two weekday concerts, each with very different programming. On Tuesday we played an American program which featured the West Coast premiere of a large work by a mandolin virtuoso, Chris Thile. I played a solo duel with Chris on the mandolin, where I played and portrayed a famous harmonica player. As I stood up to play, I did a bit of acting and spoke to him on stage where we tried to outplay each other. That was great fun. I don't think my colleagues have ever seen me talking and playing in that way. In fact, I didn't know I could do it myself. But I have to say, when you have a great opponent, it's fantastic. I became somebody else, let's say.
And then on Thursday, there was another special treat. We played a whole program by the Japanese film composer, Joe Hisaishi, who composed all of Miyazaki's films. At the concert, I performed an extensive solo from the film Princess Mononoke, where I also got to stand up and have a solo feature.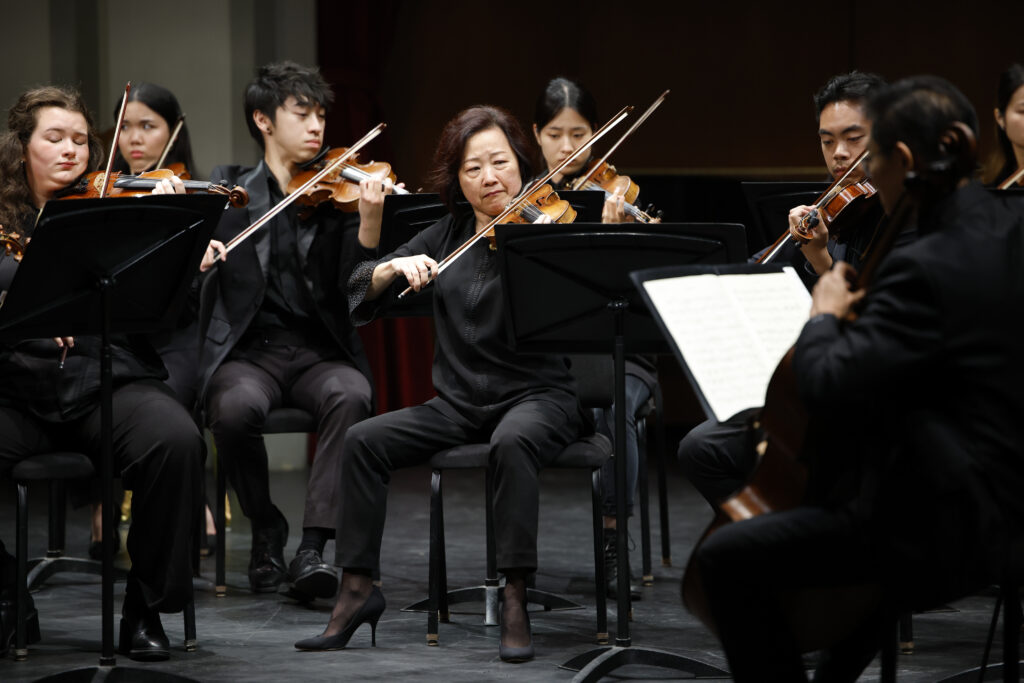 What violin do you play?
I'm very fortunate to play a very old, special violin owned by the LA Phil. This is a violin made by G.B. Guadagnini, from his touring period, made in 1777. My colleagues and I are very fortunate in the LA Phil because there are very few orchestras that own more than a few instruments. These instruments are all very valuable and old. They are great sounding historic and antique instruments. It's been almost 30 seasons now that I've been able to play on this violin.
What is your favorite piece of music to warm up with?
There is not one specific piece that I warm up with. I think every one of us violinists have our own way of warming up with open strings, slow bows, technical exercises and all that, to get our hands warmed up. What I warm up with each day really depends on what I need to practice at that moment. For instance, what's on my stand this week is Star Wars: Return of the Jedi because, as you all know, John Williams writes very virtuosic music. So that's on my stand this week, warming up and getting through the very, very difficult notes.
Do you have any advice for student violinists?
For music students, I want to say be proactive. Become your own best teacher. It does not replace having a great teacher, but I think everyone has to really actively listen and critique themselves and their playing. That's really important advice I would give to all music students. In terms of a violinist, our profession has changed a lot and our field is competitive, but we also have opportunities that I didn't have when I went to school. So, I have two suggestions:
Always have a goal. That doesn't mean having a goal that changes day-to-day, or semester-to-semester, but as you move along your educational path to becoming a professional, have a goal. Maybe you want to pursue an orchestral career, or you're interested in German music. Whatever it may be, having a goal in mind will help you make better choices and be better prepared. At the same time, because our field has changed so much, with all these new collaborations and new mediums available to us, have an open mind and be collaborative. Don't be shy about reaching out to people who might not be in your immediate circle. I think we must be very open and connect with other musicians, other artists, and connect with communities. In the long run, this will only bring more opportunities and rewards.
When did you first realize you wanted to teach?
Teaching is such an important part of my life. I first became interested in teaching right after I won the position of associate concertmaster at the LA Phil and moved to Los Angeles. I had the realization that I was always very fortunate to have had wonderful teachers at different stages of my student life. I wanted to give back and do the same thing for others. I wanted to aim towards that goal of becoming a mentor. So I started teaching some advanced high school students, then I became interested in studying and teaching orchestra excerpts. I started to coach people. In 2012, I started to teach at USC Thornton. That was definitely the turning point of my teaching career.
I really found my calling. I love to study excerpts, and I love to help students play and understand them because t's a very unique specialty. We, as musicians, don't really grow up learning excerpts, but for orchestral instruments, that's a unique field. I really committed myself to this field because I was so interested in it. And then I began having a private teaching studio here at USC. I would say that it all started with the excerpt class, which was really my passion that led me to teaching. That's really when my teaching career began to take off.
What is your favorite recipe to cook on the weekends?
As you can tell, I have very little time to cook at home because during the day, say on a Tuesday or Thursday during the Hollywood Bowl season, I actually don't go home. I teach my students, then I teach my rep class, then I go straight to the Hollywood Bowl. So, on the days that I have time to cook, I enjoy cooking Shanghainese chicken soup. With chicken, yes, I buy a whole chicken and chop it into pieces. Then I put some salted pork and little bamboo shoots in the soup. It's very tasty and very soothing as a homemade meal.
Never miss a story
Subscribe to USC Thornton's e-newsletter
Subscribe